Chitra Visweswaran
Bharatanatyam Dancer, Tamil Nadu, India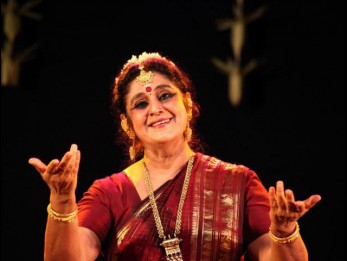 Biography
Chitra Visweswaran's first Guru, at the age of three, was actually her mother, Smt. Rukmini Padmanabhan, who was an excellent dancer trained in the Uday Shankar School of dance and Bharatanatyam. Her formal training in dance began with Western Classical Ballet in London at the age of five. It is to her that Chitra owes her artistic and creative vision . To this was harnessed an insatiable intellectual and cerebral quest which she owes to her father, Sri. N. Padmanabhan, a brilliant Engineer. After initiation into dance by her mother, Chitra undertook training in Western Classical Ballet in London, which was followed by training in Manipuri and Kathak in Calcutta . At the age of ten, she went under the tutelage of one of the best devadasis of Tiruvidaimardur , Smt.T.A Rajalakshmi, who was settled in Calcutta. Her Arangetram (first maiden performance) took place with ten months, an astonishingly short period to achieve the degree of proficiency that Chitra Did.

She continued her Bharatanatyam training in Kolkata and in parallel, studied the Uday Shankar School of dance. Her youth spent at Kolkata was studded with frequent, laudable, noteworthy stage appearances. Chitra studied dance theory, dance history, philosophy and world religion entirely on her own at Calcutta Universityand subsequently became deeply involved in interdisciplinary search and research. In 1970, on completion of B.A. (Hons.) in English from Calcutta University, she received the National Scholarship for advanced study in Bharatanatyam from the Government of India, at a time when only two scholarships were awarded throughout the country. She spent her scholarship period of four years under the doyen of Bharatanatyam, Vazhuvoor Ramaiyya Pillai, at Chennai. Her experience as his sishya widened her aesthetic vision even as her earlier Gurus' training gave her excellent grammar and technique. Chidambaram Academy of Performing Arts was started by Chitra and her husband, Visweswaran, a musician and Santoor player.
Shows & Major Performances
FESTIVAL PARTICIPATION: Besides participating in all major festivals in India, she has participated in the following important festivals abroad ...
- Autumn Festival in Paris, 1975;
- Festival of India in the U.S.A. & Bulgaria, 1985;
- Atina Festival in Italy.& Yugoslavia, 1986;
- Festival of India in the U.S.S.R., 1987;
- International Religious Conference-PAX CHRISTI in France,1988;
- International Dance Festival, Austria, 1990;
- International Festival, Montelimar, France, 1990;


Awards & Recognitions
Padma Shri Award by The President of India
Sangeet Natak Akademi, New Delhi
Kalaimamani by the Tamilnadu Government
Nrityachoodamani by Sri Krishna Gana Sabha
at Chennai, Nritya Vilas by Sur Singar Samsad, Mumbai, Natya Padmam - Bramha Gana Sabha, Natya kala sarathy - Sri Parthasarathy Swami Sabha
Nrithya Kala Siromani
by the Nungambakkam Cultural Academy Trust Nritya Ratna - Bharatiya Vidya Bhavan, Coimbatore Stree Ratna Award - Bharatiya Vidya Bhavan, Chennai, & Nrithodaya Sanmukhananda Delhi Rotary Award, among several other titles and awards from national and international cultural associations all over India.

About
Sabhash
- Everything about classical music, dance, drama and a platform for inclusive entertainment
Sabhash.com is the one-stop destination for the latest news and information on the performing arts of India - classical music and dance, theatre, bhajans, discourses, folk performances, and other lesser known art forms. Institutions that revolve around the performing arts have exploded in numbers, and thanks to the Internet which has made information easily accessible, the number of rasikas has grown too. Corporate patronage has played a big part in increasing the world-wide reach of the Indian arts. Sabhash wishes to be a platform for inclusive growth giving an equal opportunity and recognition to not only the main performer but also the artistes who accompany them on stage, and the people who work backstage and play the role of unsung heroes.