Poorna Vaidhyanathan
Carnatic Vocalist, Tamil Nadu, India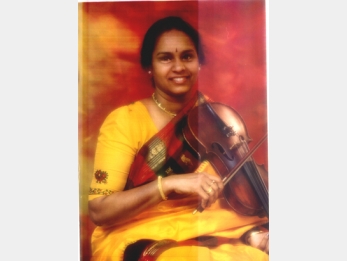 Biography
Born to Smt Akhila Siva, a gold medallist from the Carnatic Music College, Chennai, and Sri A N Siva, a music lover. Also younger sister of Vijay Siva. A graduate in Fine Arts from Stella Maris College, Chennai. Wife of Mridanga Vidwan Sri J Vaidhyanathan (son of Sangeetha Kalanidhi late D K Jayaraman). Younger brother Manoj Siva is an accomplished mridangam artiste.
Learning from Smt T Rukmini since 1989. Earlier learnt from Sri Nagaraja, a disciple of Lalgudi Sri G Jayaraman from 1977. Is a B-High artiste of All India Radio. Gave first performance as an accompanist, for brother Vijay Siva, for the Tchaikovsky Club in 1982. Assisted School and College authorities in composing music for their Music Programmes. Had been to Kashmir in October 1987 under the Cultural Exchange Programme selected by the Madras University to represent Tamil Nadu State for Violin playing.
Keen interest in drawing and painting. Also won credit certificate for cartooning. Learnt the Tanjore style of painting.
Was the President of the Indian Music Club of Stella Maris College. Was also the Vice-President of Youth Association of Classical Music.
Education :
1989–1990 Madras University Chennai
BA Fine Arts from Stella Maris College – 1990 - passed with first class
Computer diploma course in 1991 from Datamatics Corporation - passed with first class
2003-2005 - completing M A degree in music from the Madras University. A project work to be completed by Mid-March, after which course will be completed.
Shows & Major Performances
Work Experience :
2003 - Project Manager – Chennaionline Interactive Business Services.
1998-2002 SIFY Ltd Chennai - Channel Manager
Was responsible for the development, maintenance, updation and growth of the site carnaticmusic.com since 1998
Completely handled maintenance of the site, data gathering and research, interaction with musicians and associates like sabhas, writers, critics, etc.
Organised promotional events, worked on joint promotions, special programs for site promotion etc. Most prominent among the events I have been associated with is the Millennium Show – On a Music Track for the Music Academy on the 31st December 1999 – a mega show involving over 50 musicians, 500 school children, audio visuals etc.and the First All India Carnatic Music Competition organised by sify and DKJ Foundation in 2000.
Later took over supervision of other sites of Sify- Astrology, Voice of India, Sify Education.
1994-1997 Sunal International Chennai - Telemarketing Executive
Telemarketing for Standard Chartered Bank, ANZ Grindlays Bank, Blue Dart, Cadbury's schweppes, Citi Bank's Shelters and Pioneer Car Stereo systems
1992-1994 SCS Kothari Academy Chennai
Faculty Member
Worked as faculty member in the computer department at SCS Kothari Academy for Women – 2 years -1992-94.
Won number of prizes including numerous first prizes in several music competitions held by various schools, colleges and sabhas. Won concert prizes from The Music Academy and Sri Krishna Gana Sabha, The Indian Fine Arts Society etc for accompaniment. Invited by various sabhas to participate in their music festivals in the city and outside Chennai. Performed in all major sabhas in Chennai and other parts of India. Accompanied many artistes both vocal and instrumental. Among seniors has accompanied Sri D K Jayaraman, Smt R Vedavalli, Sri O S Thyagarajan, Rajkumar Bharathi et al.
Contact:
Old no 3, New no 5, Sriman Srinivasa Road, Alwarpet, Chennai – 600018. India
Ph : +9144.2499.2541
email :poornavaidhi@yahoo.com

About
Sabhash
- Everything about classical music, dance, drama and a platform for inclusive entertainment
Sabhash.com is the one-stop destination for the latest news and information on the performing arts of India - classical music and dance, theatre, bhajans, discourses, folk performances, and other lesser known art forms. Institutions that revolve around the performing arts have exploded in numbers, and thanks to the Internet which has made information easily accessible, the number of rasikas has grown too. Corporate patronage has played a big part in increasing the world-wide reach of the Indian arts. Sabhash wishes to be a platform for inclusive growth giving an equal opportunity and recognition to not only the main performer but also the artistes who accompany them on stage, and the people who work backstage and play the role of unsung heroes.