Radhika Shurajit
Bharatanatyam Dancer, Tamil Nadu, India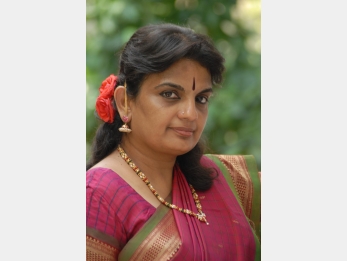 Biography
Smt.Radhika Shurajit, eldest of the Trio sisters, is one of first and Senior most Disciple of Padmabhushan THE DHANANJAYANS.
She has also learnt Abhinaya from Padmabhushan Smt.Kalanidhi Narayanan.
She is an Established Performer, Teacher, Choreographer, Media Visualiser and Television Director.
She along with her sisters Gayatri and Shobana, has performed in numerous places across India and at several International festivals at Sri Lanka, Nigeria, Germany, USSR, USA, Iraq, South America, Middle East, Europe and Australia.
Radhika trains many students at her institution "THRAYEE' in Chennai.
She is well known for her Lecture Demonstrations and Dance Workshops in India and Abroad.
Radhika is currently specialising in Adapting "DANCE THROUGH THE LENS" and in taking Bharatham to Common Man.
She has also worked as a Resource Expert at Delhi Doordharshan (CPC) in production of Music and Dance programmes.
Radhika has Conceived, Visualized and Directed the ongoing popular Bharathanatyam game show THAKA DHIMI THA telecast on Jaya Tv every Sunday 8 am. This show was anchored by very popular Actor Dancers like Bhanupriya, Shobana, Sukanya, Mohini, Sudha Chandran, Vimala, Anni Malavika and many others.
This show has completed more than 400 episodes and has also won National Rapa award as the best Television Dance show.
Shows & Major Performances
Radhika has also visualised and choreographed many award winning songs for Films
To name a few....
Dance Choreography for the popular song 'Nilaa Kaygiradhu for the Film INDIRA Directed by Smt. Suhasini Maniratnam. Music Sri. A.R. Rahman
Choreographed the National award winning song Mayil Pola for the film BHARATHI Directed by Sri.Gnanarajashekar. Music Sri. Ilayaraja
Choreographed the climax song RARA for the famous film APTA MITRA(Kannada) Directed by P.Vasu
Choreographed The National award winning song Pattu Solli for the film AZHAGI Directed by Sri.Thankar Bachan Music Sri.Ilayaraja
Choreographed the famous songs 'Gundu Malli and Amma Sonna for the film SOLLA MARANTHA KADHAI Directed by Sri.Thankar Bachan. Music Ilayaraja
Choreographed all the 3 classical songs sung by Smt.Sudha Raghunathan for the film IVAN directed by Sri.Parthiban. Music,by Sri.Ilayaraja.
Choreographed 3 songs for (Kutty) Janaki's film KANAVU MEIPADA VENDUM Music by Sri. Mahesh.
Choreographed 3 songs, for film THENDRAL directed by Sri.Thankar Bachan Music by Sri.Vidyasagar.
Choreographed the Title song for the film SWARNAMUKI Directed by Sri.Adhiyaman Music by Sri.Swararaj.
Radhika is the Creative Director of "KALA SADHANALAYA" - a FILM on THE DHANANJAYANS, produced by UTSAV MUSIC
FEW OF RADHIKA'S Choreographic works include......
-----------------------------------------------------------------
KONJUM SALANGAI- Dance Tribute to Kaviarasar Kannadasan
AADAL KAANEERO- Dance Tribute to Dr. M.L.Vasanthakumari.
KAAVIYA KALANIGNAR 84- The magnum Theatre producton with 200 dancers (a Biography of Chief Minister Dr.Kalaignar Karunanidhi). The music was by Sri. Gangai Amaran.
MURALI NRITYA MAADHUI- Dance tribute to Dr,M,Balamuraikrishna.
ENDRENDRUN PODHIGAI- Special progmme for Doordharshan's 50th year celebrations.
PENN- Dance feature based on lyrics of Kaviperarasu Vairamuthu.
VALLI 80 Special Dance Presentation of Valli's songs
MUTHAMIZH MAALAI Dance Feature Celebrating Tamizh Mozhi
KURINJI POOKAL- based on Sangam literature.
NIZHALGAL-NIJANGAL - Dance ballet on Medical Scan Technology.
FROM G RAMANATHAN TO A R RAHMAN- Dance tribute to Music composers over 2 decades.
NEELA KAMALAM and INNUUM SILA NODIGALI for Doordharshan Kendra and many more..
----------------------------------------------------------------------------------------------
Radhika was the Convenor for 'NATYA DHARSHAN' Dance Seminar of Kartik Fine Arts, Chennai for 3 consecuitive years.
She is currently the Advisory Council Member of the Madras Chapter of the International Dance Alliance, New York, USA.
Radhika was the the Vice President of ABHAI ( Association of Bharatanatyam Artistes of India) for three years.
Contact:
Phone : +91.44.2491.1544 +91.98410.84599
Email : radhishurajit@gmail.com
Web : www.radhikashurajit.com
Awards & Recognitions
Nrithya Saraswathy
Award By the Sumukhi Rajashekaran Foundation
Aacharya Choodami
From Krishna Gana Sabha during this Decmeber Music and Dance season (On Dec 11th, 2010) for her contribution to Bharatanatyam
Kala Seva Bharathi
Bharat Kalachar's KALA SEVA BHARATHI title from Governor of Tamil Nadu
Honorary Citizen
Prestigious "Honorary Citizen " award from Oklahomo State University, USA
Best Choreography award
Best Choreography award for the song "Nila Kaigiradhu" from the film Indira directed by Suhasini Maniratnam.
Best Dance Guru Award
From the Madras Music Akademy
Best Senior Dancer Award
From Natyarangam, Narada Gana Sabha
Yuva Kala Vipanchee
From Padmabhushan Dr. M.Balamuralikrishna
Bharatha Kala Vibhushana
From SREE BHARATHALAYA and many more

About
Sabhash
- Everything about classical music, dance, drama and a platform for inclusive entertainment
Sabhash.com is the one-stop destination for the latest news and information on the performing arts of India - classical music and dance, theatre, bhajans, discourses, folk performances, and other lesser known art forms. Institutions that revolve around the performing arts have exploded in numbers, and thanks to the Internet which has made information easily accessible, the number of rasikas has grown too. Corporate patronage has played a big part in increasing the world-wide reach of the Indian arts. Sabhash wishes to be a platform for inclusive growth giving an equal opportunity and recognition to not only the main performer but also the artistes who accompany them on stage, and the people who work backstage and play the role of unsung heroes.