Radha Anjali
Bharatanatyam Dancer, Wien, Austria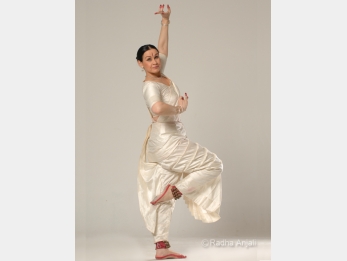 Biography
Radha Anjali born in Vienna, Austria, started her dance training at the age of nine. She studied classical Indian dance, classical ballet and modern dance at the "Konservatorium der Stadt Wien" Finally concentrated all her efforts on Bharatanatyam and obtained her initial dance education (Bharatanatyam, Kuchipudi and Seraikella Chhau) by late Kama Dev in Vienna followed by Guru Adyar K. Lakshman and Smt. Kalanidhi Narayanan in Chennai
Shows & Major Performances
1983 she gave her Indian debut at the Mylapore Fine Arts Auditorium. She became the dancing partner of Kama Dev in his "Kama Dev Indian Dance Company" and additionally made many successful solo performances in Austria and abroad. Radha Anjali teaches Bharatanatyam at the University of Vienna and in her school Natya Mandir. Till today 33 students of Radha Anjali have been able to make their Arangetram in Vienna. Some of them are members of the "Natya Mandir Dance Company" for which she has created various choreographies and dance productions.
Contact
Radha Anjali Prof.Dr. phil.,
Klassischer indischer Tanz-Natya Mandir Verein
Oesterreichisch-Indische Gesellschaft
Boerseplatz 3, A-1010 Vienna, Austria

Phone: 0043 1 532 14 94, Fax 0043 1 533 58 19
mobile:0676 312 57 36
www.radha-anjali.at
www.natyamandir.at
www.austro-indian.at

About
Sabhash
- Everything about classical music, dance, drama and a platform for inclusive entertainment
Sabhash.com is the one-stop destination for the latest news and information on the performing arts of India - classical music and dance, theatre, bhajans, discourses, folk performances, and other lesser known art forms. Institutions that revolve around the performing arts have exploded in numbers, and thanks to the Internet which has made information easily accessible, the number of rasikas has grown too. Corporate patronage has played a big part in increasing the world-wide reach of the Indian arts. Sabhash wishes to be a platform for inclusive growth giving an equal opportunity and recognition to not only the main performer but also the artistes who accompany them on stage, and the people who work backstage and play the role of unsung heroes.