Anita Ratnam
Bharatanatyam Dancer, Tamil Nadu, India
Date of Birth : 21 - May - 1954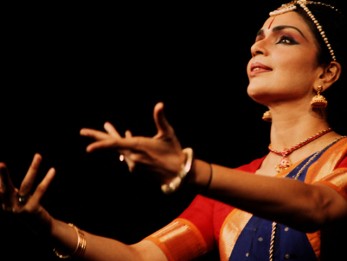 Biography
Dr.Anitha Ratnam had her initial dance training under Bharatanatyam guru, Adyar K. Lakshman and later went to Rukmini Devi Arundale's 'Kalakshetra' for advanced training and earned a Post Graduate diploma in Dance. She trained in Bharatanatyam as well as Kathakali and Mohiniattam, the classical dances of Kerala.

Anita Ratnam is a well known icon in Indian performing arts. For over four decades she has shared her amazing dance and theatre skills in 15 countries around the world in over 1500 performances. A passionate modernist, Anita creates themes from her immediate environment and weaves the traditional alongside the modern with her eclectic view of life and art. An award winning dancer, Anita specializes in themes that portray women from ancient myths as well as powerful women from her own life. He grandmother, mother and daughter occupy a prominent place in her retelling of mythology from a contemporary viewpoint.

An MA in Theatre and Television, Anita has been a TV producer in New York city, a film actress, writer and an arts entrepreneur for the past twenty years. Her many initiatives on stage and internet have impacted the culture industry in this country and created a template for many arts initiatives. Anita holds a PhD in Women's Studies and is currently engaged in a retelling of the ancient epic RAMAYANA from a feminist perspective.
Shows & Major Performances
Anita is associated with many foreign organisations like Dance Alloy (Pittsburgh, USA), Pangea World Theatre (Minneapolis, USA), Everett Dance Theatre (Rhode Island, USA), Lotus Music & Dance (New York, USA), Anjali School of Performing Arts (Houston, USA), Sampradaya Dance Creations (Ontario, Canada), Freeman Repertory Theatre (New York, USA), and Apsara Arts (Singapore)

MEMBERSHIPS:
- International Advisory Board, Pangea World Theatre, Minneapolis, USA,
- International Advisory Board, Preaksha Dance, Toronto, Canada
- Dance Critics Association – USA, (1987)

OBSERVER
- Post Modern Dance Festival, Leipzig, Germany (2002)
Learn more at www.arangham.com

10, Cenotaph 2nd Lane Chennai (Madras) - 600018, India
Phone: 91 - 44 - 2852 4917 / 2435 2123 Fax: 91 - 44 - 2852 2224
E-mail: arangham @ gmail . com
Awards & Recognitions
Nritya Choodamani
In 1996 by Sri Krishna Gana Sabha, Chennai
Kalaimamani by the Tamilnadu Government
in 1998 for Dance Research
Media Achievement award
in 1991 by National Organisation of Women in New York, USA
Mahatma Gandhi Award for Cultural Harmony
1986 in USA
Lalithakalaratna
In 2003 by Sri Lalithakala Academy Foundation Trust (inc.) Mysore
Natya Ratna
In 2003 by Sri Shanmukhananda Sangeeta Sabha, New Delhi

About
Sabhash
- Everything about classical music, dance, drama and a platform for inclusive entertainment
Sabhash.com is the one-stop destination for the latest news and information on the performing arts of India - classical music and dance, theatre, bhajans, discourses, folk performances, and other lesser known art forms. Institutions that revolve around the performing arts have exploded in numbers, and thanks to the Internet which has made information easily accessible, the number of rasikas has grown too. Corporate patronage has played a big part in increasing the world-wide reach of the Indian arts. Sabhash wishes to be a platform for inclusive growth giving an equal opportunity and recognition to not only the main performer but also the artistes who accompany them on stage, and the people who work backstage and play the role of unsung heroes.