Deepika Potarazu
Kuchipudi Dancer, Washington, United States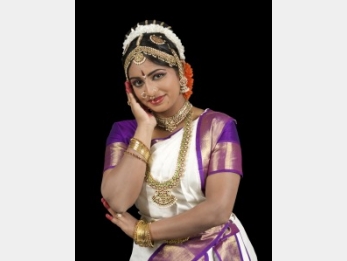 Biography
Deepika was born in Washington D.C. and comes from a family who bears a deep appreciation for the virtue and divinity of the fine arts. Deepika is considered one of the youngest leading exponents of Kuchipudi dance.
Deepika started her training in Kuchipudi at the age of eight under Guru Vempati Chinna Satyam and Guru Vempati Ravishankar. She also had the opportunity to establish a strong foundation in the fundamentals of dance under the guidance of other disciples of The Kuchipudi Art Academyincluding Kalpana Jayanthi and Vanaja Dasika.
She had the distinct opportunity of participating in recent productions and programs of the Kuchipudi Art Academy, in India and the United States, including Leela Ganapati performed at the Music Academy Dance festival in January 2009.
She is currently a sophomore (second year) at Duke University.
Shows & Major Performances
Testimonials
I was very impressed seeing her industry, concentration and unflagging energy…Deepika's movements were scintillating and leg extensions in perfect alignment… Stealing butter as Krishna and alternating as Gopika, Deepika displayed her prowess in abhinaya, expressional dance [and] brought the house down - Dr Sunil Kothari
Deepika wowed an audience and judges comprising dancers and musicians…
Present was movie director K Vishwanath, who described Deepika as 'the rising star of Kuchipudi'. He said, " Deepika is one of the most gifted dancers I have ever seen in her grace, precision, abhinaya and footwork.'
Vyjanthimala said, 'Deepika made It look so effortless… this was a program by a seasoned artist.'
Priyadarshini Govid said Deepika would 'reach great heights in dance.'" - Aziz Haniffa, India Abroad

Contact
Email : deepika.potarazu@gmail.com
Web : http://www.deepikapotarazu.com/
Awards & Recognitions
Singar Mani - 2010
Singar Mani in 2010 at the prestigious Kal Ke Kalakar Festival, Mumbai
Yuva Kala Bharati
YUVA KALA BHARATHI by Bharat Kalachar in November of 2011

About
Sabhash
- Everything about classical music, dance, drama and a platform for inclusive entertainment
Sabhash.com is the one-stop destination for the latest news and information on the performing arts of India - classical music and dance, theatre, bhajans, discourses, folk performances, and other lesser known art forms. Institutions that revolve around the performing arts have exploded in numbers, and thanks to the Internet which has made information easily accessible, the number of rasikas has grown too. Corporate patronage has played a big part in increasing the world-wide reach of the Indian arts. Sabhash wishes to be a platform for inclusive growth giving an equal opportunity and recognition to not only the main performer but also the artistes who accompany them on stage, and the people who work backstage and play the role of unsung heroes.