Sheela Unnikrishnan
Bharatanatyam Dancer, Tamil Nadu, India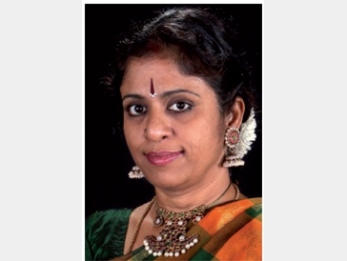 Biography
As a disciple
• Had training in the Melattur Style of Bharathanatyam under the Natyacharya Late. Sri M. Sundaram of Perambur, the direct disciple of famous exponent Mangudi R. Dorairaja Iyer.
• Had also undergone intensive training in Kuchipudi style of dance under the tutelage of the world renowned Kuchipudi Maestro Dr. Vempati Chinna Satyam for over eight years and was awarded scholarship by Govt. of India, Human Resources Development, New Delhi.
• Secured first class in Higher grade (Bharathanatyam) – Department of Govt. Technical
• Examinations – 1987.
• Attended a three day work shop "Natya Sangraham", conducted by Natyarangam in 2005.
As a teacher
• Running a dance school "Sridevi Nrithyalaya" at Chennai, since 1988 – having branches at Villivakkam, Koratur, Kilpauk and K.K.Nagar. Many students from all over India and abroad have bloomed as performing artistes from this dance school.
• Conducted a work shop on "Adavus" for 8 days at Oslo – organized by Kala Sadhanalaya & Muthamizh Mandram - Norway.
• Conferring the title "Nrithya Vichitra" on those who perform arangetram.
• Presenting prestigious performances by the students of this institution.
Sheela's students have won first places in many national and interstate level competitions and were conferred awards such as Bala sree from Govt. of India, Nrithya Ratna, Nrithya Jyothi, etc. and also Scholarships from CCRT, Bharath Kalachar etc.
Shows & Major Performances
As a performer
• Best Dancer – Youth Club – Soviet Cultural Centre – 1986.
• "B" grade artist – Doordarshan Kendra, Chennai – Govt. of India – 1988.
• 1st place – Hidden talent contest – Lalchand Milapchand Dada Sr. Sec. School – 1993.
• 2nd place – Swathi Smrithi – Malayalee Club – 1999.
Organisations
• Delhi Tamil Sangam – 2005
• Pollachi Tamil Sangam – 2010
• Madurai Tamil Sangam – 2006
• Bharath Kalachar – Since 2003
Festivals
• Chidambaram Natyanjali – 2007 & 2010
• Perur Natyanjali – 2007
• Konark Dance Festival – 2009
• Vysaki Nrithyotsav, Vizag – 2009
• Pongal Vizha, Dept. of Art & Culture – 2010
• Mamallapuram Dance Festival – 2005 to 2010
• IDA – Bangalore – 2009
• Siddhendra Yogi Mahotsav, Kuchipudi Village – 2009
• Kala Ghoda Dance Festival, Mumbai – 2010
• Kalai Vizha in Semmozhi Maanadu – 2010
Miscellaneous
• Applauded by the then President of India, Dr. A. P. J. Abdul Kalam, in whose presence, her dance drama, Bala Ramayanam was staged at Rashtrapathi Bhavan, New Delhi – 2005.
• Auroville Cultural Exchange – 2008.
• Taka Dimi Tha 250th week celebrations – 2009.
• Doordarshan's Golden Jubilee Celebrations, Puducheri Kendra – 2010.
As a Choreographer
• Choreographed more than 300 solo items and several dance dramas and thematic presentations. To name a few:
Dance dramas
• Balaramayanam (so far staged over 76 programmes)
• Sada Siva Smaranam
• Shadaksharam
• Parvathi Parinayam
• Janani Jagath Karani
• Ravana Keerthi (under production)
Thematic presentations
• Sri Krishna Karnamrutham
• Sri Krishna Manjari
• Sri Maha Shodasi
• Thrayee
• Kuralin Kural
• Shanmatham
• Ramachandram Bhavayami
Contact
The Majestic City, D 2, L. V. Prasad Road,
Vadapalani, Chennai – 600 026.
Phone: +91.44.2362.1126, Mob: +91.94441.14326
E mail: sriyalaya@yahoo.com, sheela@sridevinrithyalaya.org
Web: www.sridevinrithyalaya.org
Awards & Recognitions
Kala Praveena
Lion's club of Green Park 2004 - 05
Best Guru
VDS Arts Academy - 2005
Nartana Sironmani
Salngai Oli Trust - 2006
Aadal Vallar
Music Connoiseurs - 2006
Padma Bharathy
Padma Sarangapani Cultural Academy - 2007
Natya Kalai Chudar
Uratha Sinthanai - 2007

About
Sabhash
- Everything about classical music, dance, drama and a platform for inclusive entertainment
Sabhash.com is the one-stop destination for the latest news and information on the performing arts of India - classical music and dance, theatre, bhajans, discourses, folk performances, and other lesser known art forms. Institutions that revolve around the performing arts have exploded in numbers, and thanks to the Internet which has made information easily accessible, the number of rasikas has grown too. Corporate patronage has played a big part in increasing the world-wide reach of the Indian arts. Sabhash wishes to be a platform for inclusive growth giving an equal opportunity and recognition to not only the main performer but also the artistes who accompany them on stage, and the people who work backstage and play the role of unsung heroes.