Nagaraj G S
Kanjira Artist, Karnataka, India
Date of Birth : 19 - May - 1982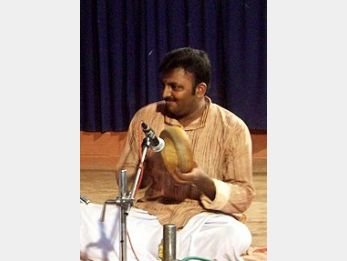 Biography
Nagaraj G S hails from a richly cultured and traditional family of Kolar in Karnataka.
He has been into this divine art from the tender age of 10 years. He started his Mridangam training from Vidwan H L Gopalkrishna. Later his search for a profound guru had ended in Vidwan B N Chandramouli who is a devoted and dedicated person to this spiritual art. Under his guidance Nagaraj gained tremendous knowledge about the ways of staging concerts.
Nagaraj has to his credit of staging concerts in prestigious Sabhas all over India. His Kanjira accompaniment is highly regarded and given due recognition and appreciation by the music lovers, critics and also other great musicians.
Shows & Major Performances
Performed in Various Sangeetha Sabhas - Karnataka, Tamil Nadu & Kerala
Accompanied for renowned artists - Sri R K Srikantan, Sri Kadri Gopalnath, Sri Maharajapuram Ramachandran, Sri R K Padmanabha, D V Nagarajan, Vidushi Vani Sateesh, Sri O S Thyagarajan, Sri M Chandrashekaran, Trichur Brothers, Sri M T Selvanarayana and others. Also Performed for Times of India Music Festival, Trissur Music Festival, and many more..
Contact
No. 1, 7th Cross, 8th Main
Malleswaram, Bangalore - 03
Ph: +91.94498.9582
Mail: kanjiranag@gmail.com
Awards & Recognitions
A Grade
He is an A grade kanjira artist from All India Radio

About
Sabhash
- Everything about classical music, dance, drama and a platform for inclusive entertainment
Sabhash.com is the one-stop destination for the latest news and information on the performing arts of India - classical music and dance, theatre, bhajans, discourses, folk performances, and other lesser known art forms. Institutions that revolve around the performing arts have exploded in numbers, and thanks to the Internet which has made information easily accessible, the number of rasikas has grown too. Corporate patronage has played a big part in increasing the world-wide reach of the Indian arts. Sabhash wishes to be a platform for inclusive growth giving an equal opportunity and recognition to not only the main performer but also the artistes who accompany them on stage, and the people who work backstage and play the role of unsung heroes.