Mandolin P. Nagamani
Mandolin, Tamil Nadu, India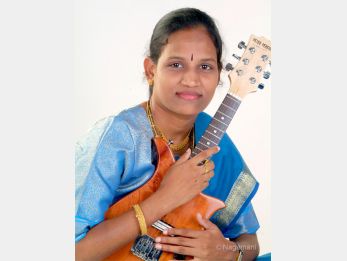 Biography
When most little girls at the age of 7 would be clutching a doll in their hands, little Nagamani was clutching a mandolin, using her tender fingers to learn the intricacies of this stringed instrument. Nagamani, a child prodigy, who is in her early twenties, ranks on par with many carnatic Music Exponents much senior to her in years. Nagamani, who is a native of PALAKOL, West Godavari Dist, ANDHRA PRADESH, learnt mandolin under the loving and caring guidance of her uncle and mentor Sri.Mandolin U.P.RAJU. By the age of 9, she was performing as a seasoned soloist in the hallowed portals of the Grand Music Sabhas of Chennai.She is the FIRST FEMALE MANDOLIN ARTISTE playing carnatic classical music.
Shows & Major Performances
Nagamani has extensively performed around the globe in the countries like SOUTH AFRICA, USA, CANADA, SINGAPORE, AUSTRALIA, GERMANY, FRANCE and SWITZERLAND. Nagamani has also achieved name and fame through her solo/ duo Audio Cd's and cassettes under the banners of KALAVARDHINI, MUDHRA, SANGEETHA and GEETHA Cassettes. Nagamani along with her mentor and husband Sri.U.P.Raju,together they form a formidable MANDOLIN DUO. Nagamani, has won many prizes and awards from various esteemed Organizations.
Contact:
No.5, Kalaignar street, Valasaravakkam,
Chennai,Tamil Nadu - 600087, India
Ph: +91.94442.12288 / +91.94444.71747
Email: mandolinnagamani@gmail.com
Awards & Recognitions
Best Junior Artiste
In 1994 - Awarded " Best Junior Artiste" by the KRISHNA GANA SABHA, for the Gokulastami series at Chennai.
Sri SATHYA SAI BABA
In 1994 - Performed before Bhagawan Sri SATHYA SAI BABA on his birthday.He was so moved by her music that he materialised a gold chain and locket for her.
Ambujam Krishna Award
In 1995 - MUSIC ACADEMY,Chennai has awarded the " AMBUJAM KRISHNA" award for excellance in the Spirit Of Youth Series
K.S.MAHADEVAN endownment
In 2002 - Won music critic " K.S.MAHADEVAN" endownment for the category "Best junior artiste" in playing foreign instrument by the Narada Gana Sabha ,Chennai
First Prize
In 2003 - She won first place in the ALL INDIA RADIO National level competition for the category of stringed plucking instrument.
Yuva Kala Bharati
In 2006 – She was awarded the title Yuva Kala Bharathi by Bharat Kalachar Chennai
A Grade
In 2012 - Graduated as " A " Graded artiste in ALL INDIA RADIO , Chennai.
B High
In 2007 – Graduated as "B High" Graded artiste in ALL INDIA RADIO.

About
Sabhash
- Everything about classical music, dance, drama and a platform for inclusive entertainment
Sabhash.com is the one-stop destination for the latest news and information on the performing arts of India - classical music and dance, theatre, bhajans, discourses, folk performances, and other lesser known art forms. Institutions that revolve around the performing arts have exploded in numbers, and thanks to the Internet which has made information easily accessible, the number of rasikas has grown too. Corporate patronage has played a big part in increasing the world-wide reach of the Indian arts. Sabhash wishes to be a platform for inclusive growth giving an equal opportunity and recognition to not only the main performer but also the artistes who accompany them on stage, and the people who work backstage and play the role of unsung heroes.