Priyanka C Prakash
Carnatic Vocalist, Karnataka, India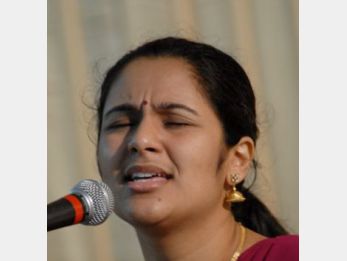 Biography
Priyanka C Prakash (Ananya Pratibhe), is a disciple of Sangita Kala Acharya, Vidushi Neela Ramgopal. She hails from a music family and is a descendant of the legendary Vid Palghat Rama Bhagavathar. She was initiated into music by Smt Rajalakshmi (a disciple of the late Vid S Ramanathan).
She has successfully auditioned at All-India Radio, Bangalore; her program(s), broadcast several times - has been widely appreciated.
Priyanka is also an academic topper - she has topped the State in XIIth CBSE Board Exams (Commerce), and has come First in her college in B.Com. She pursued Chartered Accountancy (CA) along with Under-graduation, and has completed CA-Inter. She is currently doing Articleship and CA-Final Level. She is also keen dabator and has won several national level competitions.
Shows & Major Performances
Performances (few mentioned):
• Sadhguru Samajam, Madurai
• Bangalore Gayana Samaja
• Nada Inbam, Chennai
• Chembur Fine Arts, Mumbai
• Brahma Gana Sabha, Chennai
• Satsangam, Chennai
• Nadabrahma Sangeetha Sabha, Mysore
• Alwar Bhavana, Shri Krishna Gana Sabha, Mysore
• Bangalore International Center, TERI
• M A Narasimhachar Foundation – Indian Instt of World Culture
• Bharatiya Vidya Bhavan
• ISKCON
• Malleswaram Sangeetha Sabha / Ananya
• Music Circle
• Sree Guruvayoorappan Bhajana Samaj (Unnati Center)
• Ramakrishna Bhajana Samaj (Odakathur Mutt)
• Nadasurabhi
• Sri Rama Lalitha Kala Mandira
• Venugopalaswamy Temple
• Mahaganapathy Sangeetha Sabha, K R Puram
• Bande Satyanjaneya Temple
• Devagiri Temple, Banashankari
• Fort High School (Ramaseva Mandali), Chamrajpet
• Lalith Mahal, Thiruvananthapuram
• Seshadripuram Ramaseva Mandali
• She has successfully performed at Swansea, Wales (UK) and
held a Carnatic Music Appreciation program there during
2010.
Research and Presentations:
Priyanka has to her credit presentations on various topics in Carnatic Music, including a full-day power point presentation on Shri Muthuswamy Dikshithar at Gayana Samaja.
She has researched and presented at 'Dikshithar kanda Tiruvarur', a thematic programme on Muthuswamy Dikshithar's compositions on the temple at Tiruvarur, directed by Vid. Neela Ramgopal.
She has also organized Music Quizzes and has written articles on topics such as 'Relationship between Carnatic Music and Places or Worship'.
She has made presentations on Carnatic Music to foreign audiences including those from England, Wales, Japan, etc.
Press:
Her concerts have also been covered in various leading dailies like The Hindu, Deccan Herald, Prajavani, The Times Group (Bangalore Mirror), Dainik Jagran, several in-house magazines etc.
Contact:
Email: priyankacprakash@gmail.com/ priyanka.prakash@icai.org
Awards & Recognitions
M S Subbalakshmi Award
The prestigious 'M S Subbalakshmi Award', Bhramara Trust, Mysore.
Dr.Rangaswamy Iyer Prize
Dr.Rangaswamy Iyer Prize at the Music Academy, Chennai
T R V Sastri Memorial Prize
T R V Sastri Memorial Prize for Vocal Music, Music Academy, Chennai
First Prize
She secured the FIRST PRIZE in the PALLAVI Competition at Bangalore Gayana Samaja.
Ananya Pratibhe
She was awarded the prestigious title - "Ananya Pratibhe" by Malleswaram Sangeetha Sabha and Ananya.
Special Prize
She secured a Special Prize in the Pratibakankshi Concert Competitions at Fort High School, Bangalore in 2011.
Senior Prizes
Priyanka has also won prizes(Senior) in various competitions - primarily ragam-neraval-swaram(RNS) of the compositions of the Trinity, Mysore Vasudevacharya and Mysore Maharaja from
Bangalore Gayana Samaja
- Muthuswamy Dikshithar (RNS)
- Mysore Vasudevacharya (RNS)
- Mysore Maharaja
Malleswaram Sangeetha Sabha
- Shri Thyagaraja (RNS)
- Muthuswamy Dikshithar (RNS)
Rama Seva Mandali, Koramangala
- Shri Thyagaraja (RNS)
- Muthuswamy Dikshithar (RNS)
- Shri Purandaradasa (RS)
National Level Inter-collegiate Classical Music Competitions
- First in 'LeGala' (Classical Music – RNS)
- First in 'CulAh' (Classical Music – RNS)
- First – 'In Bloom' (Classical Music)

About
Sabhash
- Everything about classical music, dance, drama and a platform for inclusive entertainment
Sabhash.com is the one-stop destination for the latest news and information on the performing arts of India - classical music and dance, theatre, bhajans, discourses, folk performances, and other lesser known art forms. Institutions that revolve around the performing arts have exploded in numbers, and thanks to the Internet which has made information easily accessible, the number of rasikas has grown too. Corporate patronage has played a big part in increasing the world-wide reach of the Indian arts. Sabhash wishes to be a platform for inclusive growth giving an equal opportunity and recognition to not only the main performer but also the artistes who accompany them on stage, and the people who work backstage and play the role of unsung heroes.