Padma Subrahmanyam
Bharatanatyam Dancer, Tamil Nadu, India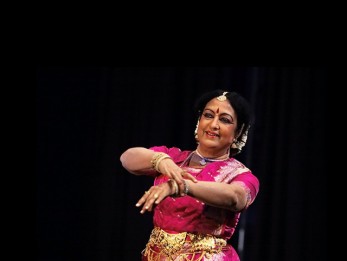 Biography
Dr. Padma Subrahmanyam is acclaimed as a rare combination of a dancer, research scholar, choreographer, singer, music composer, teacher, author and indologist. Her father Director K. Subrahmanyam - who was an internationally reputed film pioneer, freedom fighter and a parental personality in the cultural field. Her mother Meenakshi Subrahmanyam was a music composer, a lyricist in Sanskrit and Tamil and an instrumentalist who played Veena, Violin and Harmonium.

She had a Bachelors Degree in Music, a Masters Degree in Ethno Musicology and Ph.D Thesis on the topic of "Karanas in Indian Dance & Sculpture". Her Dance Guru was Vazhuvur Ramaiah Pillai and a few other eminent masters. Her Research Guide was Dr. T.N. Ramachandran who was the Joint Director General of the Archaeological Survey of India, New Delhi and a recipient of "Padma Bhushan" awarded by the President of India. Her Music Gurus were B.V. Lakshman and Salil Choudhry.

From childhood, she has had a flair for singing in various Indian and foreign languages. She has sung along with her sister-in-law Shyamala Balakrishnan for a few albums titled "Folk Music of Tamilnadu", "Krishna Tulabharam", "Nritya Margam", "Natana Sivanjali" and "Saivappamalai". Padma has also sung "Jayadeva's Ashtapadis" for a separate album titled "Gita Govindam". Presently,
she sings for many dance performances of her disciples. Dr. Gayatri Kannan (her nephew's wife) is now her co-singer.

Even as a teenager, Padma started teaching at Nrithyodaya of which she is now the President. She has evolved a new pedagogy for body training, based on her study of "Natya Sastra" of Bharatamuni.
Her disciples get a holistic view of the various aspects of dance art - practical, theoretical, emotional, intellectual and spiritual. She has trained several dancers, teachers as well as musicians for accompanying dance including "Nattuvangam" artistes.
Shows & Major Performances
POSITIONS HELD:
Dr. Padma has served as a member in:
1) Indo-US Sub-Commission for Education and Culture.
2) General Council of Indian Council for Cultural Relations (ICCR).
3) Executive Committee of Sangeet Natak Akademi, New Delhi.
4) Executive Committee of Tamilnadu Eyal Isai Nataka Mandram, Chennai.
5) Advisory Committee for Doordarshan, Chennai.
6) National Committee to celebrate the 40th Anniversary of Indian Independence & Jawaharlal Nehru's Birth Centenary.
7) National Committee to celebrate the Golden Jubilee of Indian Independence.
8) National Committee to celebrate the Golden Jubilee of Indian Republic.
9) Several Expert Committees of the Ministry of Culture, Govt. of India.
10) Academic Council of Indira Gandhi National Centre for the Arts (IGNCA), New Delhi.
11) Academic Council of IGNCA, Southern Regional Centre, Bangalore.

PRESENTLY, Dr. Padma is serving as a member in:
1) Indian National Commission for Co-operation with UNESCO.
2) General Council of Sangeet Natak Akademi, New Delhi.
3) Board of Kalakshetra Foundation, Chennai.
She is also associated with several Universities all over India in various capacities.

CONTACT :
Old no. 6, Fourth Main Road, Gandhinagar, Chennai - 600 020.
Tel : +91 - 44 - 2497 0575 / 2491 0618
Fax : +91 - 44 - 2442 0258
Email : kannanveena @ hotmail . com
Awards & Recognitions
Padmashri and Padma Bushan
By the President of India
Fukuoka Asian Cultural Prize
from Fukuoka, Japan (Dr. Padma is the first dancer in the world to receive this prestigious award for "her contribution to development and harmony in Asia")
Sangeet Natak Akademi Award
New Delhi
Awards by State Governments
Kalaimamani by the Government of Tamil Nadu, State Artistes Award by the Government of Tamilnadu, Kalidas Samman by the Government of Madhya Pradesh
Lifetime Achievement Award
at India (IFFI Goa 2010, Kalanidhi Fine Arts, Toronto, Canada and Soorya, Singapore Chapter
Awards From Abroad
Kambarasa Nartana Vilasa Vittagi by Colombo Kamban Kazhagam, Srilanka K. M. Munshi Cetenary & Bhavan's Golden Jubilee Award by Bharatiya Vidya Bhavan, London, UK Award of Excellence by New York Tamil Sangam, USA Natya Ratnakara by India Fine Arts, Austin, USA Nritya Jyoti by Austin Tamil Sangam, USA Nritya Ratnakara by Bhairavi Indian Fine Arts Society, Cleveland, USA

About
Sabhash
- Everything about classical music, dance, drama and a platform for inclusive entertainment
Sabhash.com is the one-stop destination for the latest news and information on the performing arts of India - classical music and dance, theatre, bhajans, discourses, folk performances, and other lesser known art forms. Institutions that revolve around the performing arts have exploded in numbers, and thanks to the Internet which has made information easily accessible, the number of rasikas has grown too. Corporate patronage has played a big part in increasing the world-wide reach of the Indian arts. Sabhash wishes to be a platform for inclusive growth giving an equal opportunity and recognition to not only the main performer but also the artistes who accompany them on stage, and the people who work backstage and play the role of unsung heroes.