Jayalakshmi Sekhar
Veena Artiste, Tamil Nadu, India
Date of Birth : 12 - Aug - 1955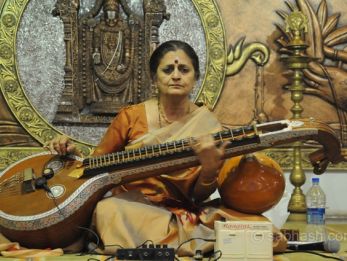 Biography
Jayalakshmi Sekhar hails from a family of musicians, her guru being her father , Research Scientist, Sri CS Krishnaswamy, who played the flute for his own interest, taught her preliminaries in music and the flute.
Violin was her first instrument at age 6 with basics and then self practise from the music she was learning from father and Veena guru later.
Veena - her first guru was Sri Pudukottai Jayarama Iyer, ( Mudicondan school), a Gandhian and very simple person taught her for more than 9 years.
Flute - basics from her father and went on to practise everything she learnt from veena guru.
Academics - BSc degree in Chemistry from Stella Maris College , Chennai.
She was introduced to Padmabhushan Sangeetha Kalanidhi Dr Sripada Pinakapani in 1978 when she got married to Sri TV Sekhar and from then onwards Jayalakshmi was listening to music, notated them and advanced her repertoire. In 1994, she started travelling to Kurnool, to learn from the great musician himself, to perfect all those that she had notated and learnt from the tapes, and was taught all the Annamayya kritis tuned by him too.

Jayalakshmi Sekhar , who is a great fan of Violin Maestro Padmabhushan Lalgudi Sri Jayaraman realised her dream of being his student when he agreed to personally teach her his varnams and thillanas and still continues to learn his newer compositions.
She has been a student all her life, passionately involved in music, to acquire authentic, real classical repertoire, also from Musicologist Dr VV Srivatsa, and renowned musician Sri S Rajam.
She has been fortunate that her father was always speaking and playing recordings of music of the great stalwarts like Ariyakudi Ramanuja Iyengar, Sri Semmangudi Srinivasa Iyer, Sri KV Narayanaswami and a lot of the influence is seen in her music too, and with her 3 main gurus , she is known for her classicism without gimmicks when she performs.
Knowledge of Dance
Jayalakshmi 's knowledge of music , rhythms for Bharatnatyam is well known and has made her in demand for consultation and programmes all over. She works closely with Bharatalaya, Melbourne, Australia 's Dr Chandrabhanu , and Ramli Ibrahim and others in Malaysia. She has played on the veena for well known dancers Chitra Visweswaran , The Dhananjayans ' Nandanar Charitam' in Cleveland Tyagaraja Aradhana festival, US.
As A Teacher
She has been a teacher all her life, has many students all over the world, of all races and age groups, producing good presentations with children of all age groups. She has been invited consecutively the last 4 years to train the children of North America for their Sustaining Sampradaya programmes and noted for their outstanding performances.
Jayalakshmi , along with her students in Malaysia have been performing with Alliance Francias, Music Festival usually held in June every year for the past 8 years.
She is of the firm view that performing this divine art must be enjoyed by the performer giving importance to Bhakti and melody to the music as her gurus imparted to her.
Discography
Kalavardhani - 3 cassettes of concert recording
Carnatica - Tyagaraja Kritis,Annamayya Kritis of Dr Pinakapani, Panchalinga Kshetra Kritis
Invis Multimedia, Trivandrum - Ganesha, Oothukadu and Swati Tirunal compositions.
DVD - Jaya TV, Margazhi Mahotsavam.
Shows & Major Performances
Concerts
Jayalakshmi has performed all her life from a young age with her father on the flute, violin when they were living in Malaysia, and after moving to Chennai during her high school and college years, on the flute and veena. After her marriage, and living in Malaysia she has always involved herself in programmes , music, and made a comeback to Chennai, the seat of music when she started performing as a professional Veena Artiste , thanks to the great violinist Sri VV Subramaniam who organised her first concert in Narada Gana Sabha in june 1996.
There has been no looking back as she performs regularly in the famous December Festivals , having many concerts every year.
She has given lecture demonstrations in india from New Delhi to Kerala in the south, on veena techniques and teaching of music and countries abroad include Malaysia, Singapore, Australia,Mauritius,Estonia, Berlin- Germany, Pittsburg University , US.
Featured in Sa re ga ma programmes recorded on Jaya TV, with Neyveli Sri Santanagopalan.
Reviews
"Precise and fluent movement over the frets marked Jayalakshmi Sekhar's veena recital. She displayed in her art a perfect mix of talent and fingering felicity...." SVK - The Hindu, Friday, August 11, 2000. (Tyagaraja Festival, Tirupathi, July 2000).

Nadabruhmam presented a veena concert by Jayalakshmi - her raga alapanas were appealing.. "SVK - The Hindu, Friday, June 14, 1996.
"With Dr. Pinakapani as one of her foremost gurus, Jayalakshmi has acquired rare expertise in music" The Hindu, Friday, January 8, 1999, Hamsadwani Concert, December 1998.
"Jayalakshmi's veena recital at Karthik Fine Arts displayed the vocal style to the maximum... "Dina Thanthi - 10th December, 1998.
"The recital cum demonstration lecture by Jayalakshmi presented glimpses of legendary Veena Dhanammal...", The New Indian Express, Secunderabad - 21st May 1999.
"Jayalakshmi Sekhar gave a veena recital of extraordinary merit and vidwat.." K. Sundar Rajan - The Trinity Mirror, Friday, January 8, 1999.
Contact
No. 4(26), 1st Seaward Road,
Valmiki Nagar, Thiruvanmiyur,
Chennai - 600 041. Tamil Nadu
C/O T.V. Sekhar,
No. 12, Jalan Terasek 7,
Bangsar Baru, KualaLumpur - 59100,
Malaysia.
Ph: +91.44.2441.8202 / +91.98410.11637
Email: mailme@jayalakshmisekhar.com
Awards & Recognitions
Prizes
The Gottuvadhyam Narayana Iyengar Award in August 1998 from Sri Krishna Gana Sabha. She has been awarded the prize for veena playing in the Sri Tyagaraja Music Festival, held in Tirupathi in July 2000
Senior Veena Award
Senior Veena Award conferred by Naradha Gana Sabha in Dec 2004
A Grade
She is an A grade All India Radio Artiste
Empanelled
Empanelled by Indian Centre for Cultural Relations, New Delhi.
Prizes and Awards
Prizes and Awards from various organisations in Chennai/Tirupati etc for veena playing.
Life Time Achievement Award
Life Time Achievement Awards from Bharatalaya School of Dance, Melbourne, Australia, and The Brahmin Association, Malaysia

About
Sabhash
- Everything about classical music, dance, drama and a platform for inclusive entertainment
Sabhash.com is the one-stop destination for the latest news and information on the performing arts of India - classical music and dance, theatre, bhajans, discourses, folk performances, and other lesser known art forms. Institutions that revolve around the performing arts have exploded in numbers, and thanks to the Internet which has made information easily accessible, the number of rasikas has grown too. Corporate patronage has played a big part in increasing the world-wide reach of the Indian arts. Sabhash wishes to be a platform for inclusive growth giving an equal opportunity and recognition to not only the main performer but also the artistes who accompany them on stage, and the people who work backstage and play the role of unsung heroes.