Vidya Subramanian
Carnatic Vocalist, Tamil Nadu, India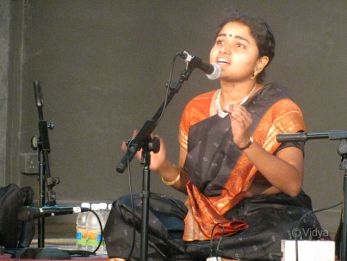 Biography
Vidya Subramanian is an experienced Carnatic vocalist and senior disciple of Padmabhushan Lalgudi Sri Jayaraman. She has performed extensively in India as well as in Singapore and the USA. In the 2011 Chennai Music season, her performances were featured by leading sabhas such as Narada Gana Sabha, Kartik Fine Arts, Mylapore Fine Arts, Brahma Gana Sabha, Kapali Fine Arts & Hamsavinodini. She has performed at reputed organizations such as University of Utah, Cornell University, Swaralaya-Florida, Fine Arts Association of Arizona, Cleveland Aradhana, Sangati Center-California, Singapore Indian Fine Arts, Sri Krishna Gana Sabha-Mysore, Powai Fine Arts-Mumbai, Sree Rama Seva Mandali-Bangalore as well as in all major sabhas in Chennai including Sri Krishna Gana Sabha, Bharat Kalachar, Nadopasana, Sarvani Sangeetha Sabha, Carnatica and the Music Academy (HCL series).
Online Teaching:
Vidya heads a very successful and rapidly growing online Carnatic music learning academy in which her team of teachers trains students from all over the world. Vidya has successfully leveraged her in depth knowledge of music and her business training to adapt traditional Carnatic music pedagogy to suit an online, culturally diverse student group. Students from all over the world reach out to Vidya to receive training in this art form in a technically sound manner in a customized, easy to follow format. Vidya and team handle the online classes in a professional manner with clear notes, song recordings and periodic feedback. Vidya has helped create opportunities for many musicians who are interested in online teaching but often lack the necessary training and exposure on the use of technology. She welcomes teachers from all over the world and students at all levels to contact her to explore teaching and learning opportunities.
Podcasts:
Vidya co-hosts a pioneering free audio podcast series on Carnatic music called Raagarasika (www.raagarasika.com) which has won the appreciation of listeners from all over the world. The podcasts are freely downloadable from www.raagarasika.com as well as iTunes library and include lively discussions on Carnatic composers, compositions, ragas, manodharma or creative aspects. This educational series has helped Vidya reach out a cultural diverse, global audience.
Academic qualification:
Besides her musical activities, Vidya is a Chartered Accountant (gold medalist, All India Rank 2 in CA Final, batch of 2000) with an MBA from Boston College, USA and has completed the prestigious CFA Certification.
Vidya lived in the USA for nearly a decade and spearheaded several outreach programs wherein she educated local communities about the artistic heritage of Carnatic music. Her presentations and recitals won her admiration from Indians and non-Indians alike.
Shows & Major Performances
Carnatic concert appreciation DVD:
In 2011, Vidya brought out a Carnatic Concert Appreciation DVD that walks viewers through a full length concert with explanations interspersed. The Raaga Rasika Team is pleased to present our first Carnatic DVD product. "Raaga Rasika's Guide to Carnatic Music Appreciation" is a two volume DVD set which contains a full length Carnatic music concert performed by Vidya Subramanian's ensemble. Explanations and subtitles in English help draw audience attention to various highlights of the performance. We believe this video will be an interesting and truly enriching experience to new and experienced listeners alike, both from an educational as well as entertainment standpoint. The DVD set contains over 3 hours of information rich material on Carnatic music. More info on the product can be accessed from http://vidyasubramanian.com/OrderDVD.aspx.
Concerts:
Vidya follows an interactive format in all her concerts wherein she shares information on items presented in a succinct manner. Her concerts combine artistic merit with a lot of research and appeal to connoisseurs and lay listeners alike. Vidya believes that incorporating an educational element in Carnatic concerts is critical to attract new and younger audiences to our concert halls.
Some links:
Review in The Hindu of my recent concert in Srirangam (Aug 2012): http://www.thehindu.com/arts/music/article3779084.ece
Interview for Pudiya Thalaimurai TV channel - http://puthiyathalaimurai.tv/new/?page_id=373&video=153
Vidya's recent article for Sruti magazine's blog - http://srutimag.blogspot.in/2012/01/day-in-life-of-teacher-of-musicvia.html
Story in the Albany Times Union, NY on Vidya's Artist Award from Saratoga Arts and NYSCA - http://www.timesunion.com/living/article/The-art-of-sharing-551273.php#photo-2
To listen to Raaga Rasika podcasts – www.raagarasika.com
Story in The Telegraph, Calcutta - http://www.telegraphindia.com/1111113/jsp/7days/story_14742723.jsp
To view Youtube samples from Vidya's Concert Appreciation DVD - http://vidyasubramanian.com/OrderDVD.aspx
Contact:
Email : vidyasubramanian.music@gmail.com
Web : www.vidyasubramanian.com
Awards & Recognitions
Thanjavur Kalyanaraman Endowment Award
Thanjavur Kalyanaraman Endowment Award from Sri Krishna Gana Sabha, Chennai (Aug 2011)
Special Award
Special Award from Sree Rama Seva Mandali, Bangalore (May 2011)
Artist Award
2010's Artist Award from Saratoga Arts and NY State Council on the Arts (NYSCA)
Strategic opportunity stipend
Strategic opportunity stipend awards from The Arts Center of the Capital Region and New York State Foundation for the Arts (NYFA) in 2009
Arts grant award
2010 and 2011 and Arts grant award from the Town of Clifton Park, NY in 2009

About
Sabhash
- Everything about classical music, dance, drama and a platform for inclusive entertainment
Sabhash.com is the one-stop destination for the latest news and information on the performing arts of India - classical music and dance, theatre, bhajans, discourses, folk performances, and other lesser known art forms. Institutions that revolve around the performing arts have exploded in numbers, and thanks to the Internet which has made information easily accessible, the number of rasikas has grown too. Corporate patronage has played a big part in increasing the world-wide reach of the Indian arts. Sabhash wishes to be a platform for inclusive growth giving an equal opportunity and recognition to not only the main performer but also the artistes who accompany them on stage, and the people who work backstage and play the role of unsung heroes.