Dr. Bhagavathi Yerramilli
Veena Artiste, Tamil Nadu, India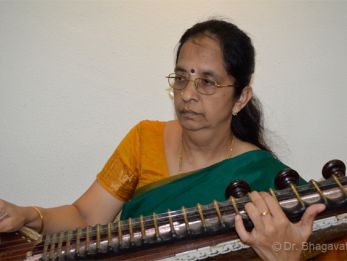 Biography
Dr. Bhagavathi Yerramilli is an accomplished musicologist and a performer on the South Indian instrument Veena. She was first initiated into music by her parents. She then went on to be the disciple of Late Smt. Kalpagam Swaminathan.
She pursued her Master of Arts in Music from Madras University. After which, she was awarded the University Grants Commision- Junior Research Fellowship which enabled her to conduct research work on "Tyagaraja's Nauka Caritramu" (which is a musical play by the south Indian music composer Tyagaraja entitled "The childhood pranks of lord Krishna in a boat") for her Ph.D degree under the supervision of Professor N. Ramanathan. She recieved her Doctor of Philosophy from University of Madras in August 1992. Her short presentation of "Nauka Caritramu" as musical play won her the best lecture demonstration award at the music conference conducted by the Music Academy, Madras in 1994. She was awarded the UGC Research Associateship in September 1993 to do her Post-Doctorial research on the topic "Raga-s handled in Muttuswami Dikshitar's compositions".
As a performer she has given many concerts and as a musicologist she presented many papers in seminars, workshops and conferences. She taught Veena and theory for B.A and M.A music at Music Department, Madras University for six years.
She was with Singapore Indian Fine Arts Society from 1997 to 2001 and has been with the Singapore Kerala Association from 2002-2005. In 2005 she established Maithri Vidhya Kendram.
Her first love is her students with whom she spends most of her time, grooming and educating them in the Indian Fine Arts and Culture.
Maithri Vidya Kendram Academy of Music started as a school of Fine arts in order to provide quality arts education in Karnatic Music.
Sri Rajaram Shreedhar, founder trustee of Maithri educational & charitable trust Chennai, proposed to establish the School of Fine Arts to tap the talents inherent in children.
Shows & Major Performances
Contact:
CHENNAI, INDIA
Office:
Plot No.: 2, 4th Kulakkarai street, Lakshmi puram,
Chromepet,Chennai-600044
Ph: +91.98407.44702/+91.99402.91623
Email: mvkchennai@gmail.com
SINGAPORE
Office:
Kids IQ, Vista Point, Block 548,
02-25, Woodlands drive 44, Singapore 730548
Home:
Block 315, #11-137, Clementi,
Avenue 4, Singapore 120315
Ph: +65.6600.6626 / +65.9637.9475/+65.9673.9175
Email: mvksingapore@gmail.com
Web: http://www.mvkfinearts.com

About
Sabhash
- Everything about classical music, dance, drama and a platform for inclusive entertainment
Sabhash.com is the one-stop destination for the latest news and information on the performing arts of India - classical music and dance, theatre, bhajans, discourses, folk performances, and other lesser known art forms. Institutions that revolve around the performing arts have exploded in numbers, and thanks to the Internet which has made information easily accessible, the number of rasikas has grown too. Corporate patronage has played a big part in increasing the world-wide reach of the Indian arts. Sabhash wishes to be a platform for inclusive growth giving an equal opportunity and recognition to not only the main performer but also the artistes who accompany them on stage, and the people who work backstage and play the role of unsung heroes.