Amritha Murali
Carnatic Vocalist, Tamil Nadu, India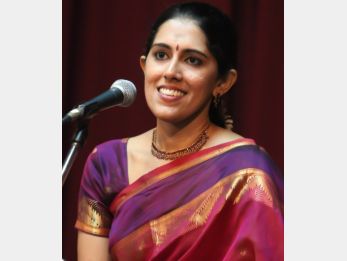 Biography
Amritha Murali belongs to a family of connoisseurs of music. Her exceptional musical instincts have been well nurtured by her parents and she has, today, gained much acclaim and popularity with the music fraternity as a highly talented musician of the younger generation.
Gurus
She has had the good fortune of learning vocal music from great gurus , Vidvan Late Sri K R Kedaranathan, Vidushi Smt Meera Kedaranathan, and Vidushi Smt Rama Ravi. She is currently under the tutelage of Vidvan Sri P.S.Narayanaswamy. She also trains under Vidushi Smt.T.Rukmini for violin playing.
Amritha is an 'A' graded artiste of the All India Radio.
She has been an active member and a past Vice- president of YACM, Youth Association for Classical Music, a premier forum for the promotion of classical music amongst the youth.
Scholarships
Amritha is also under a fellowship granted by the Sangeet Natak Academy,New Delhi to learn advanced ragam, tanam and pallavis .
She has received scholarships for pursuing both vocal and violin from the Tamilnadu Iyal Isai Nataka Manram, Sterling Group and the K.K.Ravi.Trust.
Music releases and recordings
She has cut many discs with the reputed classical music recording company Charsur Digital Work Station, Chennai.
Equally adept at playing the violin, she has won numerous awards and prizes for the same. She has performed many a concert with her guru Smt.T.Rukmini and has accompanied on the violin many senior artistes such as Shri T K Govinda Rao, Shri R.K.Srikantan, Smt.Suguna Varadachari, Smt Suguna Purushotham, Smt.Radha Viswanathan, Smt Kalpakam Swaminathan, Shri N Ramani, Shri N.Vijay Siva, Smt.S.Sowmya, Shri. T.M. Krishna, Smt.Ranjani &Gayatri and others all over the country and abroad.
A bright student in academics, Amritha is an alumnus of P S Senior Secondary School and Ethiraj College, Chennai. She holds a Masters degree in Finance Management.
Shows & Major Performances
Performances
Amritha has been performing for all the major organizations all over the country that include prestigious ones such as the
Madras Music Academy, Narada Gana Sabha, Kartik Fine Arts, Sri Krishna Gana Sabha, Sri Parthasarathiswami Sabha, the Bharatiya Vidya Bhavan, Sri Thyaga Brahma Gana Sabha, Nada Inbam, Bharat Kalachar, the Indian Fine Arts society, Brahma gana sabha, Carnatica's Bharat Sangeet Utsav and many other organizations in Chennai,
Shanmukhananda Fine Arts, Rasika Ranjani sabha Ghatkopar, Mulund Fine Arts and Bhandup Fine Arts in Mumbai and Poona Sangita Sabha in Pune,
Shanmukhananda Sangita sabha in Delhi,
Sri Rama Lalita Kala Mandira , Odakathur Mutt and other reputed sabhas in Bangalore,
Kalasagaram and Sharada Bhakta Mandali in Secunderabad,
Manoranjitham, Alapana and Rajalakshmi Fine Arts in Coimbatore,
Rasikapriya, Calcutta,
Sangeeta Parishad in Mangalore and Ragadhana in Udupi.
She has had the blessed opportunity to perform at the prestigious Navaratri Mantapam in Trivandrum during their Navarathri festival.
Amritha has been on vocal concert tours of the U.S.A and Canada and has also performed at the prestigious Tyagaraja Utsavam at Cleveland, Ohio.
She has also been promoted to sing in the senior slot during the Music Academy's(Chennai) December music festival.
Amritha has sung for many contemporary theatre performances directed by the renowned art critic Smt Gowri Ramnarayan. She has also performed at the popular November fest hosted by The Hindu.
Musicians, rasikas and critics have been highly appreciative of her adherence to classical values and the aesthetic appeal of her concerts.
Press Reviews
"In Amritha's recital, the Sahana vinyasa for 'Raghupate Rama,' was exhilarating. It was not flat and unadorned, but richly worked out, the sancharas subtly integrated with vocal articulation.The well-spaced sancharas compelled attention where manodharma coloured the lineage of Sahana. The ensemble of raga, kriti and niraval was rooted in the emotion of rakti. There was profundity in the simple but glowing beauty of the song presented by her. This item particularly brought out the sparkle and substance. Similar was her approach to 'Neeke Dayaraaka' (Neelambari), the rhythm in the smooth-flowing sahitya pointing to her talent. The aesthetic vision in these two items helped Amritha look beyond just text book adherence. She fathomed Sahana's sensitivity and Nilambari's gentle temper with intensity."
S V Krishnan (SVK), The Hindu, May 27,2011
"Her glistening, full-fledged Sahana remained with you long after Amritha Murali's Vijayadasami Day concert at Raga Sudha Hall. The noble tone and niceties in gamaka brimmed with feeling, while intelligence ensured that the raga was not overstretched in repetitions or inaccuracies. Muthuswami Dikshitar's exquisite " Shri Kamalambikayam'' (Tisra Triputa) was handled
with a maturity rare in so young a musician, proving that the song had been internalised before being rendered on the stage."
Gowri Ramnarayan ,The Hindu,Friday, Oct 06, 2006
"Clear Diction,Clean lines-Amritha Murali's musical expression reveals and underlying conviction that rings true even to a jaded listener.Her music is refreshingly honest with no pseudo- iconoclastic propensities to distort the clean lines of her straightforward presentation."
Lalitha Krishnan , The Hindu,May 2006
"Accent on Aesthetics- Intelligent planning and flawless execution."
Charukesi,The Hindu, Dec 31, 2008
" Chaste rendering of the great compositions of its maestros and a musical imagination rooted in good aesthetics and orthodox vocalisation uncluttered by gimmickry strong preference for gamaka over briga , a penchant for subtle prayogas, feeling, supported by intelligent concert planning."
Sruti Magazine- August 2007
"Amritha's music was a showcase of truly classical music, bedrocked on its strict norms and yet replete with aesthetic and emotional appeal.The structural sweep and serenity and the triumph of substance over slickness were the attractions."
K.S.Mahadevan, The Indian Express
Contact Address
Kum.Amritha Murali
Old no.18, New no.2, Viswanathan Street,
Srinivasa Avenue, R.A.Puram,
Chennai- 600 028, TamilNadu, India
Ph : +91.44.2461.2061/ +91.44.2461.7209 / +91.98400.26379
Email : amritha.m@gmail.com
Awards & Recognitions
Isai Chudar
Kartik Fine Arts, Chennai
Yuva Kala Bharathi
Bharat Kalachar, Chennai
Kalki Krishnamurthy memorial award
Kalki Krishnamurthy memorial award
Nada Oli
Nada Inbam, Chennai
Dr.M.L.Vasantakumari memorial award
Dr.M.L.Vasantakumari memorial award from Sri Parthasarathy Swami Sabha.
M S Subbulakshmi Award
Narada Gana Sabha, Chennai
Dharmatma Vaidyasubrahmanya Iyer Award
R A Puram Bhakta Jana Sabha, Chennai
Yuva Kalakaar Puraskar for the year 2005-06
Sri Shanmukhananda Fine Arts, Mumbai
AIR - 2000
All India Radio National Competition Prize , 2000
Outstanding Sub-Senior Vocalist award
2011 and 2010 and the best concert award in2009 for the Sub- Senior category from the Madras Music Academy
Best sub- senior vocalist
The Indian Fine Arts Society and Sri Parthasarathy Swami Sabha ,Chennai
Voleti Venkateshwarulu Endowment Prize
Sri Krishna Gana Sabha

About
Sabhash
- Everything about classical music, dance, drama and a platform for inclusive entertainment
Sabhash.com is the one-stop destination for the latest news and information on the performing arts of India - classical music and dance, theatre, bhajans, discourses, folk performances, and other lesser known art forms. Institutions that revolve around the performing arts have exploded in numbers, and thanks to the Internet which has made information easily accessible, the number of rasikas has grown too. Corporate patronage has played a big part in increasing the world-wide reach of the Indian arts. Sabhash wishes to be a platform for inclusive growth giving an equal opportunity and recognition to not only the main performer but also the artistes who accompany them on stage, and the people who work backstage and play the role of unsung heroes.