K. Mahathi
Keyboard, Tamil Nadu, India
Date of Birth : 01 - Mar - 1999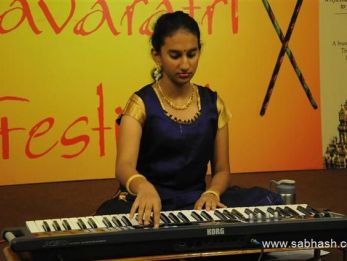 Biography
Mahathi is learning Carnatic Music in Keyboard from the age of 5 years. She had her initial training from Mr. John for 8 months, Isaimamani Shri.M.S.Martin who is a leading Keyboard tutor in Chennai for about 3 ½ years and from Gana Bhushanam Smt. Lakshmi Ananthakrishnan, a B High Carnatic Vocalist of All India Radio, Chennai for about 1 ½ years. Now she is under the expert guidance of Shri.T.G.Badrinarayanan, a Senior Disciple of Sangeetha Kalanidhi Shri. D.K. Jayaraman.
Mahathi is quite at ease in playing about 30 varnams and about 200 Krithis of popular composers. She performs extensive Raaga Alapana, Niraval and Kalpanaswara keeping in mind the grammar and parameters of Carnatic Music. She can also render Thevaram, Thiruvasagam and Thiruvarutpa extensively.
Shows & Major Performances
Mahathi has presented over 200 concerts so far which includes the December Annual Music Festival in leading Sabhas in Chennai since 2007, Temple concerts, Aradhana functions, Park concerts, Cultural organizations, Spiritual Centres , School functions etc.,
She presented charity shows for institutions like Banyan, Scarf and Anbhaham (Homes for the mentally ill and recovering patients). Her performance at Vishranthi (Home for the Aged) was well appreciated and applauded by the aged people.
Mahathi has the credit of being the "Youngest Musician" to have given a full length evening prime time Concert for Kapali Fine Arts, Chennai during the December Music festival 2007 & 2008 and the "Youngest Performer" for the renowned Sundaram Finance "Kutcheri in Park" during the year 2008.
Mahathi staged her First International show in Malaysia performing Thirumurai Songs on Keyboard for the famous "Periyapuranam Dance Festival" on 28th & 29th Nov' 2009 and Dhandayudhapany temple in Singapore on 1st Dec'2009.
She has performed a full length morning and evening concerts in India's prestigious Shri.Shanmukhananda Fine Arts, Chembur Fine Arts, Mumbai on 21stMarch2010 and at National Centre for Performing Arts (NCPA) Mumbai on 11th Nov 2010 for Children's day & Kalasagram, Secunderabad.
Mahathi is blessed to have performed an exclusive 1 hour concert for Swami Dayanand Saraswathi at his Gurukulam in Coimbatore on 6th Nov' 2010. Very recently Mahathi was blessed to be invited to perform in Tirumala Tirupathi Devasthanam , Tirumala for 1 hour.
Media & Press Reports :
Mahathi has appeared in leading television channels (Doordarshan, Podhigai & Trivandrum, Jaya TV, Kalignar TV & Raj TV), She performed an exclusive 30 minutes programme in Kalignar TV on the occasion of Children's day 2010. Her concerts were aired in All India Radio & Anna FM on various occasions.
Mahathi's awards were covered by Doordarshan News Channel and also by the News Bureau of Jaya TV in their special capsule for children titled "Kids News"
Mahathi's performance, awards, reviews & write up were published in leading Magazines & Newspapers like The Hindu, News today, Trinity Mirror,Tambaram Talk, Adayar Times, Mangayar Malar,Telugu dailies like Sakshi, Vaartha etc .,
The Hindu in its "Downtown edition" published a detailed write up of Mahathi On 28th Dec' 2008 and her concert at "Asthika Samajam on the occasion of Rama Navami was reviewed Smt. Lalitha Krishnan and published in "The Hindu - Friday Review Column on 30th April 2010. Her concert at Kalasagarm, Secunderabad was reviewed and published in the "The Hindu" Friday Review on 29th June 2012.

An International Magazine "Frozen Thoughts" in its "Young Wonder Column" of April 2009 appreciated Mahathi's talents and dwelled into her interests & future plans. "Define Chennai" a monthly chronicle featured a cover story on Mahathi in their May 2011 issue.
Contact:
" Jayam Sai Krupa " Old No.2, New No.7, Dason Street,
Radha Nagar, Chromepet, Chennai 600 044.
Ph: +91.94442.52729 / +91.93821.76288
email: keyboardmahathi@gmail.com
website: www.keyboardmahathi.com
Awards & Recognitions
BALA ISAI THENDRAL – 2010
Lions Clubs International
BEST PERFORMER AWARD
Sri Parthasarathy Swamy Sabha for their 109th year December Music festival
SAMAIKYA BHARAT GAURAV SATKAR - 2008
Ugadi Purashkar Award from Madras Telugu Academy
YOUNG ACHIEVER AWARD - 2008
Rotary Club of Chepauk
YOUNG ACHIEVER AWARD - 2007
Rotary Club of Chennapatna
YOUNG ACHIEVER AWARD - 2006
Sornammal Education Trust
BALA SWARNA JWALA – 2006
Journal of School Social Work
AMBASSADOR
Rotary Club of Esplanade for the year 2009-10

About
Sabhash
- Everything about classical music, dance, drama and a platform for inclusive entertainment
Sabhash.com is the one-stop destination for the latest news and information on the performing arts of India - classical music and dance, theatre, bhajans, discourses, folk performances, and other lesser known art forms. Institutions that revolve around the performing arts have exploded in numbers, and thanks to the Internet which has made information easily accessible, the number of rasikas has grown too. Corporate patronage has played a big part in increasing the world-wide reach of the Indian arts. Sabhash wishes to be a platform for inclusive growth giving an equal opportunity and recognition to not only the main performer but also the artistes who accompany them on stage, and the people who work backstage and play the role of unsung heroes.