Dr. Yamini Saripalli
Kuchipudi Dancer, Maryland, United States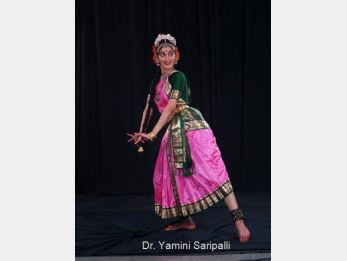 Biography
Dr. Yamini Saripalli is a disciple of guru Dr. Vempati Chinna Satyam and Sri Vempati Ravi Shankar. She has performed with Dr. Chinna Satyam's troupe in throughout the United States as well as India with his troupe.
As a solo artist she has performed at various prestigious venues such as the Kennedy Center,
Washington D.C.; Milapfest, Manchester, England and Ravindra Bharathi, Hyderabad, India. She is a regular performer in the Chennai Dance Music Season.
Yamini is both an active performer and teacher in Washington DC. She also studies Carnatic vocal music under Sri Bhagavatula Seetharama Sarma.
Shows & Major Performances
Shows & Major Performances
USA
-"Kuchipudi Prathidwani"- tour of the United States with guru Dr. Vempati Chinna Satyam and his troupe
Kennedy Center- Washington DC
Chicago Tyagaraja Utsavam
Sri Siva Vishnu Temple-Maryland
Murugantemple -Maryland
DANCE DC Festival
Emerging Artists Dance Festival- Arlington, VA
Milapfest- Manchester, UK
St. Louis Indian Dance Festival
Chinamaya Mission- Los Angeles
INDIA
-Silparamam- Hyderabad -with guru Dr. Vempati Chinna Satyam's troupe- March
-Kalasaagar foundation- Chennai- with guru Dr. Vempati Chinna Satyam's troupe
Music Academy – Chennai with Sri Vempati Ravi Shankar's troupe
Chowdiah hall, Bangalore- with Sri Vempati Ravi Shankar's troupe
Ravindra Bharathi,- Hyderabad
Hamsadhwani – Chennai
Bharat Kalachar- Chennai
Varasiddhi Vinayaka temple-Chennai
Kartik Fine Arts- Chennai
Tirumala Tirupati Devastanam-Chennai
Lalitha Kala Vedika- Chennai
Brahma Gana Sabha – Chennai
Indradhanush –New Delhi
Swaralaya-Pallakad
Guwahati International Dance Festival- Assam
World Dance Alliance- Bangalore
Contact
email: yamini.saripalli@gmail.com

About
Sabhash
- Everything about classical music, dance, drama and a platform for inclusive entertainment
Sabhash.com is the one-stop destination for the latest news and information on the performing arts of India - classical music and dance, theatre, bhajans, discourses, folk performances, and other lesser known art forms. Institutions that revolve around the performing arts have exploded in numbers, and thanks to the Internet which has made information easily accessible, the number of rasikas has grown too. Corporate patronage has played a big part in increasing the world-wide reach of the Indian arts. Sabhash wishes to be a platform for inclusive growth giving an equal opportunity and recognition to not only the main performer but also the artistes who accompany them on stage, and the people who work backstage and play the role of unsung heroes.