Zakir Hussain
Bharatanatyam Dancer, Tamil Nadu, India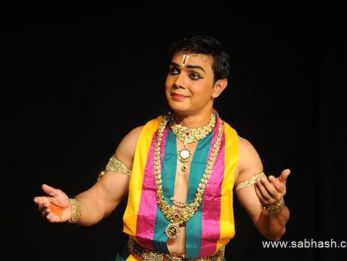 Biography
Zakir Hussain, a well known research scholar and dancer hails from a traditional Muslim family in South India. After graduating in fibre technology Thyagaraja campus in his home town of Salem, he chose to persue his passion for Bharatha Natyam and left his family behind to move to Chennai. In Chennai, He fulfilled his life long dream of learning Bharthanatyam under Smt. Chitra Visweswaran, the world renowned dancer and choreographer. He also learned dance theory under Smt. Krishnaveni Lakshmanan of Kalakshetra.
Zakir was able to embark on his dream journey as a professional dancer thanks to the support of many such as actors Rajnikanth, Sathyaraj and entrepreneur Nalli Kuppusamy Chetti. He has also received scholarship from Kala Mandir Trust. The President of India recognized his talent as a dancer and awarded him a senior scholarship in 1992 for 3 years.
Though a Muslim by birth, he posseses a deep understanding and knowledge of the Vedas, Agamas, and Indian scriptures, especially of the Vaishnavite tradition. He has done research on Paancharaatra Agama, Vaikaanasam and interpreted the ritualistic mudras into Bharatha Natyam. The "Government of India" awarded Zakir Hussain "Senior Fellowship" to do research on "Vaishnava Agamas".
His vast knowledge of epics like Mahabharata and Ramayana helped him conceptualize dance dramas such as Paanchali Sabadham and Seethayanam. He has also composed many original Tamil 'Padams', 'Varnams' and 'Sabdhams'.
Zakir not only encourages his own students but also encourages students of other gurus to perform under his guidance.
Zakir Hussain is a complete dancer who composes songs, choreographs, and performs nattuvangam. For his own productions, he also serves as the costume, jewel designer, lighting and set designer.
Shows & Major Performances
He has travelled worldwide promoting the art of Bharatha Natyam to countries like France, Germany, Italy, Belgium, Denmark, Malaysia, Singapore, Sri Lanka, SwitzerLand and Canada. His contributions to the Canadian art scene was recognized and honoured by the Toronto Arts Council and the Canadian House of Commons.
Zakir Hussain was invited to give lectures at the University of Sri Lanka's Jaffna campus and Batticoloa campus. The University of Madras, Department of Vaishnavism has also invited him to give Lecture on Vaishnava Mudras Interpreted in Bharathanatyam.
Zakir Hussain interpreted Ritualistic Hand Gestures (Mudras) into Bharathanatyam. The scholars considered this work as his greatest contribution to this great Art. The Government of India recognize his work and granted him for "Senior Fellowship"
Productions :
2012 - Rose is a Rose - A musical Opera staged at Toronto, Canada
2011 - Vanamaalai - Researched presentation on Periyaazhwar and Aandal Paasurams
2010 - Sri Ranganayagam - Tradition & History of SriRangam Temple composed by Smt. Revathi Sankaran
2010 - Shivoham - Smt. Lakshmi Venkatesh presented Shivoham Researched and Choreographed by Zakir Hussain on "Advaitha Philosophy"
2009 - Ethiraja Vaibhavam - Life of Sri Ramanuja Charya composed by Smt. Revathi Sankaran
2009 - Shri Maatha - Smt. Lakshmi Venkatesh presented Shri Maatha Researched and Choreographed by Zakir Hussain on "SAAKTHA" cult.
2008 - NARAYANAM - Researched presentation on Vaishnava Aagamas composed by Smt. Revathi Sankaran
2005 - Mathura Meenakshi - Explorations of goddess Meenakshi's nine different expressions as explained in the Natya Sashtra. composed by Shri Lalgudi G.Jayaraman
2004 - Vallalhal - A dance drama elaborating the virtues of the seven noble Tamil kings of the Sangam era composed by Smt. Revathi Sankaran
2003 - Sudar Oli - 120 dancers participated in the dance Drama about the transformation of a common girl to folk hero
2001 - Seethayanam - Comparative study of Kamba Ramayanam and Vaalmeeki Ramayana. A dance drama that speaks of Seetha's greatness as seen through the eyes of a devotee.
2001 - Cinderella - Zakir Hussain fused various Asian dance styles to bring out the universality of this tale.
2000 - Dasavatharam - Elaborations about the ten incarnations of Lord Vishnu composed by Kavignar Kannadasan
1998 - Sudharsanam - Thematic presentation on Vaishnavam. Dr.Padma Subramanyam composed a pada varnam for Zakir Hussain.
1996 - Rajalahari - Set to the compositions of maestro Illayaraja. Illayaraja composed songs especially for Zakir Hussain.
Press Review:
"THE HINDU" had an article written on reviewing Zakir Hussain's "NARAYANAM".
"THE HINDU" had an article written on reviewing Zakir Hussain's "ETHIRAJA VAIBHAVAM".
"THE INDIAN EXPRESS" had an article written on reviewing Zakir Hussain's "SUDARSHANAM".
"THE HINDU" had an article written on reviewing Zakir Hussain's "SRI RANGANAYAGAM".
Zakir Hussain's "SRI RANGANAYAGAM" has been reviewed by Smt.Nandhini Ramani for NARTHAKI.
"THE HINDU" reviewed Smt.Lakshmi Venkatesh's production "SHIVOHAM" choreographed and composed by Zakir Hussain.
SriPaadham Academy of Dance honoured ICONS OF OUR SOCIETY "THE HINDU" article.
Mrs. Leela Venkatraman has reviewed Zakir Hussain's "SUDARSHANAM".
SriPaadham Academy :
SriPaadham Academy of Dance aims to impart sound training in the technique of Bharatha Natyam and its nuanced expression. Introducing the dancer to the history of this ancient dance, our training focuses on dance as a communicative device that recreates and articulates the rich body of Indian legend and mythology.
For more details about SriPaadham :
http://www.sabhash.com/directory/3/music-and-dance-schools.htm
Contact :
Zakir Hussain, Founder & Director
Ph: +91.98840.97473
Mrs. Lakshmi Venkatesh, Director
Ph: +91.98841.03030
Address: 10, Pushpa Nagar Ist Street
Nungambakkam, Chennai - 600 034.
E-mail: info@sripaadham.org
Website: http://www.sripaadham.org
Awards & Recognitions
Social Integeration Award
The President of India Sri.R.Venkataraman presented Zakir Hussain with "SOCIAL INTEGERATION AWARD" in 1994.
Kalaimamani
Zakir Hussain has been honoured with "KALAIMAMANI" Award by Government of Tamil Nadu in 2009.
Lifetime Achievement
His Holiness Sri Jayandera Saraswathi Swamigal of Kanchi Kamakoti Peedam awarded Zakir with "LIFETIME ACHIEVEMENT AWARD" for his contribution towards Bharatanatyam.
Yagna Raman Award Of Excellence
"YAGNA RAMAN AWARD OF EXCELLENCE" in 2011 by Sri Krishna Gana Sabha.
Sathya Kalaakaara Sundaram
Smt. Anitha Guhas Bharathanjali honoured Zakir for "SATHYA KALAAKAARA SUNDARAM" in 2008.
Shivaji Ganesan Award
Zakir Hussain received "SHIVAJI GANESAN" award for his Abhinaya in 2011.
For The Sake Of Honour
"FOR THE SAKE OF HONOUR" award by Coimbatore Rotaract club.
UTHAYAN International Award
The UTHAYAN Canadian News Magazine honoured Zakir "UTHAYAN INTERNATIONAL AWARD" in Toronto by the PREMIER OF ONTARIO, Canada.
Rukmanidevi Arundale Endowement Award
Sri Krishna Gana Sabha honoured Zakir Hussain "RUKMANIDEVI ARUNDALE ENDOWEMENT AWARD" for his Ethiraja Vaibhavam presentation in 2010.
Vani Kala Nipuna
Sri Thyaga Brahma Gana Sabha awarded Zakir "VANI KALA NIPUNA" in 2012 for his contribution towards Bharathanatyam.

About
Sabhash
- Everything about classical music, dance, drama and a platform for inclusive entertainment
Sabhash.com is the one-stop destination for the latest news and information on the performing arts of India - classical music and dance, theatre, bhajans, discourses, folk performances, and other lesser known art forms. Institutions that revolve around the performing arts have exploded in numbers, and thanks to the Internet which has made information easily accessible, the number of rasikas has grown too. Corporate patronage has played a big part in increasing the world-wide reach of the Indian arts. Sabhash wishes to be a platform for inclusive growth giving an equal opportunity and recognition to not only the main performer but also the artistes who accompany them on stage, and the people who work backstage and play the role of unsung heroes.