Ganesh Kumaresh
Violinists, Karnataka, India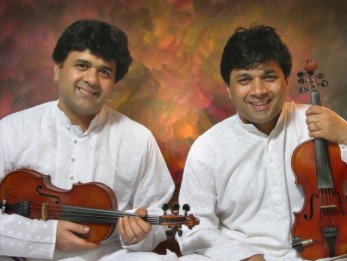 Biography
Ganesh Kumaresh have been the only violin duo to have performed for more than three decades together. They were trained by their father Shri T. S. Rajagopalan, a veteran violinist. The brothers have carved a niche for Indian instrumental music with their impeccable and remarkable technique both in playing the instrument and in interpreting the musical forms. The brothers, who were hailed as 'Child Violin Prodigies', gave their first public performance in the year 1972, when Ganesh was just 7 years and Kumaresh 5 years.
Shows & Major Performances
They have made inspirational and exhilarating forays into world music teaming up with such luminaries as Dr. Balamurali Krishna, Ustad Zakir Hussain, Vikku Vinayakaram, Late Valangaiman Shanmugasundaram,A R Rehman, John Mclaughin, Illayaraja, Rajan Mishra, Sajan Mishra, Umalayapuram Sivaraman, Palghat Raghu, T K Murthy, Steve Thornton, Trilok Gurtu and the list is truly long.
Content Courtesy: www.ganeshkumaresh.org
Email gkxperience @ gmail . com, ganeshkumaresh @ yahoo . com

About
Sabhash
- Everything about classical music, dance, drama and a platform for inclusive entertainment
Sabhash.com is the one-stop destination for the latest news and information on the performing arts of India - classical music and dance, theatre, bhajans, discourses, folk performances, and other lesser known art forms. Institutions that revolve around the performing arts have exploded in numbers, and thanks to the Internet which has made information easily accessible, the number of rasikas has grown too. Corporate patronage has played a big part in increasing the world-wide reach of the Indian arts. Sabhash wishes to be a platform for inclusive growth giving an equal opportunity and recognition to not only the main performer but also the artistes who accompany them on stage, and the people who work backstage and play the role of unsung heroes.