Shreya Devnath
Violinists, Tamil Nadu, India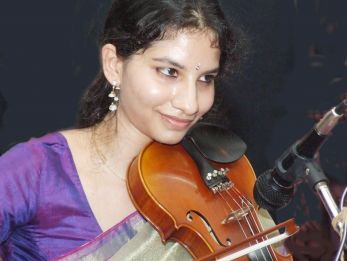 Biography
Shreya Devnath, disciple of Sri Lalgudi G Jayaraman since 2001.
Academics
Studying MA Economics – 1st year in Ethiraj College, Chennai.
Completed B A Economics, graduated first class with distinction, from University of Madras (2011)
Won various prizes, including all-round excellence and subject proficiencies, for outstanding performance (Aggregate 96.3%) in the Std 12 CBSE Board Examination (2007)
Won at the Inter School Essay Competition, conducted by Vidyateertha Foundation (2005)
Won certificates of Distinction in Math and Science in the exam conducted by University of New South Wales (2004)
Certificate of Appreciation for Oratorical Skills displayed in the Inaugural Function of the Rajiv Gandhi Memorial, Sriperumbudur (2003)
Gold medalist at the international level in the English Exam conducted by The University of New South Wales, Australia (2002)
AL Mudaliar merit Scholarship 2002
Merit Certificate for outstanding performance in Academics from 2001 till end of schooling in 2008
Creative Writing
Won the rolling shield for creative excellence awarded by the PSBB group of schools for the year 2006-07
Received the R. K. Narayan Award for Creative Talent (2006)
Received a special certificate of appreciation from Commonwealth essay Competition Committee for essay submitted in 2005
All India 2nd Runner Up in the Classmate Young Author Contest (conducted by ITC) from more than 1,20,000 students (2005). Story published by Rupa & Co.
Shows & Major Performances
Performance Profile
Performed in the December music festival for the last 3 years at various prestigious venues across Chennai city (Reviews enclosed)
Accompanied for 2consecutive years by Sri Vellore Ramabhadran at Sri Krishna Gana Sabha on 26/1/11 and 20/12/09
Performed for the staff and students at Bharatiya Vidya Bhavan, London (May '09)
Violin Arangetram at Sri Krishna Gana Sabha on 30th September 2007 in the presence of Guru Sri Lalgudi.
Concert at ISAI VELVI 2008, a state-wide competition conducted by International Society for Laya Awareness was adjudged as one of the top six performances. Was awarded a concert opportunity in the December season at Asthika Samajam premises (August 2008)
Bharat Kalachar Scholarship for instrumental music won for three successive terms (1999-07)
A few other performances
Music
Performed at Reverberations 2006 (PSBB Schools' Cultural Bonanza) and received excellent feedback from the audience
Key Member of the composing team and orchestra for Ullathil Nalla Ullam, a theatre production by the PSBB group of schools (2006)
Performed a 90-minute private concert at Chennai in October 2005 and appreciated by leading musicians Suguna Purushottaman and TM Krishna
Played in the MS Subbulakshmi Commemoration Concert at Bharat Kalachar (2005). Appreciated on this occasion by Sri Kunnakudi Vaidyanathan and Smt. Gowri Ramnarayan
Excerpts of Reviews
"Played with Effortless Ease...Shreya Devnath's pleasant rendition exuded liveliness and maturity. Her fingers effortlessly translated her imagination during the delineation of Sankarabharanam. Enthralling Thodi...Shreya welcomed Thodi with intoxicating Gamaka laden swara phrases and presented 'Thaaye Yashodha' as a tribute to Madurai Mani Iyer. This immortal kriti by Oothukkadu Venkatakavi gave her excellent opportunities to exhibit her skill in portraying emotions.
Review by Smt B Ramadevi in The Hindu (Friday Review – Coimbatore edition) dated Nov 2, '12
"The Kruti Saareya saareya in Kharaharapriya was taken for detailing. The Alapana, Neraval and Swara Prasthara all had the shades of Lalgudi. The day being Thursday, her rendering contained the Muthuswami Dikshitar Kruti, Bruhaspate, one of the Navagraha krutis dedicated to the planet Guru. Interestingly, being the third day of Navaratri, she rendered one more Kruti Sri Kamalambikaya, which is the third Navavarana Kruti of Muthuswami Dikshitar. Such minor things reflect abundantly, on the ability of the musician, to rise to the occasion...I would like to hear her concert once again...the young girl has very good potential, the rendering of whom resonates Lalgudi Bani."
Review by Sri Krishnamurthy in the Star of Mysore dated Oct 19, '12
"Well-chosen songs and a relaxed pace were the highlights of Shreya's violin concert. Shreya Devnath's solo violin concert proved that she has the skill and the potential. At a time when many artists of the younger generation (even rasikas) think speed thrills, it was surprising to note that she chose to present the raga alapana in (ati) vilamba kalam with long, drawn out phrases. The characteristics of both Vasantha and Mohanam were showcased in abundance in the aesthetically structured rendering...Tyagaraja's 'Mohana Rama' was played beautifully and the first and second speed swaras were well structured and contained all the beauty that can be brought out in the violin. An emotional 'Jagadodarana' a Dasar Nama in Karnataka Kapi was preceded by an out of the world sketch of the raga in just a few seconds."
Review by Smt Uma Krishnaswamy in The Hindu dated Jan 13, '12
"Bearing the stamp of Lalgudi school...Sowkhyam coupled with deft and in-depth handling of ragas marked the concert of Shreya Devnath...Flagging off her session with a Lalgudi Varnam in Garudadhwani bringing out the refreshing aspects of the raga, then following it up with Papanasam Sivan's composition, 'Gowri Manohara' in Gowrimanohari with a rich tapestry of kalpanaswaras was aesthetic...The highlight of the concert was the RTP in Shanmukhapriya (khanda jati triputa)...the raga was given an elaborate treatment touching the nuances of harmony. 'Brocheva' (Khamas) and 'Nadaloludai' (Kalyanavasantam) were rendered in all their grandeur."
Review by Sri T K Ganapathy in The Hindu (Coimbatore, Madurai editions) dated Jan 13, '12
"A scintillating performance. Shreya Devnath...disciple of Lalgudi Jayaraman who performed at Bharat Kalachar recently, impressed both audiences and exponents. It is not merely the knowledge of the theory of music nor long and arduous training and practise with manodharma that sustains an individual in the music arena. There is something beyond this, an exceptional feeling for music that places an individual in the top slot. This came to my mind after hearing violinist Shreya Devnath....Vivacious music of classical tempo, was large in her violin recital...opening with a varnam...she moved onto raga Bilahari (Paridhanamichite) of Patnam Subramania Iyer, when she gave free rein to her artistic instincts with an unwavering kalapramanam to back her. She rendered the raga Shanmugapriya, delineating the kriti (Kumara Guruguham) of Lalgudi, revealing the confluence of good training and her own inner coiled spring of latent ability...But it was in the raga Karaharapriya alapana that her imagination rose to a peak, particularly the distinctive enunciation of the swara passages in the vibrant creation of Thyagaraja, Samanamevaru, with sweet and resonance sound reflecting her explorative instincts. Certainly her presentation with brisk and lively approach, along with her knack of imparting tonal colour, indeed proved her tutelage. "
Review by Sri Narayana Vishwanath in The New Indian Express dated Nov 30, '11
"Shreya Devnath of Chennai gave an exciting performance in Saraswati Gana Sabha during the Navratri Festival...Seethamma Mayamma is popular and melodious and on Shreya's violin, it transported the audience to another world, it thrilled, excited and soothed in turn...It is a tremendous showpiece, given the fabulous microtonal fiddle playing...and ought to bring the house down anywhere...Shreya's concerts conform to the highest standards, note and tone are perfect...Shreya's concert balanced melodic exposition with multi-noted cascades within the context of a sinuous elegance that made her improvisation seem exceptionally coherent. She then sang Gandhiji's favourite prayer Raghupati Raghava Rajaram as the finale to the concert. The vocal rendition was delightful surprise to the audience and organisers."
Review by Sri BVS Bhaskar in The Hindu (Visakhapatnam Edition) dated Oct 14, '11
"In Lalgudi's footsteps...The hallmark of Lalgudi's school of music is disciplined approach to music and Shreya Devnath proved a worthy disciple in her violin solo concert...The erect posture indicated poise and Shreya showed vishranti that belied her age...It had the Lalgudi stamp throughout...Sri Jakandara saw her weaving kalpanaswaras with ease...It was heartening when the youngster took up Dhanyasi next for detailing. The attempt was praiseworthy...Sankarabharanam, the evening's main, was built slowly and steadily. The kalpanaswaras at Veda Sastra in Enduku Peddala had all the ingredients of Lalgudi's style...Perfection was the bedrock of this well-rehearsed concert."
Review by Sri V Balasubramanian in The Hindu dated Sept 16, '11
"Voice of the violin...Shreya Devnath's concert showed her devotion to her guru...Shreya Devnath of Chennai held the audience spellbound with her violin recital at Sri Venugopala Swamy temple...during the Thyagaraja Aradhanotsavam organised by Sri Sangameswara Sangeetha Samakhya...The audience which included veteran musician Peddada Surya Kumari, enjoyed the concert and gave a big around of applause at the end of every item...There was pin drop silence in the auditorium when she was reciting the kriti Ninne nammitinayya...After enthralling the audience for about three hours, Shreya concluded her concert with a thillana."
Review by Sri K.N. Murali Sankar for The Hindu (Hyderabad edition) dated Feb 4, '11
"Her violin sings...Shreya Devnath exuded warmth and confidence...Her repertoire was soaked in devotion and she presented them with total involvement...Shreya's delineation of Kalyani was leisurely and authentic...Her fertile imagination and grasp over layam were brought to the fore during the swaraprastaras... The composer's wonder and admiration at Yashoda's good fortune were brought out beautifully in the innumerable ways in which the lines 'Ammaa Endrazhaikka' were played for the kriti 'Enna Thavam Seithanai'."
Review by Smt B Rama Devi for The Hindu (Coimbatore edition) dated Nov 19, '10
"Showcase of Lalgudi Bani...Shreya Devnath highlighted the lyrical beauty of the kritis...After a swift 'Entani Vina' in Urmika with several cycles of captivating swaras, Shreya touched upon the emotive alapana of Charukesi. The raga's subtle pathos and wonderful melody were evident in her presentation, which was sans artificiality...The raga of the evening was Mohanam. Shreya revealed its beautiful features—soft, slow, fast and flexible with proper punctuation at the right places adding extra charm and depth to the alapana. Tyagaraja's 'Nannu Palimpa' took the audience on an endearing trip with engaging swaras. Shreya's swaras and raga treatises bore the Lalgudi school stamp...'Nadaloludai' in Kalyanavasantham, 'Unnai Thuthikka' in Kuntalavarali, 'Sollavallayo Kiliye' in ragamalika and a Vaasanthi Thillana were the other inclusions of Shreya's remarkable violin solo concert."
Review by Sri G Swaminathan for The Hindu dated Dec 14, '10
"There were no rough edges in the presentation...Shreya Devnath's violin solo was testimony ot the meticulous learning she had undergone...it is necessary to reproduce kritis and sangatis without rough edges and to know how to maintain the tempo in a concert tempo in a concert format. These were siginificantly admirable in Shreya's presentation...Her expositions of a minor sketch of Anandabhairavi and the main Simhendramadhyamam reiterated that she had comprehended the musical forms of these ragas in the proper perspective and was equipped to present o the violin without blemish."
Review by Sri G Swaminathan for The Hindu dated Jan 1, '10
"She was classy. She sported that unmistakable Lalgudi brand. Young Shreya Devnath showed lot of promise...Anandabhairavi was exquisite and she did full justice to the Syama Sastri kriti "Marivera Gati". The Lalgudi style was out clearly and quickly. She did well to vocalize the violin."
Review by Smt Sudha Jagannathan in Carnatic Durbar.com in Dec '09
"Her swaras for Brova Barama (Bahudhari – Tyagaraja) showed sharp reflexes as she presented all kinds of variations with a streaming continuity that gave the impression that one was listening to a violin duet. The alapanas for Charukesi (Matal Adamodi – Tyagaraja) and Kharaharapriya (Rama Nee Samanamevaru – Tyagaraja) had long drawn-out phrases which she probably relishes the most and the swaras were flawless."
Review by Sri Sivakumar in The Hindu dated 30th Jan '09
"Shreya Devnath's concert showcased her command over her instrument… In the two vital aspects of bowing and fingering essential for a violinist, she revealed flexible technique to translate her need into a song or a raga. In her cautious raga essays of Kiravani and Madhyamavathi, she showed that she had been well-trained to touch the salient morchanas to bring out their swaroopas. In the rendering of songs, patantara was high in scale to give them pleasing presentation. The raga sancharas… diligently eschewed obesity."
Review by Sri SVK in The Hindu dated 17th Oct '08
"A new addition to the Lalgudi Violin Bhani is Shreya Devnath, whose solo recital at the well-attended Krishna Gana Sabha Gokulashtami series was discipline and patantara suddham to the fingertips. The heightened resonance of the kirtanas was a happy blending of musical instincts and intensity of practice. Bowing and fingering felicity moved in harmonious coordination...There was fullness of appeal in the rendition of kirtanas and unfolding of the ragas, based on a fine balance of gana and naya… The patantara was impeccable and interpretation precise. The Lalgudi culture formed the fabric of her kutcheri. Atana and Simhendramadhyamam were taken up for raga elaboration. The exposition moved in the direction of the moorchanas of ragas composed with poised restraint. The raga lines were carefully guided. In swara exercise she displayed well-controlled gentle rhythm."
Review of Debut Concert by Sri SVK in The Hindu dated 12th Oct '07
Contact
No. 69/1, Chamiers Road,
Raja Annamalai Puram, Chennai - 28
Ph: +91.44.2434.7331
Email: shreya_devnath@yahoo.co.in
Awards & Recognitions
K S Mahadevan Endowment award
Awarded the "K S Mahadevan Endowment award" by Narada Gana Sabha (Dec '12)
Mumbai Nathanís Endowment Prize
Awarded "Mumbai Nathan's Endowment Prize" by Sri Krishna Gana Sabha for meritorious performance in their Gokulashtami Festival (Aug '12)
1st prize - classical instrumental category
Won 1st prize (classical instrumental category) in the competition organized by RASA and a performance opportunity in their youth festival (Aug '12)
1st prize in Maithri
Won 1st prize in Maithri - Classical Music Competition conducted by Ethiraj College (Aug '12)
Yuva Shakthi Youth Achiever Award 2012
Awarded "Yuva Shakthi Youth Achiever Award 2012" by Yuva Shakthi (jan '12)
Best Violinist
Awarded Best Violinist award by Sri Thyaga Brahma Gana Sabha for the Margazhi season (Dec '12)
Yuva Kala Bharathi
Awarded the title "Yuva Kala Bharathi" by Bharat Kalachar (Nov '11)
2nd place - AIR
Won 2nd place in the National AIR Competition and was made a graded artiste
Best Junior Concert
The debut performance was adjudged Best Junior Concert in the Talent Promotion Series of Sri Krishna Gana Sabha
Rolling shield for creative excellence
Rolling shield for creative excellence (music) awarded by the PSBB group of schools for the year 2006-07
First prize - annual music competition
First prize in the annual music competition conducted by International Society for Laya Awareness (2006)

About
Sabhash
- Everything about classical music, dance, drama and a platform for inclusive entertainment
Sabhash.com is the one-stop destination for the latest news and information on the performing arts of India - classical music and dance, theatre, bhajans, discourses, folk performances, and other lesser known art forms. Institutions that revolve around the performing arts have exploded in numbers, and thanks to the Internet which has made information easily accessible, the number of rasikas has grown too. Corporate patronage has played a big part in increasing the world-wide reach of the Indian arts. Sabhash wishes to be a platform for inclusive growth giving an equal opportunity and recognition to not only the main performer but also the artistes who accompany them on stage, and the people who work backstage and play the role of unsung heroes.