Dr. Salem Gayathri Venkatesan
Carnatic Vocalist, Tamil Nadu, India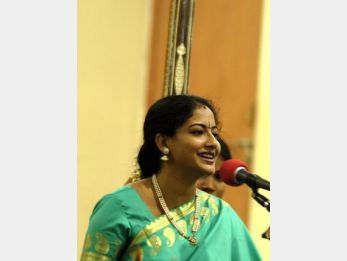 Biography
Smt. Gayathri Venkatesan, holder of M. Phil degree in Karnatic Music from Delhi University is one of the prominent disciples of Maha Mahopadhyaya Prof. Shri. T.R. Subra maniam. Gayathri had her initial training under the guidance of her Grand Mother Smt. Rajammal a disciple of Violin Maestro Kumbakonam Rajamanikkam Pillai.
Presently, she has completed her research in Karnatic Music under the guidance of Prof. Dr. Radha Venkatachalam for the degree of Ph.D in Delhi University.
Gayathri Venkatesan has been awarded scholarship as an outstanding artiste by The Ministry of Culture, New Delhi.
Shows & Major Performances
Gayathri Venkatesan is an "A" Grade artiste of All India Radio (Prasar Bharati) and Doordharshan. Smt. Gayathri Venkatesan has repeatedly being asked to perform for various features in All India radio as well as Doordharshan and also in number of private channels like Asianet, TTD for the musical show Naada Neeraajanam in Tirumala, Sun TV's Isaicharal, Jaya TV's Margazhi Maha Utsavam, Thendral TV's special show for Thiruppavai, and Shankara TV etc.
She has performed for DD Classical Music Club, Organized by Doordharshan, NewDelhi, and has also appeared in the programme that has recently taken place in the project of Divya Prabandams by Doordarshan.
She is an Empanelled artist of ICCR (Indian Council for Cultural Relations)
Blessed with a sweet and melodious voice, she is an extremely popular artist in the concert field. She has to her credit a number of concerts not only in Chennai but also in places like Delhi, Mumbai, Andhra Pradesh, Karnataka, Kerala and many interior parts of Tamil Nadu.
Her repertoire is particularly impressive, with songs ranging from Tamil Tevaram hymns and Divya Prabhandams to Purandaradasar Devarnamas. Special Concerts were performed by her on particular composers like Trinity, (Tyagaraja, Muthuswamy Dikshitar, Syama Sastri), Gopalakrishna Bharatiyar, Muthiah Bhagavathar, Narayana Theerthar, Oothukkadu Venkatakavi, Papanasam Sivan and Ambujam Krishna.
She has accompanied Prof. Shri. T. R. Subramaniam's lectures by providing vocal demonstrations that were very well received by the audience.
She has given lecture demonstrations on topic "Music and Mathematics" in Madurai Kamarajar University for the Department of Mathematics and also at The Institute of Mathematical Sciences (IMSc) Adyar-Taramani on Ramanujam's Day.
The practical portions were performed by Gayathri Venkatesan for the lecture demonstrations done by Prof. Shri. V. Shivakumar (Washington) on the subject "The Management Principles in Sri Tyagaraja Krithis".
She has to her credits many CDs and She has been the key artist in most of them viz. "Ranganathaya Namaha" and "Songs of Nine Nights" (Navarathri Songs) brought out by Shri. Chitraveena Ravikiran, "Ganapathy Gaanam" & "Durga Lakshmi Saraswathi" by Sathanoor V. Parthasarathy and "Kalavardhani's" special concert CD.
She is eager to take this journey ahead gracefully with her ardent saadhakam and also with the blessings of God and her Gurus.
Contact:
Salem Gayathri Venkatesan
"Jagan Nivas", No. 24, D80/A, 21st Cross Street,
Hindu Colony, Nanganallur, ChennaiI - 600 061,
Ph: +91.44.2224.1927, +91.94453.68486
Email: salemgayathri_v@yahoo.com salemgayathrivenkatesan@gmail.com
Awards & Recognitions
Gandharva Vidhyadhara
Gandharva Vidhyadhara from Irai Pani Mandram
Youth Excellence Award
Youth Excellence Award from Rotary Club
Isai Vallar
Isai Vallar from Madras Connoisseurs Club

About
Sabhash
- Everything about classical music, dance, drama and a platform for inclusive entertainment
Sabhash.com is the one-stop destination for the latest news and information on the performing arts of India - classical music and dance, theatre, bhajans, discourses, folk performances, and other lesser known art forms. Institutions that revolve around the performing arts have exploded in numbers, and thanks to the Internet which has made information easily accessible, the number of rasikas has grown too. Corporate patronage has played a big part in increasing the world-wide reach of the Indian arts. Sabhash wishes to be a platform for inclusive growth giving an equal opportunity and recognition to not only the main performer but also the artistes who accompany them on stage, and the people who work backstage and play the role of unsung heroes.