G. Srikanth
Carnatic Vocalist, Tamil Nadu, India
Date of Birth : 24 - Jun - 1970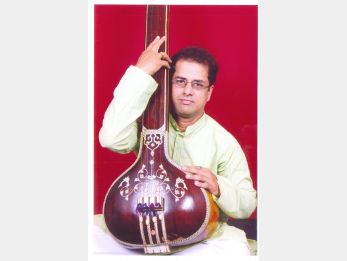 Biography
Musical Background:
Learnt Carnatic Music from Mother, Smt. Leelavathy Gopalakrishnan from childhood.
Underwent advance training from Sangeetha Kalanidhi Shri. T. M. Thyagarajan. from 1984 to 1992.
Learnt Concert guidelines from Vidwan Shri. O. S. Thyagarajan for more than 6 years.
Simultaneously learnt many compositions from Veterans like Sangeetha Kalanidhi Shri. T. K. Govinda Rao, Sangeetha Mahopadhyaya Shri. T. R. Subramaniam, Sangeetha Kalanidhi Shri T. N. Sheshagopalan, Neyveli Shri. Santhana Gopalan, Shri. A. Sundaresan etc.,
Qualifications In Music:
Masters Degree in Indian Music from University of Madras, Chennai.
'A' Grade Artiste in Classical Carnatic Music from All India Radio, Chennai.
'B' High Grade in Traditional Devotional / Devarnama Music, All India Radio, Chennai.
Work Experience:
Professional Singing from the year 1988.
Conducting a School of Music, 'MADHURA DHWANI' wherein over 200 students are being imparted training in Classical Carnatic Music.
Giving extensive coaching on Theory, and the students are sent to all competitive examinations in music. Special coaching offered for Under Graduation and Post -Graduation students of music.
Worked as the Head Master of Tamilnadu Government Music School at Tuticorin and Thirunelveli from June 2000 to June 2005.
Conducted Workshops on rare varnams , rare compositions, Annamayya compositions and Haridasara Devaranama.
Working with several front ranking Dance Gurus like Dr. Padma Subramaniam, Smt.Chitra Vishweshwaran, Prof. Sudharani Raghupathy, Adyar Shri Lakshman, Ms Leela Samson, Prof. C V. Chandrashekhar, Ms. Priyadarsini Govind, Madurai Shri Muralidharan, Smt Divyasena etc and has composed several dance dramas . Has released several compact discs containing Bharathnatyam items.
Special Experience:
Designed and Organised Quiz Programme 'ANDADI' in Tamil for GEC ( Presently known as Vijay TV) during the year 1995. Over 60 Episodes were telecast.
Given concerts on rare ragas and rare kritis, one raga one kriti, concerts based on single composer, thematic concerts etc.,
Thesis on 'HARIDASA MOVEMENT' was submitted for the partial completion of Masters Degree in Indian Music for The Madras University in the year 2000.
Has composed tunes for over 300 Devarnamas of various Haridasas and released a CD and Double Album.
Concert Broadcast by Doordarshan, Bangalore on the South Zone Hook Up on 24/09/2005.
Performed at the Akashvani Sangeeth Sammelan, Broadcast on 28/10/2009.
CD named 'DHAKSHIN' was released by the Coveted Rajalakshmi Audio.
Released devotional albums named 'KRISHNA' and 'DEEPA AGAVAL' and albums "SIDDHI VINAYAKAM'' and "TRIBUTE TO DOYENS" were released by Music Syndicate, Chennai.
Received the Best Concert Award from The Music Academy, Chennai on 1.12.2012.
Has tuned songs of various composers like Mahakavi Subramaniya Bharathiyar, Divyaprabhandams, Vachanas of Veera Saiva Sharanas, Bhajans etc.
Has specialised in Compositions of Tamil Trinity, viz., Muthuthaandavar, Arunaachala kaviraayar and Maarimuthaapillai and has conducted a workshop for its propogation among the musicians.
Given several Urdu Ghazal performances and concerts based on Bhajans.
Has discovered few ragas, viz., SRIKARA and SUDHA PARIMALA.
Released a carnatic music educational compact disc, on the MELAKARTA SYSTEM.
Released two compact discs containing songs on H H Kanchi Kamakoti Peetam Sri ChandraShekharendra Saraswathi Mahaswamigal, on His Jayanthi on 31.05.2007, and gave away the grants to the Kanchi Mutt.
Considering my life time goal in propogating the rare compositions of great Vaaggeyakaras of Mysore, Released 4cds containing 35 Very Rare kritis of Mysore Composers, who were associated with the Mysore Samasthanam.
Maintaining a music library with several books, old and rare recordings, which are helpful to both students and connoisseurs of music.
Shows & Major Performances
Veterans Accompanied:
Sangeetha Kalanidhi Shri T. K. Murthi
Srimushnam Shri Raja Rao
Neyveli Shri. Narayanan
Trichur Shri. Narendran
Shri J. Vaidhyanathan
Bangalore Shri. T. A. S. Mani
Shri M. A. Sundaresan
Shri M. A. Krishnaswamy
Mysore Shri H. K. Narasimha Murthy
Shri V. V. Ravi
Places Of Performances:
The Music Academy, Chennai, Dec 2004, Dec 2011.
The HCL Series, conducted by The Music Academy, Chennai, 2006.
Special recital based on Shri Purandaradasa's compositions at The Music Academy, chennai, Mar 2010.
Rajalakshmi Fine Arts, Coimbatore, 2005.
Indian Fine Arts Society, Chennai.
Naradha Gana Sabha, Chennai, Dec 1998.
Mylapore Fine Arts Club, Chennai, Dec 1999.
Nadha Inbam, Raga Sudha, Chennai, 1999, 2001 & 2002.
Youth Association for Classical Music Chennai, 2001.
Nanganallur Shri Thyagaraja Sangeetha Samajam, Chennai, (every year).
Shri Aadhi Sankara University of Sanskrit, Kaaladi, Kerala, 2006
Chembai Arts Academy, Trivandrum, 2002, 2003.
Thulasivanam Festival, Trivandrum, 2002,2008.
Sathguru Sangeetha Samajam, Calicut, 2002, 2004, 2005,2010.
Yuva Shruthi, Youth Association for Classical Music, Mysore.
Malleswaram Sangeetha Sabha, Bangalore.
Rasika Ranjana Sabha, Trichy.
Kalaasagaram, Secunderabad, 1998.
Naradha Gana Sabha, Karur.
Bidaram Krishnappa Mandira, Mysore.
Aneesha Gana Koota, Udupi.
Karnataka Gana Kala Parishat, Bangalore, 2006.
Sri Rasika Ranjani Cultural Trust, Chennai (Concert Telecast in Asianet Television).
Music Education Trust, Chennai.
Sangeetha Parishat, Mangalore.
Sarawathi Vaggeyakara Trust, Chennai.
Concerts Abroad:
Singapore Indian Fine Arts Society , Singapore in the years 1998 & 1999.
Accompanied Ms. Chandralekha, the renowned theatre artiste to USA, Nov 1998.
Successfully completed a full -fledged Dance Arangetram Tour in USA, June thru Sep 2007 and touring subsequently every year from then.
Performed at Switzerland, Norway, Netherlands, New Zealand, Australia, France, Spain, Srilanka etc.
Contact:
MADHURADHWANI,
Old No. 9, New No. 4, 39th Street,
Nanganallur, Chennai-600061
Ph: +91.44.2224.8310, +91.94444.53212
Email: swaramadhura@gmail.com
Awards & Recognitions
Youth Excellence Award
Recipient of Youth Excellence Award given by The Rotary Club of Chennai West for the year 2004.
Gana Kala Bhaskara
Awarded 'Gana Kala Bhaskara' by Sri Kodandarama seva Mandali, Kolar, Karnataka in the year 2008
Sangeetha kala Saarathy
Awarded 'Sangeetha kala Saarathy' by Shri VVS Foundation, Chennai in the year 2011
Gandharava Gana Kala Sundaram
Awarded 'Gandharava Gana Kala Sundaram' by Bharathanjali Trust, Chennai in the year 2011.

About
Sabhash
- Everything about classical music, dance, drama and a platform for inclusive entertainment
Sabhash.com is the one-stop destination for the latest news and information on the performing arts of India - classical music and dance, theatre, bhajans, discourses, folk performances, and other lesser known art forms. Institutions that revolve around the performing arts have exploded in numbers, and thanks to the Internet which has made information easily accessible, the number of rasikas has grown too. Corporate patronage has played a big part in increasing the world-wide reach of the Indian arts. Sabhash wishes to be a platform for inclusive growth giving an equal opportunity and recognition to not only the main performer but also the artistes who accompany them on stage, and the people who work backstage and play the role of unsung heroes.