Deekshita Venkataraman
Carnatic Vocalist, Tamil Nadu, India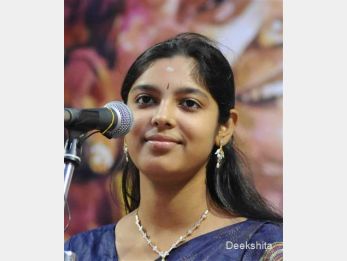 Biography
Deekshita is a III year Student of Meena Muthiah college, Adayar. She started her musical training under Vidushi Smt.ShanthiJayaraman.She has participate in many competitions of different sabhas and won Many prizes right from UKG. To increase her repertoire and to become good performer, she enrolled under Smt. Raji Gopalakrishnan and also got the guidance and blessings of Prof. T.R.Subramanian. She is now under the tutelage of gurus Smt.Raji Gopalakrishnan & Prof. T.R. Subramanian.
She is an All India Radio Graded Artist.
She has been selected to perform in various organizations by Tamil Nadhu Iiyal Isai Nadaka Manram.
She rendered thematic invocation song in Music Academy during season 2008, 2009, 2010 & 2011 lecture demonstration series.
She is a Member and Regular performer for Abaswaram Ramji's Isai Mazalai Group.
Shows & Major Performances
Over seas concert Tour:
She had been to Dubai and Abu Dhabi on nine day trip and given concerts
Album / CD:
Recorded a commercial concert album for GIRI Trading – To be released during end
Nov-12.
Workshops attended on Carnatic music:
One week workshop on Rare Varnams & rare Krithis of Trinity composers conducted by Ms Leelavathi Goplakrishnan during May 05 and May 06.
Three day workshop on Rare Krithi of Shyama Sastri conducted by Shri A. Sunderasan during June 06.
One week workshop conducted by Madurai G.S.Mani on his composition during May 07.
One week workshop on Rare Krithis of Trinity conducted by Shri P.S. Narayanaswami & workshop on Jawali conducted by Smt Rama Ravi- both organised by IFCM – Chitraveena Ravikiran on May-07.
Workshop on RTP Conducted by Sri Chengalpet Renganathan organized by Music forum during May 10.
Reference - Mr.Ramabadran – SAFE – 24334208
Mr.Nadopasana Srinivasan – 24413572
Deekshita won many prizes and attended performed many concerts.
Contact:
Deekshita Venkatraman
S-24/D, 71st Street, 11th Sector,
West K.K. Nagar, Ch-78
Ph: +91.90031.07433, +91.97907.58667
Awards & Recognitions
Parupalli Ramakrishna Panthulu Award
Parupalli Ramakrishna Panthulu Award for her outstanding performance in Classical Music-2010 by Vipanchee from Dr. Balamuralikrishna.
Margazhi Music Award 2009-10
Awarded with Chennai Times Margazhi Music Award 2009-10 for Most Promising Talent. She was selected based on MFAC concert CD and personal Audition by Smt Sudha Ragunathan.
RMKV Award of excellence
Rasika fine Arts for the remarkable performance at their 7th annual music festival.

About
Sabhash
- Everything about classical music, dance, drama and a platform for inclusive entertainment
Sabhash.com is the one-stop destination for the latest news and information on the performing arts of India - classical music and dance, theatre, bhajans, discourses, folk performances, and other lesser known art forms. Institutions that revolve around the performing arts have exploded in numbers, and thanks to the Internet which has made information easily accessible, the number of rasikas has grown too. Corporate patronage has played a big part in increasing the world-wide reach of the Indian arts. Sabhash wishes to be a platform for inclusive growth giving an equal opportunity and recognition to not only the main performer but also the artistes who accompany them on stage, and the people who work backstage and play the role of unsung heroes.