Sudha Ragunathan
Carnatic Vocalist, Tamil Nadu, India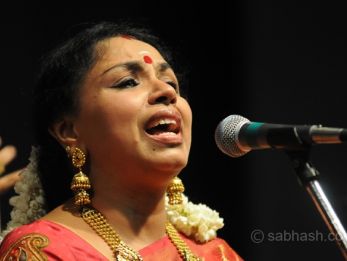 Biography
Sudha's voice of gold enthralls her listeners from all over the globe. There is tantalizing mystery behind that cherubic smile. Her deep relish for tradition and mystical old-world charm is supremely addictive. Her foundation in the world of music was laid at a very young age and it was her mother Smt. Choodamani who groomed her, after which she came under the tutelage of Vidwan Sri. B.V. Lakshman.

In 1977, Sudha won a Central Government scholarship that gave her the opportunity to come under the wings of Padmavibushan Sangeetha Kalanidhi Dr. M.L. Vasanthakumari, hailed by many as a musical genius, a doyen of Carnatic music. From this point on; there was no turning back. Sudha had the golden opportunity to provide vocal support to MLV for about a decade.

Of MLV, (as she was affectionately called by all) Sudha often said "Music was only one of the few things she taught me. She taught me how to live life to its fullest." Sudha, with a touch of nostalgia, vividly recalls how while singing an Ashtapathi in ragamalika, there would come a sangathi in Yaman Kalyani at a higher octave.
Spontaneously, MLV would stop and allow Sudha to take over. "She was such a generous person on stage in some sense it also reflected how she was in life as well." From 1990, Sudha's rise was phenomenal, and following her Guru's demise, she has been considered as MLV's vaarisu.

Her authentic renditions of 'krithis' and refined elaborations of 'ragas', the élan with which she breezes through the 'kalpana swaras', her command over the octaves and her supremely confident stage presence combined with unstated humility has given her an enviable pre-eminence in the world of Carnatic music. Call it her 'Guru Dakshina' to her mentor, Dr.M.L.Vasantha Kumari.
Music had now taken centre stage but for Sudha it would not be at the cost of her academics. She holds an M.A. in Economics. Being such a vivacious, versatile and highly talented individual, it's no surprise that Sudha won the award- Outstanding Student of Ethiraj College, for three years in succession- an achievement which for a long time remained unmatched. She was the Treasurer and later the Vice President of the Students Union and won the prestigious 'Service to the College' medal.

She is also the Managing Trustee of 'Samudhaaya Foundation", started in 1999, with a "cause" in mind. To play her role in giving back to society what she has gained – immense love, recognition, appreciation and standing in the hearts of the people who enjoy and appreciate her music and always come back for more!
Shows & Major Performances
In the world of voices, can you hear my song? "The enthralling, enchanting voice of Sudha and her entrancing harmonies have graced several 'kutcheries' and celebrations. She was the auspicious voice at the first live broadcast of the National Program Series of concerts hosted at Chennai.

Sudha also has the unique honor of rendering 'Vande Mataram' at the Central Hall of Parliament, New Delhi on 27th January 2000 to mark the completion of 50 years of the free Indian Republic.
Sudha is a top ranking artiste for Prasar Bharati, Chennai and performs at important events of All India Radio and Doordarshan.
Sudha is a top ranking artiste of the All India Radio and the Doordharshan, besides being the artiste in demand by leading recording companies like AVM, INRECO, VANI and AMUTHAM. With her crystal clear and almost divine voice, Sudha reached out to the discerning music lovers across the world, widening musical communications across the cultural borders.
Contact :
Sudha Ragunathan
'Vasantham'
18/3 Cenotaph First Street
Alwarpet, Chennai - 600 018

Ph: +91 44 24345001

E-mail: sudha.sudharagunathan@gmail.com
Web: www.sudharagunathan.com
Awards & Recognitions
Sangita Vidya Praveena
The title Sangita Vidya Praveena was conferred on Sudha Ragunathan by Mrs. Y G Parthasarathy during Kala Kruthi's annual music festival, on 5 December 2012
Arsha Kala Bhushanam award
Pujyasri Swami Dayananda Saraswati of Arsha Vidya Gurukulam presenting Arsha Kala Bhushanam award to Sudha Raghunathan at a function organised by Arsha Kalarangam, the cultural wing of the Gurukulam, in Coimbatore on 15 November, 2012.
Lifetime Achievement Award
On 17 Mar 2012, Sudha received the Rasikas New Zealand Lifetime Achievement Award from Sri. Aravamudhan Gopalan Iyyengar at the Raye Freedman Arts Centre, Epsom, Auckland, New Zealand
Tamizh Isai Vendhar
The title of Tamizh Isai Vendhar was conferred upon Sudha on 25 December, 2011 by Shri L Sabaretnam for Kartik Fine Arts at their Tamizh Isai Festival conducted at Valliammal College, Anna Nagar, Chennai.
Isaiperaringar
Sudha Ragunathan was conferred the title of Isaiperaringar by the Tamil Isai Sangam at Raja Annamalai Hall on 21 December, 2011. The citation was handed over to her by Kavignar Vaali in the presence of Justice Gokulakrishnan and Shri A.C. Muthaiah
For the sake of Honour
Receiving the 'For the sake of Honour' Award from Shri n. Murali, on behalf of the Rotary Club of Madras North on 30 November, 2011
Vishwa Kala Bharathi Award
On 26th November, 2011, Sudha received the Vishwa Kala Bharathi Award (Bharat Kalachar) from Swami Dayananda Saraswathi
Maharajapuram Santhanam Memorial Award
Sudha received the Maharajapuram Santhanam Memorial Award (2011) from Shri Cleveland VV Sundaram on 22 October 2011 at Vani Mahal, Chennai
The Dr.Sir Rajah Annamalai Chettiar Birthday Commemoration Award
Sudha was the recipient of The Dr.Sir Rajah Annamalai Chettiar Birthday Commemoration Award given in recognition of her role in the promotion of Tamil music. The Award giving ceremony was on 30 Sept 2011 at the Rani Seethai Hall, Chennai.
Senior Vocalist for 2010
Sudha was awarded the Season's best Senior Vocalist for 2010 by the Music Academy on 1 Jan, 2011.
Award for lifetime achievement in Carnatic music, 2010
Award for lifetime achievement in Carnatic music, 2010 by Makkal Kural & Trinity Mirror given by Kumararani Meena Muthiah on 24 December, 2010 at Kamaraj Arangam, prior to her concert for Chennaiyil Thiruvaiyaru.
Sangeetha Kokila
Navi Mumbai Tamil Sangam , Vashi , New Mumbai, honoured Sudha Raghunathan on 24th October 2010 by conferring on her the title Sangeetha Kokila at the Vishnudas Bhave auditorium The title was given by Dr P Sekhar, CMD, Micro Technologies
ShriP. Obul Reddy and Smt.P. Gnananba Memorial Award
On 21 November, 2010, Sudha Ragunathan was the recepient of the ShriP. Obul Reddy and Smt.P. Gnananba Memorial Award. The function was presided by Dr. Preetha Reddy at the Bharatiya Vidya Bhavan, Chennai.
Aasthana Vidhushi
The Sri Avani Sringeri Jagadguru Shankaracharya Mahasamsthanam, Shankar Mutt, Bengaluru, on 17 October, 2010, honoured Sudha on by conferring on her the title of Aasthana Vidhushi.
Indra Sivasailam Endowment Medal
The Indra Sivasailam Endowment Fund awarded the Indra Sivasailam Endowment Medal on 15 October, 2010. The selection was made on the basis of specific criteria which include excellence in performance, audience appeal, adherence to classical tradition while innovating within its framework, depth of knowledge and demonstrated efforts to disseminate knowledge and the ability to bring about a greater and deeper public appreciation of Carnatic music. A unanimous choice for this award was Sudha Ragunathan, the first recipient of the award.
Sangeetha Rathnakara
The Bhairavi Fine Arts Society, during the Cleveland Thyagaraja Aradhana Festival, on April 3, 2010 conferred upon Sudha Ragunathan the title of 'Sangeetha Rathnakara'.The title ofSangeetha Rathnakara is bestowed upon an artist who has made a fundamental contribution to the Carnatic arts through its performance and propogation
Sangeetha Sampoorna
The Poornathrayeesa Sangeetha Sabha, Tripunithura conferred upon Sudha the title 'Sangeetha Sampoorna' . Padmashri C. K. Menon did the honours on 21 February, 2010
Sangeetha Kala Vishaaradh
The Dombivili Fine Arts Society, Mumbai on 24 January, 2010, conferred upon Sudha the title 'Sangeetha Kala Vishaaradh'.
Sangeetha Kala Saagara
The Visakha Music Academy of Visakhapatnam, on 27 November, 2009, conferred upon Sudha the Academy's title 'Sangeetha Kala Saagara'. The conferment was done by the Academy's President, Shri.A. Prasanna Kumar.
Sangeetha Ratna
Geethanjali of Bengalooru, on 2 March, 2009, conferred upon Sudha the title Sangeetha Ratna, in memory of Bharat Ratna M.S. Subbulakshmi.
Pannisai Arasi
On 14 January, 2009, Sudha was conferred the title of Pannisai Arasi by the Thamizh Isai Manram, Thiruvaiyaru.
Madhura Kala Praveena
The Sri Sathguru Sangeetha Samajam, Madurai sestowed upon Sudha the Title of Madhura Kala Praveena on 3 January, 2009 at a function conducted at the Lakshmi Sundaram Hall, Madurai.
Sangeetha Kala Ratna
Sudha's second award for the Season 2008 was conferred by Sri Ragam Fine Arts - the title of Sangeetha Kala Ratna at The Government Music College, Chennai on 19 December, 2008. The State Education Minister Shri. Thangam Thennarasu did the honours as being the Chief Guest and conferring the titles on the recepients.
Sangeetha Kala Nipuna
Sudha Ragunathan's first award of the Season - the title of Sangeetha Kala Nipuna was conferred upon her by Shri. B.K.Krishnaraj Vanavarayar, Chairman, Bharatiya Vidya Bhavan, Coimbatore at the Mylapore Fine Arts Club on 13 December 2008. The committee members of the Mylapore Fine Arts Club had organized a glittering ceremony with esteemed guests such as Shri. Nalli Kuppuswami Chetty, Shri. A Natarajan, Shri. Cleveland Sundaram, along with an august audience.During the ocassion, Amutham Music also released the audio,vcd and dvd of Sudha's latest musical offering, Sukha Bhaavam
Acharya Award
On 5 Sept 2008, Guru Samarpan conferred the Paramacharya & Acharya Awards on 14 distinguished teachers from various fields. Sudha Ragunathan was conferred the 'Acharya Award' by B.K.Krishnaraj Vanavarayar, Chairman, Bharatiya Vidya Bhavan, Coimbatore.
Best Performing Artist of the season
On 1 January, 2008, during the Sadas session, Sudha was honored by the Music Academy for the Best Performing Artist of the season, in memory of Late
Smt. M.L.Vasanthakumari.
Gowri Manohari
Sudha was honored by Sruthii Laya Kendra with the title Gowri Manohari on 15 Dec, 2007. Also honored was Shri R. Krishnaswamy, Secretary, Narada Gana Sabha. The Gowri Manohari Award has been instituted by Shri. Naganathasivam Gurukkal of London Sri Murugan Temple. Sudha received the Award from Shri.L.Sabaretnam, Director, Chennai Petroleum
Gaana Padmam
Sudha Ragunathan was conferred title Gaana Padmam along with Padma Bhushan Kumari Kamala(Natya Padmam) and Kalaimamani Shri Kathadi Ramamurthy (Nataka Padmam) by the Brahma Gana Sabha on 1 Dec, 2007. The citation read as Sudha being given the the title for 'personal distinction in the propagation of Carnatic music '. The title was presented to her by Shri. M.A.M.Ramaswamy.
Rajiv Gandhi Moopanar Award
Sudha Ragunathan was conferred The Rajiv Gandhi Moopanar Award along with nine others, for eminence in the field of music, in Chennai on August 23, 2007.Union Minister of State for Statistics Sri.G K Vasan conferred the awards.Cardiologist Dr. Cherian, Actor Ms.Manorama, Poet Sri. Pa Vijay, Educationist & Madras Christian College Principal Ms.Annamma Philip, Mridangam Maestro Sri. K.Sivaraman, Orator Ms.Barathi Baskar, Film Director Sri. Rajkiran, Educationist & Hindustan Aeronautical College Principal Varghese and Social Worker and Woman Leader Ms.S. Fathima Muzaffer were other recipients of the Award.
Padma Sri award
The Government of India announced the Padma Sri award to be given to Sudha Ragunathan in the field of Carnatic music for 2004, on January 26th 2004. She received the Padma Sri from the president of India, A.P.J.Abdul Kalam on 30th June 2004.
Kalaimamani
Kalaimamani the highest award conferred by the Tamilnadu Government (India), given to outstanding artistes – 1993
VIRTUOSO AWARDS
Sudha was the proud recipient of VIRTUOSO AWARDS 2005. Best carnatic vocalist on August19, 2005.

About
Sabhash
- Everything about classical music, dance, drama and a platform for inclusive entertainment
Sabhash.com is the one-stop destination for the latest news and information on the performing arts of India - classical music and dance, theatre, bhajans, discourses, folk performances, and other lesser known art forms. Institutions that revolve around the performing arts have exploded in numbers, and thanks to the Internet which has made information easily accessible, the number of rasikas has grown too. Corporate patronage has played a big part in increasing the world-wide reach of the Indian arts. Sabhash wishes to be a platform for inclusive growth giving an equal opportunity and recognition to not only the main performer but also the artistes who accompany them on stage, and the people who work backstage and play the role of unsung heroes.