S.R.Veeraraghavan
Carnatic Vocalist, Tamil Nadu, India
Date of Birth : 03 - Feb - 1972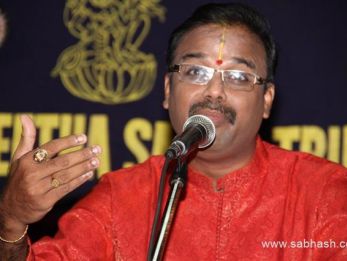 Biography
Shri "Sapthaswara Mamani" S.R.Veeraraghavan, a talented young Carnatic Vocalist, hailing from a family of musicians, is one of the seniormost disciples of Padma Vibushan Dr.M.Balamuralikrishna and has also had an extensive training under Sangeetha Kalanidhi Dr.S.Ramanathan at Chennai.
Born to Cuddalore Sri R.Srinivasan and Smt. Rajalakshmi on 03 –2 – 1972, he was drawn to Carnatic Music and early at the age of 4, he started learning music from Prof. L.R.Raja (Professor of Music Department in Annamalai University).
He is one of the noted musicians, highly appreciated for his clarity in presentation of traditional music and has received rare reviews and encomiums both from the press and the audience.
Qualification
TamilNadu Government Certificate in Indian Music – Higher Grade
Traditional Devotional Songs – B-High Grade
Classical Carnatic Vocal – B-High Grade
Song and Drama Division of Information and Broadcasting Ministry – A-Grade
Shows & Major Performances
Highlight of performances in India
1. South Zone Cultural Centre – Bharatiya Vidya Bhavan , Chennai
2. Narada Gana Sabha, Chennai and Karur
3. Tamil Isai Sangam – Annamalai Mandram, Chennai
4. Karthik Fine Arts
5. Sarvani Sangeetha Sabha
6. Nadopasana
7. Mylapore Fine Arts Club
8. Thiruvanamalai Tamil Isai Sangam
9. Indian Fine Arts Society
10. Kapali Fine Arts
11. Thyagaraja Vidwath Samajam
12. Thyaga Brahma Gana Sabha – Vani Mahal
13. R.R.Sabha
14. T.T.D.Devasthanam, Tirupathi and Chennai
15. Bharatiya Vidya Bhavan, Hyderabad
16. Thyagaraja Swami Aradhanai, Thiruvayyar
17. Vellore Saraswathi Gana Sabha
18. Thyagaraja Seva Samathi, Rajamundhry
19. Thyagaraja Vidwat Sabha, Thirupattur
20. Thyagaraja Samajam, Kovilpatti
21. Government Music College, Coimbatore
22. Raghavendra Swami Devasthanam, Mantralayam
23. Ramalingar Narpani Mandram
24. Thirukovilur Kapillar Vizha Panpaattu Kazhagam
25. Dharmapura Adheenam, Chennai
26. Bharatiya Music, Mumbai
27. Malleswaram Sangeeth Sabha, Bangalore
28. Vageeyakara Series, T.R.Subramaniyam's Organisation
29. Bharatiya Music, matunga, Mumbai
30. Music Triangle, Kalina, Mumbai
31. Gana Kala Vidyalayam, Goregaon, Mumbai
32. Dombivili Fine Arts
33. Ghatkopar Rasiga Ranjini, Mumbai
34. Rajamundhry Thyagaraja Sabha
35. Dance Ballet, SICA, Hyderabad
36. Trichur Sabha
37. Ernakulam Ramar Madam
38. Siva Temple, Ernakulam
39. Kutralam Saral Vizha
40. Sponsored programmmes by Iyal Isai Nadaga Mandram – Government of Tamilnadu

Special Performances
1. Devotional Music telecasted in Podhigai Thendral, Doordarshan, Chennai.
2. Krithis of Goddess Devi 'Nalam Tharum Navarathiri' telecasted in Jaya TV in October 2001
3. Music Composed in All India Radio on Shri Raghavendra Swami Jeeva Charithram and Sadguru Sadasive Brahmendra Jeeva Charithram in the year 1998 and 2003 respectively.
4. Conducted 160 songs of Annamacharya in SVBC Television channel.
5. Presented my voice for the dance ballet Porvaalum pooithazum with Dr.Padma Subramaniyam during Tamil Semmozhi maanadu.
6. Raaga Vaibhavam Programmes with Kunnakudi Sri. Vaidyanathan
( Raga Demonstrations at Raga research centre – sponsored by Govt. of Tamil Nadu ).
Highlight of performances – Abroad
Performed concerts and workshops in Europe, West Indies, Reunion Islands, South America and Bangladesh.
He has presented programs along with his Guru Dr.M.Balamuralikrishna for the ballet 'Thyagaraja' in United States , Kathirkama Kuravanchi in United Kingdom, Muruga Potri in Melbourne, Australia.

CD Presentations
1. 'Raghava Raagam'
2. CD composed and presented for Sunshine Muruga Temple, Australia.
3. CD presented along with Guru Dr.Balamuralikrishna, 'The Quest' for Singapore.
4. Dance Ballet 'Thyagaraja' - United States.
5. 'Kathirkama Kuravanchi', Music by Rajkumar Bharathi, United Kingdom.
6. Punniyakoti – A thematic Ballet, California.
7. Audio Cassette, 'Ambal Patte Arul Paatu', Thiruvarutpa.
8. Music Direction - 'Legendry Memories for Musician Surya Prakash'.
9. Sarva Devatha Gayathri (Solo)
10. CD composed and presented for Shri Soundarya Raja Perumal Temple of Nagapattinam by name 'Nagai Azhagiyar'
11. Thirupudaimarudur Sivanama sangeethanam.
Contact :
No 19/6, Sowrashtra Nagar 2nd Street,
Choolaimedu, Chennai-94.
Mobile No : 9790728929, 9677218883
Landline : 044-23744120
e-mail : srvragam@yahoo.co.in
Awards & Recognitions
Chembai Vaidyanatha Bagavathar Endowment prize
Award of Chembai Vaidyanatha Bagavathar Endowment prize for the meritious performance in Krishna Gana Sabha, Chennai.
Pannisai Mamani
'Pannisai Mamani' from Thirukovilur Panpaatu Kazhagam presented by Violin Maestro Dr.Kunnakudi Vaidyanathan.
Gaana Kala Vipanchee
'Gaana Kala Vipanchee' by Dr.M.Balamuralikrishna and Dr.Saraswathi – Vipanchee Trust.

About
Sabhash
- Everything about classical music, dance, drama and a platform for inclusive entertainment
Sabhash.com is the one-stop destination for the latest news and information on the performing arts of India - classical music and dance, theatre, bhajans, discourses, folk performances, and other lesser known art forms. Institutions that revolve around the performing arts have exploded in numbers, and thanks to the Internet which has made information easily accessible, the number of rasikas has grown too. Corporate patronage has played a big part in increasing the world-wide reach of the Indian arts. Sabhash wishes to be a platform for inclusive growth giving an equal opportunity and recognition to not only the main performer but also the artistes who accompany them on stage, and the people who work backstage and play the role of unsung heroes.