Usha Padmanabhan
Carnatic Vocalist, Tamil Nadu, India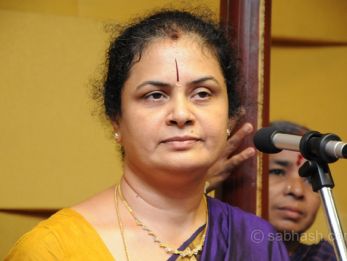 Biography
Training :
Smt. Usha Padmanabhan has currently been under the training of Sangeetha Kalanidhi Dr. R. Vedavalli for the last 9 years.
Prior to this she had her training under Nanganallur Sri V. Ramanathan for about 11 years.
Has also learnt padams and javalis from eminent musician Sangeetha Kala Acharya Late Smt. T. Muktha.
Masters' Degree in Indian Music from the University of Madras (1989) with a Government Scholarship.
Notable Accomplishments :
'A' Graded artist of the All India Radio (AIR).
Has composed music for the sacred work 'Ramanuja Nootrantadi', a CD of which was released by His Holiness Kaliyan Sri Vanamamalai Jeeyar Swami and Velukkudi Sri Krishnan Swami, in December 2012.
Performed for the prestigious Akashvani Sangeeth Sammelan series, 2011 at Tiruvananthapuram.
Composed and performed music for several successful Bharatnatyam dance dramas in Muscat, Oman.
In her youth, won 1st place in the All India Radio Competition, in the Carnatic classical category (1983), and several other competitions conducted by leading Sabhas in the city.
Shows & Major Performances
Performances :
Performer at several prestigious venues including -
- The Music Academy, Madras
- Narada Gana Sabha
- Sri Krishna Gana Sabha
- Nada Inbam (Raga Sudha)
- Vani Mahal
- Nadaneerajanam (Tirupati Tirumala Devastanam)
- Kala Sagaram (Hyderabad)
- R.R Sabha (Tiruchirapalli)
Also performed at prestigious venues in the Gulf, and for television (Isai Arangam - Podhigai TV, Jaya TV)
Quotes :
"... a well-trained voice, good guidance, strong foundation in raga and kirtana rendition... ...with ability she tapped the core of the ragas... ...loyalty to tradition with familiar pidis constituted the appealing aspect..." - SVK (The Hindu, April 2012)
"...the raga Kamboji, chosen as the main one, was presented with opulent phrases and rich sancharas in the delineation..." - Damodar Narayanan (The Hindu, October 2011)
Contact :
54/59,Venkatrathinam Nagar,
Adyar, Chennai
Ph : +91 98846 73517
email : ushatoday@gmail.com

About
Sabhash
- Everything about classical music, dance, drama and a platform for inclusive entertainment
Sabhash.com is the one-stop destination for the latest news and information on the performing arts of India - classical music and dance, theatre, bhajans, discourses, folk performances, and other lesser known art forms. Institutions that revolve around the performing arts have exploded in numbers, and thanks to the Internet which has made information easily accessible, the number of rasikas has grown too. Corporate patronage has played a big part in increasing the world-wide reach of the Indian arts. Sabhash wishes to be a platform for inclusive growth giving an equal opportunity and recognition to not only the main performer but also the artistes who accompany them on stage, and the people who work backstage and play the role of unsung heroes.