Nerkunam Sankar
Kanjira Artist, Tamil Nadu, India
Date of Birth : 10 - Jun - 1979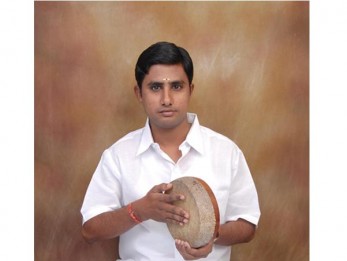 Biography
Nerkunam Sankar is one of the well-known kanjira artists in the field of Carnatic music. He started playing kanjira at the age of 12; he is the last and prime disciple of kanjira maestro Sri G. Harishankar from whom he learned by gurukulavasam (living & studying with his teacher). He traveled far and wide with his Guru Harishankar. N.S. Sankar started his initial training in Carnatic percussion from Sri P. T. Subramaniam and Sri Shrivanchiyam K. Gopalan.
He was born on June 10, 1979 to Shri K. Suriyanarayanan & S. Vasantha in the native Nerkunam village in Tamil Nadu, southern India and later settled in Chennai for his studies and also for music. He has earned M. A. (Rhythmology) and M. Phil degree from the Department of Indian Music of the University of Madras. He is an 'A' Grade artist in the All India Radio for kanjira.
He started an organization called KALAIMAMANI G. HARISHANKAR ADMIRER'S CIRCLE after the demise of his guru G. Harishankar for which he is the Convener & Secretary. Every year in the month of February, he organizes a Remembrance Day to G. Harishankar. On that occasion, we are honoring a senior musician with the award called G. Harishankar Memorial Award.
He has a wealth of experience accompanying great musicians including Dr. Sri T. K. Murthy, Guruvayur Sri Dorai, Sri Srimushnam Rajarao, Mannargudi Sri Eshwaran, Thiruvarur Sri Bhakthavatsalam, Madurai Sri T. N. Seshagopalan, Sri T. V. Sankaranarayanan, Kadri Gopalnath, Sri O. S. Thyagarajan, Naively Sri Santhanagopalan, Sri Sanjay Subramaniam, Sri T. M. Krishna, Sri Ashok Ramani,Smt.Sudha Ragunathan, Smt. Nithyasrimahadevan, among many others.
Shows & Major Performances
He has won the All India competition conducted by All India Radio - Chennai in 1999 and was honored with the title Asthanavidwan from Kanchi Kamakoti Peetam."YuvakalaBharathi" title from Bharathkalachar in 2011.Nerkunam Sankar also selected as Young Artist by Eyal Esai Nadaka Manram. . He has toured Mauritius with Shri Madurai G S Mani for ICCR ON FEB 2009.
Contact Details:
Nerkunam Sankar
No. 23, 1st Floor, Thiruvalluvar Salai
Thiru Nagar, Alvar Thiru Nagar, Valasavakkam, Chennai 600 087
Phone: 044-2486-5778 Cell: 98-411-35405
E-mail: nerkunam.sankar@gmail.com
Web: http://www.myspace.com/nerkunamsankar
Skype Id:nerkunam.s.sankar

About
Sabhash
- Everything about classical music, dance, drama and a platform for inclusive entertainment
Sabhash.com is the one-stop destination for the latest news and information on the performing arts of India - classical music and dance, theatre, bhajans, discourses, folk performances, and other lesser known art forms. Institutions that revolve around the performing arts have exploded in numbers, and thanks to the Internet which has made information easily accessible, the number of rasikas has grown too. Corporate patronage has played a big part in increasing the world-wide reach of the Indian arts. Sabhash wishes to be a platform for inclusive growth giving an equal opportunity and recognition to not only the main performer but also the artistes who accompany them on stage, and the people who work backstage and play the role of unsung heroes.