P S Narayanaswamy
Carnatic Vocalist, Tamil Nadu, India
Date of Birth : 23 - Feb - 1933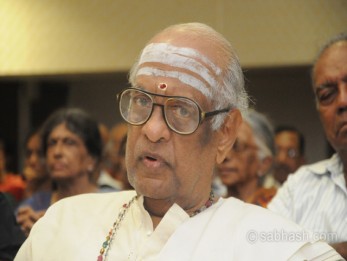 Biography
Puliyur Subramaniam Narayanaswamy also spelt Narayanaswami was born in Konerirajapuram, Thanjavur in Madras Presidency. He learnt music from Tiruppambaram Somasundaram Pillai, T. M. Tyagarajan and later PSN came under Sangita Kalanidhi Mudikondan Venkatarama Iyer, and then under the gurukulavasa system, he joined Semmangudi in the early 1950s. PSN had started giving concerts, both public and through All India Radio, at the age of 15. It is interesting to note that no one else from his family took to music; his brother is an engineer and sister a medical practitioner.
Pichai moved over to Chennai in the second half of the Fifties and soon established himself as a classy concert artiste and a teacher of high order. Blessed with a powerful voice, Narayanaswami absorbed the special aspects of the music of all stalwart musicians of the last century, carving out a style of his own, even though the Semmangudi style was clearly perceptible in his renditions. He has had the privilege of being accompanied by stalwarts of the last century such as, violin maestro Pappa Venkataramaiah and mridangam Palghat Mani Iyer for his concerts. PSN's own students, who have made a significant mark on the concert platform, comprise a large number. This list consists of not only vocalists but also violinists and other instrumentalists.
Shows & Major Performances
PSN served All India Radio, Chennai, as a conductor of the Vadya Vrinda, and he is accredited with a number of symphonies. Setting to music a number of compositions is another aspect of his musical virtuosity. `Tiru Arutpa' was set to music by him and this was presented by him at a recent conference of the Music Academy, along with his students.
Awards & Recognitions
Padma Bhushan
by the Government of India this year comes as a crowning glory
Sangeetha Kala Acharya
In 2000, he was conferred this title by the Music Academy
Bala Gana Kala Rathnam
He was awarded this at the age of 12.

About
Sabhash
- Everything about classical music, dance, drama and a platform for inclusive entertainment
Sabhash.com is the one-stop destination for the latest news and information on the performing arts of India - classical music and dance, theatre, bhajans, discourses, folk performances, and other lesser known art forms. Institutions that revolve around the performing arts have exploded in numbers, and thanks to the Internet which has made information easily accessible, the number of rasikas has grown too. Corporate patronage has played a big part in increasing the world-wide reach of the Indian arts. Sabhash wishes to be a platform for inclusive growth giving an equal opportunity and recognition to not only the main performer but also the artistes who accompany them on stage, and the people who work backstage and play the role of unsung heroes.