M. B. Moorthy
Drama Artiste, Tamil Nadu, India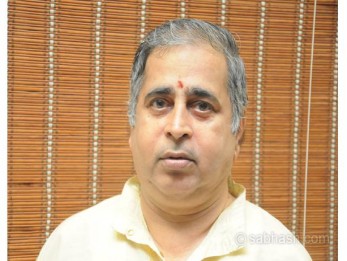 Biography
Madhava Boovaraga Moorthy is a Playwright, Actor and Director; he holds an M A in Economics and had the chance to act in plays during his college days when he was a student in AVC College, Mayiladuthurai in 1972.
His first drama was Suprabhatham, penned by Alphones Jayabalan, Demonstrator in the Zoology department, who spotted the talent in Moorthy, and along with the support of his college professors like V. Srinivasan, T. V. Kanthimathi Nathan, S. Balasubramanian, R. Balasubramaninan (he became the principal of the college) Prof. R.Varadarajan, A.Kaliaperumal, Moorthy nurtured the talent in him.
Prof. V. Srinivasan was full of praise for him and fueled the quest that landed him in Chennai to pursue theatre arts.
Later, with an appointment in UCO Bank, Kanchipuram, he had chances to get into the circles of leading drama artistes like Mali and Poornam Viswanathan. Poornam was in the efforts of starting his own troupe Poornam New Theatre. Thanks to S Gowri Shankar, his college mate, whom he was associating in plays then, introduced Moorthy to Poornam Viswanathan.
It was on 1st of October 1979, he became part of his Guru Poornam Viswanathan's troupe along with Baldev, Ravi (Jagannathan), Vishnu, Sridhar, Murali, Sulochana. Their 1st play was staged - Adimaigal, by Sujatha. He moved to Madras later.
Poornam taught him acting, script handling direction voice modulation, diction sets concept, music to match the emotions and lights and more, and that was his Gurukulam. They produced nearly nine plays - most of them were Penned by Sujatha. He has written plays exclusive for Shri Poornam. Dr. Narendiranin Vinotha Vazhakku, Anbulla Appa, Marudhal Varum, Oonjal, Singamaiyangar Peran, Kadavul Vanddhirundar were vibrant plays that were staged in chennai and other cities of Tamil Nadu and across the country. After Poornam's inability, on his request, he staged plays in the Original Gurukulam Boys company banner.
Shows & Major Performances
Some of the plays Gurukulam Co. staged are Pop corn kanavugal, Thodarum Payanangal, and the troupe participated in Kodai Nataka Vizha of Karthik Fine Arts in the year 1998 for the first time, and got first place for the drama, Kanavu Illam. Mrs and Mr was Moorthy's other play that won accolades.
The members of Gurukulam are Shanthi Ganesh, Malathy Sampath, Jayanthi, Durga, kowsalya prasanna, Pavithra, Praveena, Nandinee , Srividya and Poorvaja. The troupe has staged plays in pollachi, Bangaluru, Bombay and Mettur, apart from all Chennai city sabhas.
Moorthy acts in other troupes like Kalanilayam, Mali Stage, Shakthi Ganesh, Sowmya, Augusto, T K S Nataka Mandram, Kathadi, and S Ve Sekar's.
His favourite role is Shri Rama Krishna Paramahamsar in the play Narendra. He has acted in tele serials too. He has associated with Sujatha, and acted in films Sivaji, Silambattam, and Eeram.
Devan endowment wanted them to stage Devan's Parvathiyin Sankalpam, a play, Tharangini Mahaan for Thirupoonthuruthi Narayana Theerthar Trust. A play of Shri Ja.Ra.Su was staged in Akkarai annual function and a skit of Indira Parthasarathy was produced for the Humour Club, Triplicane chapter.
Contact:
Mail: gurukulammoorthy@yahoo.co.in
Mobile No: 9282113501
Awards & Recognitions
Nataka Selvam
by Sankardas Swamigal Ninaivu Manram.
Devan Momorial Silver Medal 2012
from Devan Momorial Trust

About
Sabhash
- Everything about classical music, dance, drama and a platform for inclusive entertainment
Sabhash.com is the one-stop destination for the latest news and information on the performing arts of India - classical music and dance, theatre, bhajans, discourses, folk performances, and other lesser known art forms. Institutions that revolve around the performing arts have exploded in numbers, and thanks to the Internet which has made information easily accessible, the number of rasikas has grown too. Corporate patronage has played a big part in increasing the world-wide reach of the Indian arts. Sabhash wishes to be a platform for inclusive growth giving an equal opportunity and recognition to not only the main performer but also the artistes who accompany them on stage, and the people who work backstage and play the role of unsung heroes.