B Kannan
Veena Artiste, Tamil Nadu, India
Date of Birth : 26 - Jun - 1964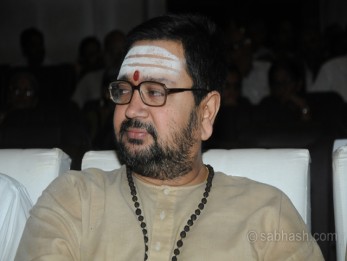 Biography
Kannan is the nephew of Dr. Padma Subrahmanyam, the reputed dancer and research scholar. He had a flair for handling quite a few instruments even from his childhood. But his serious training was in "Veena" in which he graduated under Gurus Vasantha Krishnamurthy and Pichumani Iyer. He also underwent advanced training in "Raga rendering" under the musical genius and Veena maestro Dr. S. Balachander.
Kannan hails from a family with an artistic background and achievements. His father V. Balakrishnan is a reputed Documentary Film maker. His mother Shyamala Balakrishnan was a well-known singer and research scholar in music. His paternal grandfather Director K. Subrahmanyam was a veteran pioneer in films and a parental personality in the cultural field. His paternal grandmother Meenakshi Subrahmanyam was a noted music composer and lyricist in Sanskrit and Tamil languages. His maternal grandmother Soundaram was one of the prime disciples of the musical giant Ariyakudi Ramanuja Iyengar. His strength lies in his charming creativity.
A Commerce Graduate from Vivekananda College, Chennai, Kannan was also its Cultural Secretary; this fostered his organisational capabilities in the cultural field which further blossomed in full during his tenure as the Founder-President of Youth Association for Classical Music (YACM). He is one of the earliest recipients of the title of "Yuva Kala Bharati" awarded by Bharat Kalachar, Chennai (1988). Kannan was also awarded the Fellowship of the Department of Culture, Government of India for an advanced research project in Veena.
Kannan is also a music composer; his compositions include quite a few Tillanas. He assisted his aunt in her music direction for the TV Documentary Serial "Bharatiya Natya Sastra" which has been widely acclaimed as a "Magnum Opus"; he was also the Production and Financial Controller for the above said film. He also assisted his aunt in composing music for the dance programme "Ritu Mahatmiyam" involving a multi-national orchestra with Indian, Chinese and Indonesian musicians. This programme, was sponsored by the National Arts Council, Government of Singapore as part of the Singapore Arts Festival (1992). He composed music alongwith his aunt and handled the entire production of the Documentary Film "Sage of Kanchi" devotionally directed by his father V. Balakrishnan. He composed music for two full-length dance dramas titled "Kartavyam" and "Abhayam" produced by Bharat Kalachar, which was highly acclaimed by the press and public alike. He also conducted a Quiz on Indian Classical Music in Vijay TV (15 episodes) which received tremendous response from the viewers for its being both informative and educative in nature. He hosted a special programme on folk-based film music for Doordarshan "Pothigai". He has also performed in Sun TV and Raj TV.
Kannan is deeply interested in Sanskrit and Vedic studies. He had the unique privilege and honour of representing the Jagadguru Sankaracharyas of the illustrious Kanchi Kamakoti Peetam at the World Hindu Conference in Bali, Indonesia in 1993. He was the Honorary Cultural Secretary of the Bharatiya Vidya Bhavan, Chennai where the Bhavan's Cultural Centre was started during his tenure. He also served in the Executive Committee of the All India Carnatic Musicians' Forum (AICMF).
Kannan is the Secretary of Nrithyodaya, Chennai (which is celebrating its Diamond Jubilee) and also a Trustee of the Director K. Subrahmanyam Memorial Trust.
Shows & Major Performances
He has performed for the Yuva Utsavs conducted by Sangeet Natak Akademi (New Delhi) at Bhubhaneswar and Chennai. He is the only Veena artiste who has performed "Jugalbandhis" with Santoor, Sitar and Sarod separately.Apart from his concerts in India, he has given several solo recitals in Canada, USA, UK, Japan, Malaysia, Singapore, Dubai and Kuwait. In 1987, on invitation from the Indian Council for Cultural Relations (ICCR), Government of India, Kannan toured the then Soviet Union to give his solo concerts for the Festival of India in USSR. Besides this, he has been accompanying on the Veena, Vocal, Suddha Maddalam, Mridangam and Ganjira, for his aunt Dr. Padma Subrahmanyam's dance concerts in India and abroad including Greece, Spain, Austria, Portugal, Switzerland, France, Mauritius, Srilanka, Bahrain, Qatar, Abu Dhabi, Muscat, Indonesia and Thailand, in addition to the countries mentioned above.
Contact Address:
Old No: 6, IV Main Road,
Gandhinagar, Chennai - 600 020 - India.
Phone No: +91 - 44 - 2491 0575 / 0618
Email : kannanveena@hotmail.com

About
Sabhash
- Everything about classical music, dance, drama and a platform for inclusive entertainment
Sabhash.com is the one-stop destination for the latest news and information on the performing arts of India - classical music and dance, theatre, bhajans, discourses, folk performances, and other lesser known art forms. Institutions that revolve around the performing arts have exploded in numbers, and thanks to the Internet which has made information easily accessible, the number of rasikas has grown too. Corporate patronage has played a big part in increasing the world-wide reach of the Indian arts. Sabhash wishes to be a platform for inclusive growth giving an equal opportunity and recognition to not only the main performer but also the artistes who accompany them on stage, and the people who work backstage and play the role of unsung heroes.