Dr. N. Ramani
Classical Flautist, Tamil Nadu, India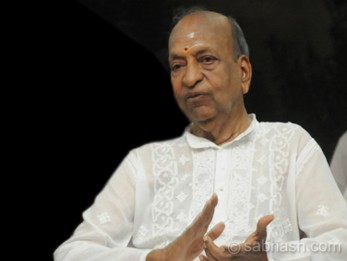 Biography
Dr N. Ramani was born in Tiruvarur in Tamil Nadu born into a musical family. Ramani's grandfather, Sri Aazhiyur Narayanaswami Iyer, was his first guru and was a well known flute artist and singer himself. Ramani's initiation to Carnatic music began at the age of five.
He is a disciple of the legendary T. R. Mahalingam, known more commonly as "Mali," who first popularised the Carnatic flute in Indian music.
N. Ramani is one of the stalwarts in Flute, who brought international attention to the Carnatic flute both in their own distinct flute playing techniques.
He did so by studying the long bass flutes of the North Indian bansuri genius, Pannalal Ghosh which the later had incorporated successfully in Hindustani concerts. To further enhance tala dynamics, he followed the "GNB" style which was developed by the legendary G. N. Balasubramaniam.
The "Mali" bani encompassed facial expressions such as slight tilting of the head, varied movement of the lips which produced the vocal effect in the Carnatic music.
Bringing out more of the tradition Mali introduced in the playing of the Carnatic flute, Ramani's distinctive style is the transformation of the Carnatic flute into the voice of a proficient Carnatic vocalist. Stressing such importance on the emphasis of vocal style of playing, he displayed characteristics of the human voice in his concerts often observed in his fast paced yet melodious performances.
Shows & Major Performances
N. Ramani's performances in All India Radio (AIR) have received numerous praises from renonwned Hindustani and Carnatic musicians alike and his performances overseas had been recognised with numerous awards.
Contact:
No. 18/10, 2nd Link Street, CIT Colony,
Mylapore, Chennai, Tamil Nadu 600004 - India
Phone No: +91 (44) 24993217
Awards & Recognitions
Sangeetha Kalanidhi
In 1996 - Prestigious title in Carnatic music
The Sangeetha Acharya Award
from Wasser College, U.S., and the honorary citizenship status in Maryland, Ohio, U.S.
Padma Shri Award
from the President of India.
Honorary Cultural Doctorate
from The World University of Arizona.

About
Sabhash
- Everything about classical music, dance, drama and a platform for inclusive entertainment
Sabhash.com is the one-stop destination for the latest news and information on the performing arts of India - classical music and dance, theatre, bhajans, discourses, folk performances, and other lesser known art forms. Institutions that revolve around the performing arts have exploded in numbers, and thanks to the Internet which has made information easily accessible, the number of rasikas has grown too. Corporate patronage has played a big part in increasing the world-wide reach of the Indian arts. Sabhash wishes to be a platform for inclusive growth giving an equal opportunity and recognition to not only the main performer but also the artistes who accompany them on stage, and the people who work backstage and play the role of unsung heroes.