S. L. Naanu
Drama Artiste, Tamil Nadu, India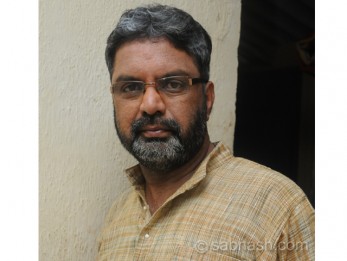 Biography
Sahasranaman Lakshminarayanan, also known as S L Naanu has been working with with Kathady Ramamurthy's Drama Troup for the past 29 years and he has acted in more than 2000 stage plays.
Shows & Major Performances
Keladi Penmani
Meendum Varugirome
Oodaathe Odaathe En Kanavaa
Moathal Koattai, for Kathady Ramamurthy's
Iyikkiya Munnani, Stage Creations
Nijam Alla Kathai
Ninaichathu Onnu
Neenga Yaar Pakkam
Neengale Sollunga
Vasu Returns
Enna Thavam Seithanai, for V.H. Balu's Kalavahini
Vegam
Anbudan
Manasukkul Varalama, for Kovai Paddu's Goodwill Stage
Ilakkanam Maarumo, for Maali's Stage
Ladies Special, for Mumbai Ladies Troup
Contact:
Mobile: 9444005848
Landline: 23642853
Awards & Recognitions
Won Best Writer Award
in the Kodai Nataka Vizhga 2004 for the Play Vegam.
Won Second Best Writer Award
in the Kodai Nataka Vizha 2011 for Neengale Sollunga.
Roll of Honour
from Mylapore Academy during 2004.
Best All Rounder Award
for the Play Neenga Yaar Pakkam from Mylapore Academy during 2011.
Best Comedy Play
for Neenga Yaar Pakkam, both in Kodai Nataka Vizha 2010 and Mylapore Academy.

About
Sabhash
- Everything about classical music, dance, drama and a platform for inclusive entertainment
Sabhash.com is the one-stop destination for the latest news and information on the performing arts of India - classical music and dance, theatre, bhajans, discourses, folk performances, and other lesser known art forms. Institutions that revolve around the performing arts have exploded in numbers, and thanks to the Internet which has made information easily accessible, the number of rasikas has grown too. Corporate patronage has played a big part in increasing the world-wide reach of the Indian arts. Sabhash wishes to be a platform for inclusive growth giving an equal opportunity and recognition to not only the main performer but also the artistes who accompany them on stage, and the people who work backstage and play the role of unsung heroes.