Arunima Kumar
Kuchipudi Dancer, Delhi, India
Date of Birth : 01 - Jul - 1978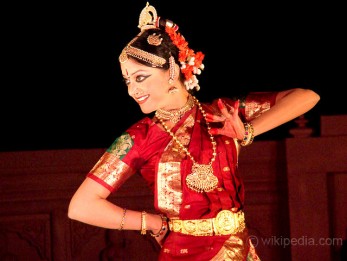 Biography
Arunima is one of India's most versatile leading Kuchipudi dancers and is the recipient of Sangeet Natak Akademi's prestigious Ustad Bismillah Khan Yuva Puraskaar for 2008, awarded by the President of India, to artists who have
demonstrated exceptional talent in the fields of music, dance and drama.
Arunima has given over 300 performances prestigious cultural festivals and venues in over 30 countries. Arunima moved to London in 2009 and has given over 75 performances and workshops across Europe. She aims to build a strong base
for the form internationally through Performances, Teaching, Choreographic works, Educational workshops and Community projects. She has collaborated with many young international artists to create exemplary works.
Arunima started learning Kuchipudi at the age of 7 initially under Padma Bhushan Smt Swapnasundari. She is a senior disciple of Padmashree Guru JayaRama Rao and Vanasree Rao and has been performing for over 15 yrs. The Kuchipudi
Dance Academy formally launched her in 1995 where she performed her 'Rangapravesham' at the Triveni Kala Sangam, New Delhi.
She has been recognized with the Sangeet Natak Akademi Award 2009, Sahitya Kala Parishad Scholarship for Dance in 1998, the Shringarmani title by Sur Shringar Samsad.in 2001, she is empanelled as an Established artiste with the
(I.C.C.R.) Indian Council for Cultural Relations, Ministry of External Affairs and is an A grade artiste of the All India Radio and Doordarshan.
Arunima's performances reveal a confident and intellectual dancer with individuality. Enthralling Abhinaya (art of expression), confident communication with her audiences and contemporary interpretations of traditional Padams, Javalis
(traditional songs) and other compositions mark her successful performances. Her energetic dance-renditions combine perfect technique, rhythmic precision, riveting facial expressions and enormous grace.
Sure of rhythm and full of zest, Arunima is today widely acknowledged in the field of classical dance.
Her notable performances include the 2010 India Commonwealth Games, Rashtrapati Bhawan (President House, Delhi), Sydney Opera House, Canberra Festival, EXPO in Hannover and Lisbon, Nehru Center in London, Tagore Center in Berlin, Asian Arts Festival in Manila, Kuchipudi Convention in USA in 2008, Purcell Room, Southbank London in 2009, Khajuraho Dance Festival in 2010, Hyderabad Arts Festival, Karthik Fine Arts, Chennai, Kuchipudi Festival.
She has also performed in several mythological ballets like the, Chitrangada, Nala Damyanti, Vasavadatta.
She has been given outstanding reviews by eminent dance critics and her dynamic profile have been featured across all leading newspapers, television and radio channels.
Besides dance, Arunima has also excelled in academics. She earned a Bachelor of Arts degree in Economics from India's prestigious St. Stephen's College and then studied MSc in Finance and Accounting from the London School of
Economics. Her outstanding academic performance led her to teach at the LSE summer school in 2002. She is now focusing to build ' Arunima Kumar Dance Company to promote dance development, education and community work through
dialogue and collaboration with world arts and Indian arts.
Arunima has also successfully ventured into dance choreography and research to explore different creative aspects of the performing arts. It is her vision to learn from and add to the various dimensions of the Kuchipudi style so as to spread
the beauty and excellence of the classical form across national and international forums.
She is also a keen pistol shooter and has won several medals in State and National Championships and is also the recipient of the Government of India Sports Talent Search Scholarship (1991-1992).
Shows & Major Performances
She is keenly interested in dramatics and has acted in a number radio and television programs (Yog Yatra on Star News), music videos (Euphoria), advertisements and short films (Documentary on New Delhi, International film, Microsoft,
Globus). She has recently done a cameo in a feature film directed by Prakash Jha – RAJNEETI. Kuchipudi continues to be her abiding passion, which she pursues with relentless devotion. Endowed with "a pair of large eyes, a mobile visage
and attractive stage presence". Arunima is a devoted dancer with a promising career ahead…..
Key Achievements and work:
• Performed with over 400 dancers to break the Guinness book of World Records in Cupertino, California , 2008
• New Choreography – with Fusion band ADVAITA
• Outstanding reviews and dynamic profile have been featured in all leading television and radio channels (Doordarshan, Sony, Aaj Tak, Star News etc) and newspapers including Hindustan Times, Times of India, Indian Express,
Business Standard, India Today etc.,
• She features in the London School of Economics Newsletter for her outstanding performance at the Nehru Centre at London.
• In an endeavor to share the joy of being closely involved with India's rich cultural heritage, she also worked for SPICMACAY, a voluntary cultural organisation as its Planning and Finance coordinator.
• She is also an active sponsor and member of GATI, a young dancers' forum.
• She is building her own arts foundation to promote arts amongst youth , conceptualize and implement projects in the filed of outreach – ARTS EXTEND - to promote peace and harmony across small towns and villages.
Notable International Performances:
Arunima has displayed her art in prestigious, international dance festivals abroad including Recent performances in London:
• Rich Mix , London , April 2012
• Celebrating Jamini Roy, London , March 2012
• CRY Charity event, Jumeira Carlton, London July 2011
• Nehru center, Launch of Naresh Kapuria's painting exhibition June 2011
• Ireland Film Festival, April 2011
• Mentoring – Daredevas, March 2010
• Reading Arts festival, UK , October 2010
• Milapfest- Dance India, August, 2010 Manchester
• Film Festival of India , Her Majesty's Theatre, Cineworld, July, 2010 London
• Performance for British Army, July, 2010 London
• Waterman's Theatre, July, 2010 London
• Performance for Pandit Ravi Shankar, July 2010, London
• Nehru Centre ,London , July 2009
• Royal Opera House ,London , July 2009 part of Akademi's Frame by Frame Seminar
• Dance India at Lowry, Manchester, August 2009
• India Centre, Cardiff , August 2009
• Purcell Room, Southbank Center, 'Daredevas' , November 2009
• Arena Theatre , Wolverhampton, UK, March 2010
• University of Liverpool , March 2010
Other international performances:
• Festival of India in Brazil, May 2011 (covering Rio, Sao Paulo, Brasilia, Belo Horizonte)
• Festival of Ugaadi , Sweden, Stockholm, March 2012
• Festival of India , Hungary , Budapest , May 2012
• EXPO 1998, Lisbon, Portugal
• India's 50th year of Independence held in Bonn, Germany
• EXPO 2000, Hannover, Germany
• ICCR tour in 2003, Ministry of External Affairs of India, in prestigious venues in Australia, including Canberra Festival, Sydney Opera House, Melbourne, Brisbane.
• ICCR tour Fiji, 2003
• Arts Festival Thailand, ICCR tour 2003
• Arts Festival Malaysia, ICCR tour 2003
• International Festival, Indonesia , 2004
• Asian Arts Festival, Manila , Philippines,2007
• India Week Celebrations at Nuremburg and Frankfurt,2005
• Tagore International Centre in Berlin in 2005
• Nehru Centre in London, 2001, 2005
• International Kuchipudi Dance Convention in Cupertino, California in 2008.
• Indian Cultural Center, Malaysia, 2010
• Kuala Lumpur Convention Center, 2010
Community workshops in London:
• Camden Primary School, London
• Brentford Old Age Home, London
• Barlby Primary school, London
• Hounslow Old Age Home, London
• Orpington – drug rehabilitation
Notable Performances in India:
• Commonwealth Games India Solo recital, Raag Rang Festival , October 2010
• ICCR HORIZON SERIES, Azad Bhawan, October 2010
• Khajuraho Dance Festival, 2010
• Ustad Bismillah Khan Yuva Puraskaar Samaroh, Sangeet Natak Academy, Delhi ,September 2009
• Bharatiya Vidya Bhavan, for Karthik Fine Arts , Chennai December 2011
• Coca Cola Foundation, Jaipur City Palace , February 2011
• World Dance Day Celebrations, Habitat Center, May , 2009
• World Dance Day celebrations, India International Center, sponsored by Natya Vriksha , May 2009
• 'Amrapali" ballet, 1987
• Rangapravesham at the Triveni Kala Sangam, New Delhi , 1998
• Hyderabad Arts Festival
• India Habitat Centre, 1998, 1999, 2003
• India International Trade Fair 1999, 2002, 2003, 2006,
• SOPAN festival by Sahitya Kala Parishad
• Delhi Tourism Festival at Santushti 2003
• Bharat Yatra Festival in lucknow 2001.
• Shringaramani Festival in Mumbai 2001
• Kuchipudi dance festival in Kuchipudi Village
• National Choreography Festival at Habitat Centre 2003.
• Qutab Festival in 2003.
• Young Dancers Festival at Kolkata sponsored by