S. V. Balakrishna
Mridangam Artiste, Karnataka, India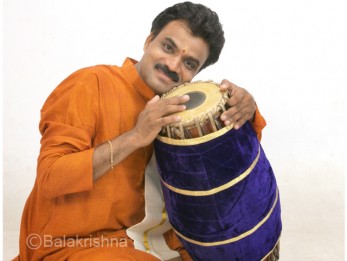 Biography
S V Balakrishna (balu) is a professional Mridangam (Indian Drums) and Morsing (Jaws Harp) artist from Bangalore. Balu was born in a talented family, rich in the classical music tradition of south India. Balu's early musical inspiration came from his late father, Vidwan Sri. S. V. Venkateshaiah (founder of Sri Vani Institute of Music ®) who was a veena and Harmonium artiste and his mother Vidushi Smt. S. V. Kamalamma a veena artiste. Balu had his tutelage under Guru 'Karnataka Kalashri' Vidwan Sri. M. Vasudeva Rao of Bangalore & 'AsthanaVidwan of Sri. kanchi Kamakoti Peetham Vidwan Sri. Mannargudi A. Eshwaran of Chennai. He has also learnt vocal from his mother Vidushismt.Kamalamma, Vidwan N.S. Raman & Sangeetha Kalanidhi Vidwansri. S.Shankar, Bangalore.
Shows & Major Performances
The ALL INDIA RADIO (the prestigious National Radio network) of India has bestowed 'A' Grade to him for his excellence performance in morsing and B HIGH grade for Mridangam. Besides Mridangam he has proven his abilities in mastering other percussion instruments like Morsing (Jaws Harp), Ghatam (earthern pot), Khanjira (one face hand drum) and Konakolu (vocalisation of Mridangam syllables). His rhythmical and musical compositions are highly appreciated by music lovers and Art critics all over the world.
Also he has composed & conducted music for many Cd's, Fusion bands, Dance Ballets. He has performed at many prestigious venues & major festivals in India, UK, USA, South Africa and European countries.
Balu's achievement as a percussionist comes from his firmly founded knowledge of music and training. He maintains the purity of the classical form through discipline and concentration. He is critically acclaimed of his meticulous control of the instrument, executing complex rhythmic calculations and generating a sense of complete involvement in all his performances.
Balu has accompanied many renowned stalwarts such as Sri. Nedanuri Krishnamurthy, Dr. M. Balamurali Krishna, Sri. S. Shankar, Sri. T. V. Gopalakrishna, RajkumarBharathi, Maharajapuram Ramachandra,T.M.Krishna, NeelaRamagopal, M.S.Sheela, Sudha Raghunathan,Nityashree Mahadev, Dr.N.Ramani, Mysore Nagaraj & Dr.Manjunath, Dr.L.Subramanyam, Mandolin U.Srinivas, Saxophone Kadri Gopalnath, Percussion ensembles & Western Fusion Music groups. He has travelled to UK to support Chitraleka & company for major dance projects & to conduct rhythm workshops.
S.V.Balakrishna along with his wife Vasudha Balakrishnaa Carnatic classical singer has started a traditional music school "SRIVANI CENTRE FOR PERFORMING ARTS" Bangalore. TheInstitution, has brought many talented students on to the performing stage. Students are coming out with flying colours in the proficiency,senior and junior grade examinations conducted by the Karnataka state secondary education board.
Contact:
'Saama' #12, 2nd Main, 3rd Cross,
Sumukha Layout, Chikallasandra,
Bangalore - 560061 - India.
Mobile: +91.94480.57523
Email: balumridanga@yahoo.co.in
Awards & Recognitions
FIRST RANK
Proficiency Examination in Mridangam conducted by Karnataka Government Secondary Education Board in 1997.
UNIQUE PERCUSSIONIST AWARD
in 1999 England.
ANANYA YUVA PURASKARA
in 2004.
MORSING VAADANA CHATURA
in 2011.

About
Sabhash
- Everything about classical music, dance, drama and a platform for inclusive entertainment
Sabhash.com is the one-stop destination for the latest news and information on the performing arts of India - classical music and dance, theatre, bhajans, discourses, folk performances, and other lesser known art forms. Institutions that revolve around the performing arts have exploded in numbers, and thanks to the Internet which has made information easily accessible, the number of rasikas has grown too. Corporate patronage has played a big part in increasing the world-wide reach of the Indian arts. Sabhash wishes to be a platform for inclusive growth giving an equal opportunity and recognition to not only the main performer but also the artistes who accompany them on stage, and the people who work backstage and play the role of unsung heroes.