Aswin Sridhaaran
Mridangam Artiste, Tamil Nadu, India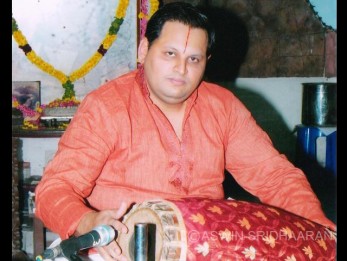 Biography
Started learning mridangam since the age of 8 at R.R Sabha Music School under the guidance of Late Vidwan Melakkaveri Sri.K.Krishnamurthy. Arangetram in the year 1990 under his guidance. Currently under the tutelage of Mridangam Maestro Mannargudi Sri. A.Easwaran. Bagged the Scholarship from Tamil-Nadu Iyal Isai Nataka Mandram in 1995
Won awards from The Music Academy, Mylapore Fine Arts, Indian Fine Arts Krishna Gana Sabha, Shanthi Fine Arts & VDS Arts Academy. Regularly performing during the Madras Music Festival since 1998 in various sabhas including Karthik Fine Arts , Naradha Gana Sabha etc. Was recently honoured by Ramana Kendra during the 2011 december fest.
Have accompanied senior artistes like Violin Maestro Prof T.N.Krishan, Flute Maestro Dr.N.Ramani, Hyderabad Brothers, Rudhrapatnam Brothers. Kum.A.Kanyakumari, Trichur Sri.V.Ramachandran Maharajapuram Sri.S.Ramachandran etc, and sub senior artistes in many concerts in and outside Chennai.

About
Sabhash
- Everything about classical music, dance, drama and a platform for inclusive entertainment
Sabhash.com is the one-stop destination for the latest news and information on the performing arts of India - classical music and dance, theatre, bhajans, discourses, folk performances, and other lesser known art forms. Institutions that revolve around the performing arts have exploded in numbers, and thanks to the Internet which has made information easily accessible, the number of rasikas has grown too. Corporate patronage has played a big part in increasing the world-wide reach of the Indian arts. Sabhash wishes to be a platform for inclusive growth giving an equal opportunity and recognition to not only the main performer but also the artistes who accompany them on stage, and the people who work backstage and play the role of unsung heroes.