Dr. Prema Rangarajan
Carnatic Vocalist, Tamil Nadu, India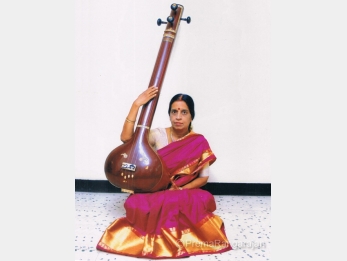 Biography
Music Education
Prema Rangarajan, a post graduate in Sanskrit, is a professional, traditional carnatic vocalist having been accredited to "A" Grade by AIR and Doordharshan.
She had early training with Kadayam Krishnamurthy and later with T S Raghavan of Delhi University before moving to Chennai for further training.
Advanced training
Sulochana Pattabhiraman on the finer aesthetic aspects.
S Rajam on rare ragas and compositions.
Dr V V Srivatsa on rare kritis of Trinity and other Vaggeyakaras.
Chingleput Ranganathan on Ragam, Tanam, Pallavi.
Mrs. Lakshmi Natarajan on Kritis in traditional Patanthara.
Contribution to the field of Music
Conceptualisation, participation and assistance to my Guru Mrs. Sulochana Pattabhiraman in conducting various formats of Karnatic Classical music comprising Varnam, Tillana, Javalis, Paripadal (ragas used in ancient Tamil compositions) , rare kritis of different composers etc for archival by AIR under their programme Dakshina Gana Surabhi.
Recorded Utsava Sampradaya Kritis of Saint Thyagaraja for All India Radio archives under the guidance and supervision of Dr. M. Balamuralikrishna and Shri. T.S. Parthasarathi, Musicologist.
Lecture Demonstrations on Manodarma in raga, kriti and Swara singing, Pallavi Rendering, Dikshitar Kritis and Tamil Compositions to the students of Pondicherry University, and Annamalai University on different occasions under UGC Programme.
Presented papers on various musical topics
1. Sirkazhi Moovar at the International Tamil Music Conference, Tamil University University, Thanjavur
2. Creativity in Tanam and Pallavi in Karnatic music" conducted at the seminar by ITC Sangeet Research Academy and C V Raman Centre for Physics and Music
3. Navarathnamalika of Maharaja Swathi Thirunal"in2009 and On Tillanas in 2011 at International Music Conference and Festival-"Africa meets Asia" at Bangalore
4. Awarded Ph.D for my thesis on Sanskrit compositions in carnatic Music – A Study to Madras University (in which Sanskrit compositions of 25 vaggeyakaras– from Saint Annamacharya to Shri. M. D. Ramanathan have been taken up) to Madras University.
Ever interested in learning kritis from the right lineage of vaggeyakaras and a few of those are of Margadarshi Seshaiyengar, Mysore Vasudevachar, Mysore Sadasiva Rao, Jayachamaraja Wodeyar,Dr.V.V.Srivatsa and popularizing them through my concerts and teaching students and musicians who are interested in learning these kritis.
Participated in Lecture Demonstration sessions at the Music Academy and Indian Fine Arts Society, Chennai on the following composers:
Rare Kritis of Muthuswamy Dikshitar
Rare Kritis of Shyama Sastri
Kritis of Swati Tirunal
Koteeswarayyar Kritis
Compositions of Ponniah Pillai
72 Melaraga Malika of Maha Vaidyanatha Sivan
Harikesanallur Muthiah Bhagavathar
Tillanas
Shows & Major Performances
Released 14 CDs on devotional themes and 4 live concerts.
Contact:
2C, Ramalakshmi Apartments,
26,4th street, Abhiramapuram, Chennai-18.
Phone: +44.2499.7028
Mobile: +91.94446.68498
Email: prema.rangarajan@gmail.com
Awards & Recognitions
Vocational Excellence Award
from Rotary International in December 2008
Sangeetha Sevamani Title
by HH Kanchi Kamakoti Peetam
Roll of Honour Award
for outstanding contribution to carnatic music fronm Inner Wheel Club.
Winner of several Prizes in competitions and concerts
conducted by Sangeet Nataka Academy, AIR, Music Academy

About
Sabhash
- Everything about classical music, dance, drama and a platform for inclusive entertainment
Sabhash.com is the one-stop destination for the latest news and information on the performing arts of India - classical music and dance, theatre, bhajans, discourses, folk performances, and other lesser known art forms. Institutions that revolve around the performing arts have exploded in numbers, and thanks to the Internet which has made information easily accessible, the number of rasikas has grown too. Corporate patronage has played a big part in increasing the world-wide reach of the Indian arts. Sabhash wishes to be a platform for inclusive growth giving an equal opportunity and recognition to not only the main performer but also the artistes who accompany them on stage, and the people who work backstage and play the role of unsung heroes.