V.L.V.Sudharsan
Carnatic Vocalist, Tamil Nadu, India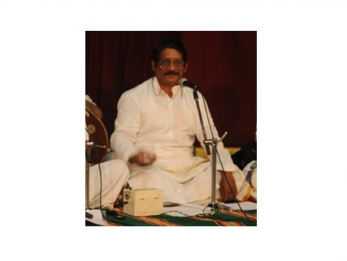 Biography
V.L.V.Sudharsan
He was trained by his father & guru, Sri.V.L.Vedagiri who is a Violin Vidwan and Sudharsan represents the third generation, Born to Sri V.L.Vedagiri & Smt. V.kamalamma, in the year 1967 in a traditional family of musicians. He learnt the art of playing violin under the guidance of his father Shri.V.L.Vedagiri.
Holding a post-graduation in music and "A" grade from ALL INDIA RADIO, in VIOLIN & VIOLA, Presently working as a senior grade lecturer in violin in the Department of music at Annamalai University.
Experience:
Started public performances at an early age and has been performing for the past 25 years, he has accompanied many doyens & stalwarts in the field of music such as "Padmashri" Prof. Dr. Aridwaramangalam, Sri. A.K. Palanivel, "Padmavibhushan" Mangalampally Dr. Balamurali Krishna, Dr. K. Vageesh, "Sangita Kalanidhi" Dr. N. Ramani, "SangitaKalanidhi "Sri.T.V. Sankara Narayanan.
Solo Concerts:
Commenced to perform solo concerts on violin and viola from the year 1995, mostly concentrating on viola concerts, Mrudangam maestro, "Padmashri" Umayalpuram Sri. K. Sivaraman, was kind enough to support and encourage his viola concerts by playing on the mrudangam.
Founded and leading an instrumental ensemble named "Pranava Naadham" a fusion troupe comprising Karnatic, Hindusthani & Western music systems.
Released two albums titled "TRENDZ" and "Breath Ecstasy"
Toured all over India and performed in many prestigious organizations and colleges
Composing:
He has composed and directed music for various devotional albums namely, Deiviga then isai malai, Astha daasara padagalu, Indhu yenage Govinda, Ninna Daasanaadhe, Venkatanaadha. He also composed music and conducted some special thematic concerts like Siva Padham, Asthapadi, Vandhe Sri maatharam, Thyagaraga Vaibhavam, Purandara daasara pancharathnams etc…
Training:
He has trained many students in the art of playing violin, out of which 3 students are from U.S.A and the rest are from India - all are currently performing artists.
Shows & Major Performances
He is regularly performing in ALL INDIA RADIO & DOORDARSHAN, taking part in their regular and special programs, provided violin refrain in the sangeetha sammelanam concert at Kancheepuram for "Padmashri" Prof. Dr. Aridwaramangalam Sri. A.K.Palanivel's Thavil concert and accompanied Dr. Nityashree Mahadevan's vocal concert at Kolkatta for Akashavani Sangeeth Sammelan in 2009.
Contact :
Residence:
No.5, Main Street,
Dr. Thirumurthy Nagar,
Nungambakkam, Chennai - 34.
Office:
Music Department,
Annamalai University,
Annamalai Nagar, 608002.
Email: vlsudharsan@yahoo.com / vallampati@gmail.com
Phone: +44.28258591(Res), +4144.239.098(Off)
Mobile: +91.94865.16817, +91.98941.71637
Awards & Recognitions
Certificate from the Governor of Tamil Nadu
her Highness Ms. Fathima Beevi

About
Sabhash
- Everything about classical music, dance, drama and a platform for inclusive entertainment
Sabhash.com is the one-stop destination for the latest news and information on the performing arts of India - classical music and dance, theatre, bhajans, discourses, folk performances, and other lesser known art forms. Institutions that revolve around the performing arts have exploded in numbers, and thanks to the Internet which has made information easily accessible, the number of rasikas has grown too. Corporate patronage has played a big part in increasing the world-wide reach of the Indian arts. Sabhash wishes to be a platform for inclusive growth giving an equal opportunity and recognition to not only the main performer but also the artistes who accompany them on stage, and the people who work backstage and play the role of unsung heroes.