Shubha Mudgal
Carnatic Vocalist, Uttar Pradesh, India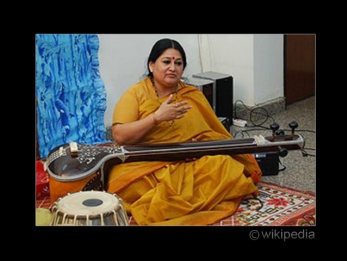 Biography
Shubha Mudgal is a well-known Indian singer of Hindustani classical music, Khayal, Thumri, Dadra, and popular Indian Pop music.

Born in an academic family to Skand and Jaya Gupta in Allahabad, Uttar Pradesh. Both her parents were Professors of English Literature at Allahabad University, with deep interest in Classical Hindustani Music and Kathak. Her paternal grandfather, Prof. P. C. Gupta was also a Professor at Allahabad University.
She attended St. Mary's Convent Inter College. As a young girl she started learning Kathak in Allahabad following the foot steps of her sister. She once replied to a dance examiner's routine query of "Aap kis gharaane ki naachti hain? (What style/form do you dance?)" with the retort, "Hum apne gharaane ki naachti hain (I dance my own style)". She later switched to Hindustani Classical Music as her vocation of choice while maintaining the same individualistic attitude. Her first traditional teacher (guru) was Pandit Ramashreya Jha in Allahabad.

Shubha moved to New Delhi, and enrolled at the Delhi University. She continued her musical education under Pandit Vinaya Chandra Mudgalya at the urging of her first guru. After graduating from the University, her training continued under Pandit Vasant Thakar in Delhi, and more informally with other established singer as Pandit Jitendra Abhisheki, Naina Devi and Pt. Kumar Gandharva.




Shows & Major Performances
Shubha Mudgal started performing as a Hindustani Classical Singer in the 80's, and gained a certain reputation as a talented singer. In the 90's, she started experimenting with other forms of music, including pop and fusion varieties. She says, "I believe in music. Khayal and Thumri are my favourites, but that does not mean that I should not experiment with other forms. Why should I curtail my musical urges?" asks the singer and adds, "I want to allow the artist in me to come through. If you are a musician, how can you say, 'this one is from devotional poetry, so I am not going to sing it. In addition to her recordings and concerts, she briefly runs a website called raagsangeet.com aimed at lovers of Classical Indian Music.
Discography

Ali More Angana (1996)
Arasial (1998)
Classically Yours (1999)
Ab ke Sawan
Pyaar Ke Geet
Mann Ki Manjeree
Kisson Ki Chadar (2003)
Shubh Deepavali (2005)
Anand Mangal
The Awakening (2006)
Jahan-E-Khusrau (2007)
No Stranger Here (2012)

Contact:
Email: mail@shubhamudgal.com
Awards & Recognitions
Best Non-Feature Film Music Direction
1996 National Film Award for Best Non-Feature Film Music Direction for 'Amrit Beej'
Special Achievement in Music
1998 Gold Plaque Award for Special Achievement in Music, at the 34th Chicago International Film Festival
Padma Shri
the Padma Shri in 2000

About
Sabhash
- Everything about classical music, dance, drama and a platform for inclusive entertainment
Sabhash.com is the one-stop destination for the latest news and information on the performing arts of India - classical music and dance, theatre, bhajans, discourses, folk performances, and other lesser known art forms. Institutions that revolve around the performing arts have exploded in numbers, and thanks to the Internet which has made information easily accessible, the number of rasikas has grown too. Corporate patronage has played a big part in increasing the world-wide reach of the Indian arts. Sabhash wishes to be a platform for inclusive growth giving an equal opportunity and recognition to not only the main performer but also the artistes who accompany them on stage, and the people who work backstage and play the role of unsung heroes.