Ravi Shankar
Sitar player, Uttar Pradesh, India
Date of Birth : 07 - Apr - 1920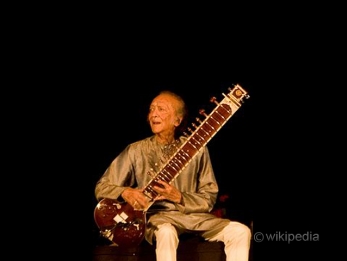 Biography
Ravi Shankar, the legendary sitarist and composer is India's most esteemed musical Ambassador and a singular phenomenon in the classical music worlds of East and West. As a performer, composer, teacher and writer, he has done more for Indian music than any other musician. He is well known for his pioneering work in bringing Indian music to the West. This however, he did only after long years of dedicated study under his illustrious guru Baba Allaudin Khan and after making a name for himself in India.

Shankar was born in Varanasi and spent his youth touring Europe and India with the dance group of his brother Uday Shankar. He gave up dancing in 1938 to study sitar playing under court musician Allauddin Khan. After finishing his studies in 1944, Shankar worked as a composer, creating the music for the Apu Trilogy by Satyajit Ray, and was music director of All India Radio, New Delhi, from 1949 to 1956.

In 1956, he began to tour Europe and America playing Indian classical music and increased its popularity there in the 1960s through teaching, performance, and his association with violinist Yehudi Menuhin and George Harrison of The Beatles. Shankar engaged Western music by writing concerti for sitar and orchestra and toured the world in the 1970s and 1980s. From 1986 to 1992 he served as a nominated member of the upper chamber of the Parliament of India. Shankar was awarded India's highest civilian honor, the Bharat Ratna, in 1999, and received three Grammy Awards. He continues to perform in the 2000s, often with his daughter Anoushka.

Shankar was born 7 April 1920 in Varanasi to a Bengali Brahmin family as the youngest of seven brothers. Shankar's Bengali birth name was Robindro Shaunkor Chowdhury. His father, Shyam Shankar, an administrator for the Maharaja of Jhalawar, used the Sanskrit spelling of the family name and removed its last part. Shankar shortened the Sanskrit version of his first name, Ravindra, to Ravi, for "sun".

At the age of ten, after spending his first decade in Varanasi, Shankar went to Paris with the dance group of his brother, choreographer Uday Shankar. By the age of 13 he had become a member of the group, accompanied its members on tour and learned to dance and play various Indian instruments. Uday's dance group toured Europe and America in the early to mid-1930s and Shankar learned French, discovered Western classical music, jazz, and cinema, and became acquainted with Western customs. Shankar heard the lead musician for the Maihar court, Allauddin Khan, in December 1934 at a music conference in Kolkata and Uday convinced the Maharaja of Maihar in 1935 to allow Khan to become his group's soloist for a tour of Europe. Shankar was sporadically trained by Khan on tour, and Khan offered Shankar training to become a serious musician under the condition that he abandon touring and come to Maihar.



Shows & Major Performances
Style and contributions:
Shankar developed a style distinct from that of his contemporaries and incorporated influences from rhythm practices of Carnatic music. His performances begin with solo alap, jor, and jhala (introduction and performances with pulse and rapid pulse) influenced by the slow and serious dhrupad genre, followed by a section with tabla accompaniment featuring compositions associated with the prevalent khyal style. Shankar often closes his performances with a piece inspired by the light-classical thumri genre.

Shankar has been considered one of the top sitar players of the second half of the 20th century. He popularized performing on the bass octave of the sitar for the alap section and became known for a distinctive playing style in the middle and high registers that uses quick and short deviations of the playing string and his sound creation through stops and strikes on the main playing string. Narayana Menon of The New Grove Dictionary noted Shankar's liking for rhythmic novelties, among them the use of unconventional rhythmic cycles. Shankar's interplay with Alla Rakha improved appreciation for tabla playing in Hindustani classical music. Shankar promoted the jugalbandi duet concert style and introduced new ragas, including Tilak Shyam, Nat Bhairav.

Quotes:

"Ravi Shankar has brought me a precious gift and through him I have added a new dimension to my experience of music. To me, his genius and his humanity can only be compared to that of Mozart's."
- Yehudi Menuhin

"Ravi Shankar is the Godfather of World Music"
- George Harrison
Awards & Recognitions
Bharat Ratna
Bharat Ratna, in 1999
Grammy Awards
Three Grammy Awards

About
Sabhash
- Everything about classical music, dance, drama and a platform for inclusive entertainment
Sabhash.com is the one-stop destination for the latest news and information on the performing arts of India - classical music and dance, theatre, bhajans, discourses, folk performances, and other lesser known art forms. Institutions that revolve around the performing arts have exploded in numbers, and thanks to the Internet which has made information easily accessible, the number of rasikas has grown too. Corporate patronage has played a big part in increasing the world-wide reach of the Indian arts. Sabhash wishes to be a platform for inclusive growth giving an equal opportunity and recognition to not only the main performer but also the artistes who accompany them on stage, and the people who work backstage and play the role of unsung heroes.