BARADWAJ RAMAN
Veena Artiste, Tamil Nadu, India
Date of Birth : 02 - Dec - 1984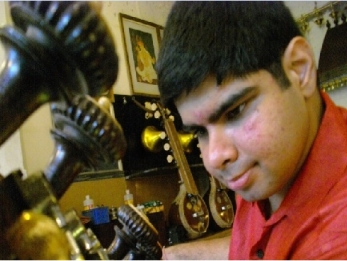 Biography
Baradwaj Raman was five years old when his illustrious grandfather Padma Bhushan Veena Virtuoso S. Balachander passed away. However, his inspired music is pure SB style. A student of Smt Padmavathi Ananthagopalan (respected guru, senior
vainika and sister of Violin legend Sri Lalgudi G. Jayaraman) from a tender age, Baradwaj as a performing artiste, takes audiences down nostalgia lane, bringing back memories of the classicists of a bygone era with the intensity of his music. Particularly
noteworthy is his ability to play long phrases modulating the string on the same fret. A young and up-coming artiste who has been performing in India and abroad, spontaneity and virtuosity are his hallmark.
Shows & Major Performances
In True Balachander Style
The tastefully decorated drawing room of the legend S. Balachander vibrated with divine music as two veenas joined in harmony. The vainikas were Dr. Gopal Kumar and Baradwaj. Dr. Kumar is a selftaught vidwan and Baradwaj is the grandson of Balachander. Following his grandfather's bhani to a T, Baradwaj took the audience on a nostalgic trip and it appeared as though SB himself had descended onstage to play the concert. Baradwaj's play was full of intensity and particularly amazing was his playing a long phrase by modulating the string in the same fret. His tanam and raga phrases with just one single meetu (plucking) were simply breathtaking....
The Hindu, Jan 23, 2009 Diverse styles, unique skillsThe evening session began with Baradwaj Raman (grandson of S. Balachander), currently being trained by Padmavathy Ananthagopalan. For one moment it was as though, SB himself had descended on the dais. 'Baradu' as he is known to many, played ragas Gowla ('Sri Maha Ganapthi,' Dikshitar) Kedaragowla ('Tulasibhilva,' Tyagaraja) and Mayamalavagowla ('Meru Samana,' Tyagaraja),traversing through the length and breadth of the veena with consummate ease. His pulls and playing
in the pit near the yali during the alapana were typical of his grandfather.pontaneity was his hallmark and that was evident in Kalyani ('Bhajre Rechitha,' Dikshitar) and Kapi ('Mee Valla,' Tyagaraja) that he played...
The Hindu, Sep 11, 2009
Awards & Recognitions
Lalitha Padmanabhan Endowment Award
Lalitha Padmanabhan Endowment Award instituted by Hon'ble Justice S. Padmanabhan for Best Junior Veena Artiste of the Year - awarded December 2011.

About
Sabhash
- Everything about classical music, dance, drama and a platform for inclusive entertainment
Sabhash.com is the one-stop destination for the latest news and information on the performing arts of India - classical music and dance, theatre, bhajans, discourses, folk performances, and other lesser known art forms. Institutions that revolve around the performing arts have exploded in numbers, and thanks to the Internet which has made information easily accessible, the number of rasikas has grown too. Corporate patronage has played a big part in increasing the world-wide reach of the Indian arts. Sabhash wishes to be a platform for inclusive growth giving an equal opportunity and recognition to not only the main performer but also the artistes who accompany them on stage, and the people who work backstage and play the role of unsung heroes.