Michiko Kanazawa
Bharatanatyam Dancer, Kyoto, Japan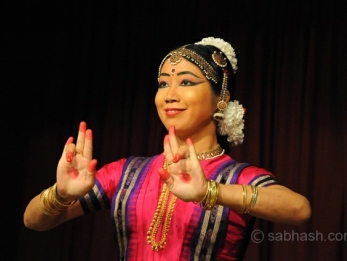 Biography
Michiko's home town is Kyoto-shi, kyoto, Japan.
Michiko grew up in a traditional Japanese family that has been carrying out sweet shop business for more than 300years.
In her childhood, she learned flower arrangement and tea ceremony.
Her father, while running the family business, on the other hand is very much interested in India.
He studied Hindi, Sanskrit, Indian philosophy when he was in the university.
Michiko studied in Bukkyo University. Although Michiko was born in a kind of traditional Japanese family, she received a lot of influence from her father and was attracted to Indian culture and arts. India is always just beside her.
But, her first visited south Asian country was Nepal. She is BA of social welfare and she also joined NGO work in Nepal.
Michiko started learning Bharatanatyam just as a part of her hobby in the beginning. Her guru, Daya Tomiko is an amazing dancer and also a wonderful teacher. From the beginning she has been under Tomiko.
Staying in India and learning Bharathanatyam under the renowned Dhananjayan's at Bharathakalanjali, to pursue her ICCR scholarship, she is also learning nattuvangam and carnatic vocals under the guidance of Sri Bhagavatulu Seetarama Sarma.
Shows & Major Performances
Michiko is already a performing artiste in Tanmayi Naatyaalaya of Daya Tomiko in Kyoto and participated in the dance drama production "Sri Valli" Choreographed by the Dhananjayans in Japan for her well known school of Bharatanaatyam.

Michiko presented a Bharatanatyam performance as part of the celebration to mark the 60th anniversary of Japan-India diplomatic relations, under the Dhananjayans' Bharatahkalanjali banner.
Contact:
Mail: michiko.k.bharata@gmail.com
Awards & Recognitions
A student of Daya Tomiko
student of Daya Tomiko, Kyoto Japan has been awarded the merit scholarship by the ICCR to further her training in Bharatanaatyam under the Dhananjayans at Bharatakalanjali. A studious student, has completed her one year intensive training under ICCR scholarship.

About
Sabhash
- Everything about classical music, dance, drama and a platform for inclusive entertainment
Sabhash.com is the one-stop destination for the latest news and information on the performing arts of India - classical music and dance, theatre, bhajans, discourses, folk performances, and other lesser known art forms. Institutions that revolve around the performing arts have exploded in numbers, and thanks to the Internet which has made information easily accessible, the number of rasikas has grown too. Corporate patronage has played a big part in increasing the world-wide reach of the Indian arts. Sabhash wishes to be a platform for inclusive growth giving an equal opportunity and recognition to not only the main performer but also the artistes who accompany them on stage, and the people who work backstage and play the role of unsung heroes.