Neyveli R. Narayanan
Mridangam Artiste, Tamil Nadu, India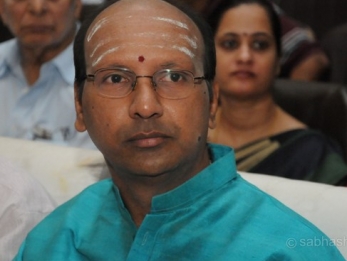 Biography
Neyveli R. Narayanan was born to Sri Rajagopalan and Smt.Meenakshi, who with their insight and vision nurtured his talent.
Hailing from a family of music connoisseurs at Neyveli, Narayanan was initiated into the art of Mrudangam playing at the young age of seven, under the guidance of Sri S.K. Ganesa Pillai. He made his debut at the age of 11 and ever since, he has been rising in his art by furthering his horizons and making a mark in the field of carnatic music. An intensive training under the Maestro Late Thanjavur Sri Upendran brought about a great amount of professionalism in Narayanan's playing. His guru taught him the intricacies and specialties of the Tanjore Style of playing on the mrudangam.
Narayanan is now blessed with the rare opportunity of being one of the favourite disciples of the Mrudangam Legend Padmabushan Umayalpuram Sri K.Sivaraman. This great influence has brought in a great amount of clarity, precision and perfection in Narayanan's style.
Narayanan has students both in India, USA, Canada and UK . They are taught through internet and phone and refresher classes during the visits to those places.
Narayanan is a post graduate in rhythmology from Madras University.


Shows & Major Performances
Performances:
Narayanan has performed in all the leading sabhas in India. He has also won acclaim in other countries like USA, Canada, Australia, Newzeland, UK, France, Germany, Switzerland, Holland, Dubai, Muscat, Doha, Abudhabi, Singapore, Malaysia and Hongkong. He has also participated in many National and international festivals like the Festival of Asia in Queen Elizabeth Hall, London, National Arts council in Singapore etc.,
As an 'A-TOP' grade artist, Narayanan has been featured regularly by the All India Radio and TV networks, which also included prestigious broadcasts like Southzone Hook-up, Sangeetha Sammelan and National Programme of music.
He has accompanied almost all the veterans and present day stars of carnatic music, to name a few, M/S. Madurai T.N Seshagopalan, T.V. Sankaranarayanan, K.V. Narayanaswamy, T.R. Subramanyam, O.S. Thyagarajan, T.N. Krishnan, Mandolin Srinivas, FluteRamani, Chitravina Ravikiran, Sudha Ragunathan, Sowmya, Aruna Sairam, Hyderabad Brothers, Malladi Brothers, M.S. Gopalakrishnan, E.Gayatri, BombayJayasri, and others.
He had the privilege of sharing the stage with the Grammy Award winner, Tabla Wizard Maestro Zahir Hussian recently with Violin Vidwans Sri Ganesh Kumaresh. He has cut several commercial records, released by recording institutions like Charsur, Rajalakshmi Audio, Music India, HMV, etc.
Press Reviews:
"...Neyveli Narayanan's Mrudangam Bhani does not pertain to the present day percussive culture of loudness and lashing beats. He gave primacy to mrudangam melody and in this respect he revealed his true understanding of the place of mrudangam in a performance." THE HINDU.
...There was clever shuffling of rhythmic patterns in the mrudangam accompaniment of Neyveli Narayanan. His laya support lent lusture to the kirthanas, briskly rendered by the main artiste. He played in such a way as to successfully convey the limits of Mrudangam accompanist. THE HINDU.
...Neyveli Narayanan, in his mrudangam, evoked eloquently rich tone. With a clean image, the rhythmic patterns emerged. There was passion in extending laya support, but poise in discharging his role. It was percussive power unspoilt by loudness of beats. Narayanan's play was a perfect mix of talent and familiarity with the main artist's expectations and demands. THE HINDU.
Contact:
India
G-4, Anjanatri, 18 viswanathapuram 1st street, Kodambakkam, Chennai - 600024.
Phone: +9144.2483.4155, Mobile: +9198401.57920
Vonage phone: 408 689 2821.
Email: narayanan.neyveli@gmail.com
U.S.A Contact
Los Angeles:
Narayanan Srinivasan
28, Rustling wind, Irvine, CA 92612
Phone: 949.725.9874
Cupertino, Bay Area:
Ravindra Bharathy Sridharan
10371 Mary Avenue, Cupertino, CA 95014
Phone: 408.255.0957
Awards & Recognitions
Award for Excellence
Narayanan was given the "Award for Excellence"in 1995 by the Maharajapuram Viswanatha Iyer Trust.
The Best Mrudangam sub senior Artist
He received the Best Mrudangam sub senior Artist award was given in 1995 and 1997
Best Mrudangam Senior artist award
Best Mrudangam Senior artist award in 2007 by the Music Academy, Chennai.
Yuva Kala Bharathi
"Yuva Kala Bharathi" award was given in 1997 by the Bharath Kalachar.
Award for Excellence
Sri Thyaga brumha Gana Sabha (Vani Mahal) gave him the "Award for Excellence" in Mrudangam in 1997.
Mridangam Maestro Thanjavur VaidyanathaIyer Award
Mridangam Maestro Thanjavur VaidyanathaIyer Award given by Sri. Ragam Fine Arts in 1999.
Nadha Oli
"Nadha Oli" award given by Nadha Inbam, Chennai in 2000.
The Asthana Vidwan of Kanchi Kamakoti Peetam
Received the Asthana Vidwan of Kanchi Kamakoti Peetam in the year 2006.
VANI KALA SUDHAKARA
Sri Thyaga Brahmha Gana Sabha, Vani Mahal chennai, awarded the prestigious title "VANI KALA SUDHAKARA" and a cash award of RS.1,00,000, in the year 2010 along with Sanjay and Nagai Muralidharan.
Award of Excellence
He is a recipient of Kartik Award of Excellence 2012.

About
Sabhash
- Everything about classical music, dance, drama and a platform for inclusive entertainment
Sabhash.com is the one-stop destination for the latest news and information on the performing arts of India - classical music and dance, theatre, bhajans, discourses, folk performances, and other lesser known art forms. Institutions that revolve around the performing arts have exploded in numbers, and thanks to the Internet which has made information easily accessible, the number of rasikas has grown too. Corporate patronage has played a big part in increasing the world-wide reach of the Indian arts. Sabhash wishes to be a platform for inclusive growth giving an equal opportunity and recognition to not only the main performer but also the artistes who accompany them on stage, and the people who work backstage and play the role of unsung heroes.