Trichy K Murali
Ghatam Artiste, Tamil Nadu, India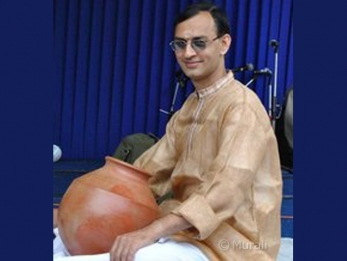 Biography
He hails from a musical family, his mother K SARADHA and father V R KANNAPPA
played a pivotal role in grooming his career. He is a Post Graduate in commerce and
Materials Management.

He had his early training from Mridangam Maestro Kalaimamani Trichy Thayumanavan
from a young age. Initially he learnt Mridangam and then switched over to Ghatam. He is an 'A' TOP Grade Ghatam Artist from All India Radio.
Shows & Major Performances
He has accompanied the upper crust of Sangeetha Vidwans Nedunuri Krishnamurthy, Madurai T N Seshagopalan, Hyderabad Brothers, T V Sankaranarayanan, Trichur Ramachandran, A K C Natarajan, Malladi Brothers, Sanjay Subramanian, Neyveli Santhanagopalan, T M Krishna, D K Pattammal, R Vedavalli, Suguna Purushottam, Aruna Sairam, Bombay Sisters, Bombay Jaysree, Sudha Raghunathan, Nithyasree Mahadevan to name a few.
Flute Vidwans Dr N Ramani, Sikkil Sisters, Sashank. to name a few.
Veena Vidwans R Vishweshwaran, E Gayathri, Geetha Bennett to name a few.
Mandolin Maestro U Shrinivas and Ghazhal Maestro Hariharan
Violin Vidwans M S Gopalakrishnan, T N Krishnan, M Chandrasekaran, Ganesh &
Kumaresh, Lalgudi G J R Krishnan. to name a few.
Mridhanga Vidwans Dr T K Murthy, Vellore Ramabhadran, Guruvayur Dorai,
Karaikudi R Mani, Srimushnam V Rajarao, Tiruvarur Bhakthavatsalam to name a few.
He has received prizes and awards from various Music Sabhas and Institutions in India and abroad.
He has participated SANGEETH NATAK ACADEMY Prog at New Delhi.
He is taking Mridangam and Ghatam classes in Chennai and abroad.

He has visited Switzerland, France, Germany, Luxumburg, Italy, USA, Canada, United
Kingdom, Russia, Singapore, Malaysia, South Africa, Dubai, Muscut, Australia and New
Zealand on a Musical tour.

Contact Address :
Trichy K Murali
D-2, Lloyds Complex,
315/144, Lloyds Road,
Royapettah,
CHENNAI – 600 014.
Phone : +9144.2813.0913 Mob : +91.94442.59995
Mail id : ghatamurali@yahoo.com; ghatamurali@gmail.com
Awards & Recognitions
Meritorious Excellence
Maharajapuram Santhanam Foundation – Meritorious Excellence Award

About
Sabhash
- Everything about classical music, dance, drama and a platform for inclusive entertainment
Sabhash.com is the one-stop destination for the latest news and information on the performing arts of India - classical music and dance, theatre, bhajans, discourses, folk performances, and other lesser known art forms. Institutions that revolve around the performing arts have exploded in numbers, and thanks to the Internet which has made information easily accessible, the number of rasikas has grown too. Corporate patronage has played a big part in increasing the world-wide reach of the Indian arts. Sabhash wishes to be a platform for inclusive growth giving an equal opportunity and recognition to not only the main performer but also the artistes who accompany them on stage, and the people who work backstage and play the role of unsung heroes.