Akshay Padmanabhan
Carnatic Vocalist, Tamil Nadu, India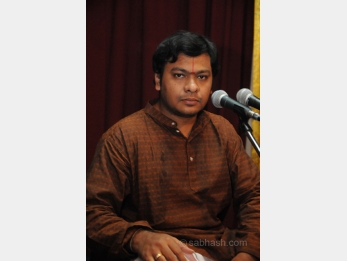 Biography
Akshay Padmanabhan started learning Music at a very early age of 5 Yrs, guided by experienced musicians like Shrimati Parvati (Disciple of Madurai N.Krishnan), Shrimati Suguna Purushotham (Disciple of Musiri & Semmangudi) (1996-99) and Shri K.V.Ananth (Disciple of Shri K.V. Narayanaswamy) Sri S. Rajam, Shri A.S. Murali.
He completed his graduation in M.Com, AIR (B high grade). His father is Elyavalli Padmanabhan. His guru is Padma Bhushan Sri P.S. Narayanswamy.
Shows & Major Performances
Performances: Performed in Ramaseva Mandali Sabha in Banglore for the last 5 years. Performed in Narada Gana Sabha, performed in TTD - Chennai and Naada Neerajanam Tirupathi, Astika Smajam, Ramana Kendra, Mylapore Fine Arts, Bharathiya Vidya Bhavan, Bombay Shanmukhananda Hall, Hamsadhwani, Brahma
Gaana Sabha and Spirit of Youth (Music Academy), DD Pudhupunal.
Achievements: Won many prizes in carnatic music at Music Acadamy, Indian Fine Arts Society, Narada Gana Sabha, Mylapore Fine Art Club, Bharathi Vidya Bhavan, R.R.Sabha, Papanasam Sivan Acadamy, Nungambakkam Cultural Acadamy and finalist of Caratic Idol 2012 Jaya TV.
Contact:
Address F-6, Vijayshanti Apts., 32/33, (New No.8),
Devadi Street, Mylapore, Chennai - 600 004.
Phone : +9144.2495.8139 Mobile :+9197911.92945
E-Mail Id: akshaypadmanabhan@gmail.com
Website: www.paatu.net
Awards & Recognitions
Best Junior Vocalist
The Best Junior Vocalist for Indian Fine Arts in year 2008

About
Sabhash
- Everything about classical music, dance, drama and a platform for inclusive entertainment
Sabhash.com is the one-stop destination for the latest news and information on the performing arts of India - classical music and dance, theatre, bhajans, discourses, folk performances, and other lesser known art forms. Institutions that revolve around the performing arts have exploded in numbers, and thanks to the Internet which has made information easily accessible, the number of rasikas has grown too. Corporate patronage has played a big part in increasing the world-wide reach of the Indian arts. Sabhash wishes to be a platform for inclusive growth giving an equal opportunity and recognition to not only the main performer but also the artistes who accompany them on stage, and the people who work backstage and play the role of unsung heroes.