Archana & Aarathi (twins)
Carnatic Vocalist, Tamil Nadu, India
Date of Birth : 27 - Nov - 1988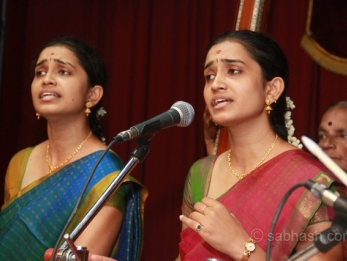 Biography
Archana & Aarathi are Great grand nieces of renowned composer, Gayaka Shikamani Sangita Kalanidhi Late Sri Harikesanallur Muthiah Bagavathar and Great grand daughters of Late Supreme Court Justice (Retd) Sangita Kalanidhi Sri. T. L.Venkatarama Iyer. And their parents Smt. Bharati and Sri. S.Lakshminarayanan. They have completed their Bachelor of Engineering (EIE), SRM Easwari Engineering College.
Disciples of Sangita Kalanidhi Smt. R.Vedavalli. Currently undergoing training at the Advanced School of Carnatic Music run by Music Academy, Chennai. Recipients of Scholarship on Padam - Javali by Sangeet Natak Academy, New Delhi.
Shows & Major Performances
Have already given more than 25 vocal concerts under the auspices of several reputed arts and cultural organizations in Tamil Nadu, Andhra Pradesh and other places.
Chosen to give a special concert to pay tributes to late Smt. M.S. Subbulakshmi,
Organized by Bharat Kalachar, Chennai – a leading fine arts and cultural institution.
Theatre Performance – Vocal support for Girish Karnad's play " NAGAMANDALA"
organized by Madras Players at British Council.
Performed at Bharat Kalachar, Chennai during the youth festival in the year 2005
and 2006.
Performed at Raga Sudha Hall organized by Music Circle, Chennai.
Peformed at Parthasarathy Swamy Sabha in the December '06 Music Season, Chennai.
Performed at Bharat Kalachar, Chennai during the December Swagatham Margazhi Mahotsavam music festival in the year 2009.
Performed at Raga Sudha hall in April 2010 as a tribute to Sri S.V.Krishnan, founder of Nada Inbam.
Performed at Shanmukhananada Hall, Mumbai during Dr. V.Subramanian's talent promotion concerts in the month of May, 2010.
Performed at the 22nd Spirit of Youth festival of music and dance conducted by The Music academy, Sept 2010.
Performed at Narada Gana Sabha, Nada Inbam, Indian Fine Arts Society, Sastri Hall during the December 2011 music Festival
Have been selected by the Tamil Nadu Iyal Isai Nataka Mandram to give performances at Madurai,Trichy,Tirunelveli and Krishna Gana Sabha Chennai.
Contact:
No.1 E, Srinivas Apts,New # 46,48,50
Unnamalai Ammal Street, T. Nagar, Chennai 600 017.
Home +9144.2814.2191; Mob +9198403.98616
Awards & Recognitions
Padma Bharathi
Conferred the title of "Padma Bharathi" by the Padma Sarangapani Cultural Academy, Chennai in the year 2007
Sangita Balabrahmam
Conferred the title of "Sangita Balabrahmam" by Gnananda Swami, Tapovanam in the year 2006
First prize in the musical talent hunt
Awarded the First prize in the musical talent hunt contest organized by the Educational Multimedia Research, Anna University, Chennai, in 2006
Most Promising young musicians
Awarded the Most Promising young musicians by International Women's Association (IWA), Chennai Chapter(2005) and given vocal concert at Park Sheraton for 150 Indian and Foreign delegates
2nd & 3rd prize awards in the All India Music Competition
2nd & 3rd prize awards in the All India Music Competition held at Hyderabad in the year 1996

About
Sabhash
- Everything about classical music, dance, drama and a platform for inclusive entertainment
Sabhash.com is the one-stop destination for the latest news and information on the performing arts of India - classical music and dance, theatre, bhajans, discourses, folk performances, and other lesser known art forms. Institutions that revolve around the performing arts have exploded in numbers, and thanks to the Internet which has made information easily accessible, the number of rasikas has grown too. Corporate patronage has played a big part in increasing the world-wide reach of the Indian arts. Sabhash wishes to be a platform for inclusive growth giving an equal opportunity and recognition to not only the main performer but also the artistes who accompany them on stage, and the people who work backstage and play the role of unsung heroes.