Aishwarya Vidhya Raghunath
Carnatic Vocalist, Tamil Nadu, India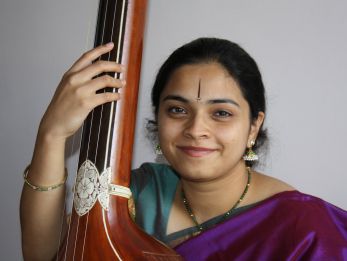 Biography
Aishwarya Vidhya Raghunath is among the popular musicians of her generation and one of the most sought after vocalists in the field of Carnatic Music. Hailing from a family of great connoisseurs of classical music, Aishwarya was initiated into the world of music at the tender age of 3. She is a disciple of Sangita Kalaacharya Smt Seethalakshmi Venkatesan, Padma Bhushan Sri P S Narayanaswamy and Smt Vengavahini Vijayaraghavan.
Being an "A" graded artiste of All India Radio and Doordarshan, she is an upholder of the Semmangudi bhani and the Veena Dhanammal bhani. Aishwarya's music is highly known for its purity and clarity. It is also known for its highly classical and aesthetical appeal.
Academically, Aishwarya is a Biotech Engineering graduate.
Shows & Major Performances
Some noteworthy performances:
Aishwarya is a very regular performer has performed at almost all major sabhas and organizations all over India. She has also performed at the prestigious Cleveland Thyagaraja Utsavam, USA. Also, she is a notable performer during "DECEMBER SEASON" in Chennai. To name some of the organizations-
Chennai:
 The Madras Music Academy
 Mylapore Fine Arts Club
 Kartik Fine Arts
 Rasika Fine Arts
 Nada Inbam
 Maharajapuram Vishwanatha Iyer Trust
 Narada Gana Sabha
 Mudra
 Hamsadhwani – Guru-shishya series and annual festival
 IIT, Madras, 2008
 Sri Parthasarathy Swami Sabha
 November Festival- 'The Friday Review', Music Academy, Chennai
 Thyaga Brahma Gana Sabha
 Nungambakkam Cultural Academy
 The Music Academy Chennai, Spirit of Youth Series
 Kalarasana
 Brahma Gana Sabha
 Sri Krishna Gana Sabha
 Nadopasana Music Trust
 Semmangudi Golden Jubilee Trust,
 The Rasika Ranjani Sabha
 Bharath Kalachar
 Charsur Arts foundation
 TTD, Chennai
 Ramana Kendra Trust

Bangalore:
 Indranagar Sangeetha Sabha Bangalore
 Bangalore Gayan Samaj
 Thematic concert at Ananya, Bangalore, on Raga Kalyani
 Neelambari, Bangalore
 Rama Lalitha Kala Mandira, Bangalore
 Guruvayurappan Bhajan Sabha, Unnati Center, Bangalore
 Rajmahal Vilas Sangeetha Sabha, Bangalore
 Bangalore International Center
 Music Circle
 Nadasurabhi
 M A Narasimhachar Music Foundation
 Ananya Sangeetha Sabhangana
 Sri Rama Seva Mandali, Bangalore (Chamrajpet)
 Ragam Tanam Pallavi concert for RamaKrishna Bhajana Sabha, Odukathur Mutt

Others:
• Cleveland Thyagaraja Utsavam, Cleveland, USA
• Concert for Nadaneerajam, Thirupati was broadcast live on SVBC
• Venkateshwar Mandhir, Jodhpur
• University of Kerala, Trivandrum
• Sadguru Thyagaraja Aradhana Mahotsav, Trichy
• Rajalakshmi Fine Arts, Coimbatore
• Sangeetha Parishad, Mangalore; Suratkal
• Thyagaraja Festival, Thirupathi
• The Fine Arts Society, Mumbai
• Shanmukhananda Sabha, Mumbai
• Narasimha Raja Mohalla Sabha, Mysore
• Thulasi Amman Pooja & Sastha Preethi Festival, Noorani, Palghat
• Rasika Ranjani Sabha, Trichy
• Janaranjani Sabha, Kumbakonam
Some excerpts from over 40 reviews:

"In Semmangudi style
'O Rangasayee,' one of the matchless creations of Tyagaraja, is a euphonious interpretation in true Semmangudi style. The expansion of the lyrics 'Bhooloka Vaikuntam' in the two tempos and the slow swaraprastharas followed by a shower of well conceived faster solfa chains, and the divisions and subdivisions in the dhaivatam topped with the final rhythmic sequence have considerable merit. The singer has impressively emerged from the chrysalis…"
- Sulochana Pattibhiraman, The Hindu, 25th May, 2007

"What a Varali in so young a singer! Aishwarya's imagination drew sustenance from ripe fields and rich harvests. Every sangati was soaked in gamaka…"
"A joy it was to hear a padam in Kedaragowlai, 'Bamaro', testifying to the vocalist's grasp of the difficult genre…"
"…a brand of music different from the routine"
- Gowri Ramnarayan, The Hindu, 24th December, 2008

"Natakapriya does not find too many takers, but Aishwarya came up trumps in the alapana preceding 'Ithi Samayamu'…"
-Lalitha Krishnan, The Hindu, 16th November, 2007

Music in her blood
"She is quite an extraordinary 18-year-old. Not only because she is so accomplished for her age–– Aishwarya Raghunath, the Carnatic vocalist/student is making music critics and sabhas sit up and take notice of her talents. But also because she has an attitude to match her art…"
-Aruna Chandaraju, The Deccan Herald, 31st August, 2007


-Rajasthan Patrika, 29th January, 2009


- Devarajan, Kalki, 4th January, 2009

Drive and diligence
"AISHWARYA'S concert became an all-Tyagaraja treat, and began with 'Sri Ganapathini Sevimparare' (Saurashtram). Her elaboration of Sankarabharanam began quietly and had its own distinguishing mettle. The kriti 'Endhuku Peddala' had a meaningful niraval at 'Vedha Sastra Thathvaarthamu,' where the word 'Thathvaarthamu' was handled with care to hold its meaning aloft."
- S Sivakumar, The Hindu, 20th December, 2010

Variety of composers
"Aishwarya is equally adept at handling fast and slow paced numbers. This was evident in her presentation of the Mukhari raga kriti Karu baru seya (Tyagaraja) in chowka kala, the fast items 'Ika naina na' in Pushpalatika (Tirupati Narayanaswamy)…..
The raga improvisation marked by lengthy karvais as well as brisk akaras without compromising the melody reflected the artist's manodharma….."
-R Revathi, The Hindu, 26th January, 2012
Contact:

D/O Mr.J.Raghunath
"Saket", No.89, Bhuvaneshwari Nagar
C.V. Raman Nagar
Bangalore – 560093
Phone (landline): +9180.2524.4542
Mobile: +9199808.44630
E-mail ID: aishvidrag@gmail.com
Awards & Recognitions
Broadcast of National Program
2012 Broadcast of National Program -All India Radio along with her guru Sangita
Kalaacharya Smt Seethalakshmi Venkatesan.
Best Vocalist Award
2011 - Best Vocalist award from the Ramana Kendra Trust, Chennai.
Live broadcast on the web by iCarnatic
2011 - Concert for Charsur Arts Foundation was broadcast live on the web by iCarnatic.
A graded artiste of AIR
2010 - "A" graded artiste of AIR : Received the All India Radio upgrade from B to A grade
RMKV Award of Excellence
2010 - Recipient of "RMKV Award of Excellence", instituted by Rasika Fine Arts
Featured in Sruti
2010 - Featured in Sruti- India's premiere arts magazine
1st prize in the All India Radio competition
2008 - Won the 1st prize in the All India Radio competition; is a graded artiste of AIR
Carnatic music scholarship
2008 - Recipient of the Govt. of India - Ministry of culture, Carnatic music scholarship
Live concert recorded & released
2007 - Live concert recorded & released on CD by Rajalakshmi Audio
Sketched
2006 - Sketched by the Femina magazine for her musical abilities
Best Vocalist
2005 - The Bangalore Gayana Samaj, Best Vocalist
Yagnaraman Endowment
Sri Krishna Gana Sabha, Yagnaraman Endowment, Dikshithar
Rising Young Talent Award
Bangalore Rotarians, Rising Young Talent Award

About
Sabhash
- Everything about classical music, dance, drama and a platform for inclusive entertainment
Sabhash.com is the one-stop destination for the latest news and information on the performing arts of India - classical music and dance, theatre, bhajans, discourses, folk performances, and other lesser known art forms. Institutions that revolve around the performing arts have exploded in numbers, and thanks to the Internet which has made information easily accessible, the number of rasikas has grown too. Corporate patronage has played a big part in increasing the world-wide reach of the Indian arts. Sabhash wishes to be a platform for inclusive growth giving an equal opportunity and recognition to not only the main performer but also the artistes who accompany them on stage, and the people who work backstage and play the role of unsung heroes.