Nandini Ramani
Bharatanatyam Dancer, Tamil Nadu, India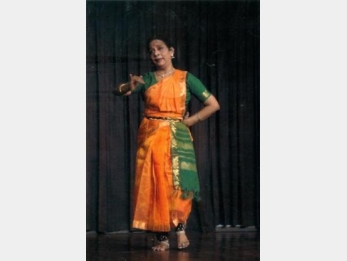 Biography
Nandini Ramani is the daughter of the illustrious Sanskrit scholar, Padma Bhushan Dr V Raghavan, and has been groomed from the age of five by the legendary T Balasaraswati, and her close associate, Nattuvanar, K Ganesan, in an unbroken chain of association, up till 1984.

Nandini is a senior torch bearer of the 'Bala' tradition, both as performer and teacher and is the only disciple of the legend to carry forward the Natya Sampradaya in the whole of India.

In Carnatic vocal music, Nandini has been trained for nearly four decades by Prof. B Krishnamoorthy and Smt. T Muktha.

Following the footsteps of her father, Nandini continues directing and producing of Sanskrit plays on stage, under the banner of Samskrita Ranga, founded by her father in 1958.
Shows & Major Performances
Performances:
Nandini has performed widely in several well known cultural organisations, and prestigious platforms like The Madras Music Academy and others, in major cities.
She has travelled extensively outside the country for performances, workshops and lec dems, held under the Departments of Religion, South Asian Studies, Indian Studies, Music and Dance, prestigious Universities and Centres of Art and Culture in the US, Canada, UK, the Netherlands, and France.
Her performances and lec dems, some of which presented along with her father Dr V Raghavan have received wide acclaim from stalwarts in the field of music and dance, scholars and critics.
Nandini is a renowned teacher and resource person, most sought after by the dancers of various disciplines at her own centre set up in the name of her renowned father. Nandini continues to teach and train students, both from India and abroad, in the firm discipline of her chosen dance tradition.
Awards and recognition:
For her sustained work in the field, Nandini was honoured by several institutions; she was recognised for her commitment to the cause of fine arts by being elected for prestigious positions like the Secretaryship of the Madras Music Academy, Executive Board Membership of the Central Sangeet Natak akademi, New Delhi, Expert Membership in the Ministry of Culture, Expert Membership of the Central Dance Audition Board, I&B Ministry, New Delhi.
Her presentations in the All India Radio, as well as her work at the Doordarshan Kendra, Chennai, in various capacities as compere, announcer, and scrip writer, brought her wide recognition.
Among her multifaceted accomplishments, Nandini Ramani became widely appreciated for her committed work as dance writer for the columns of The Hindu Newspaper for several years. She is regarded as the most communicative art critic, who is presently a Senior Associate of the renowned music and dance magazine 'Sruti', in Chennai.
Nandini has been involving herself in the last two decades, in academic work by engaging herself, earlier in the Music Academy in publishing original Manuscripts and Journals, and at her own centre bringing out her father's unpublished works, apart from her own writings.
Contact:
1, 3rd Street, Bhakhavatsalam Nagar
Adyar, Chennai.
Tamil Nadu, India - 600020
Phone: +9144.2443.0344
Mail id: nandinirvr@yahoo.com

About
Sabhash
- Everything about classical music, dance, drama and a platform for inclusive entertainment
Sabhash.com is the one-stop destination for the latest news and information on the performing arts of India - classical music and dance, theatre, bhajans, discourses, folk performances, and other lesser known art forms. Institutions that revolve around the performing arts have exploded in numbers, and thanks to the Internet which has made information easily accessible, the number of rasikas has grown too. Corporate patronage has played a big part in increasing the world-wide reach of the Indian arts. Sabhash wishes to be a platform for inclusive growth giving an equal opportunity and recognition to not only the main performer but also the artistes who accompany them on stage, and the people who work backstage and play the role of unsung heroes.