Arundhathi
Carnatic Vocalist, Tamil Nadu, India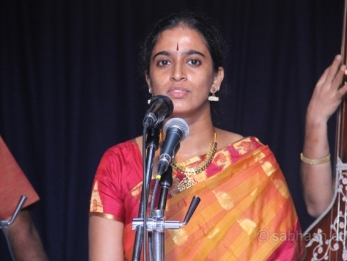 Biography
Carnatic Music has been an integral part of Arundhathi's life from a very young age. She
was 13 when she gave her first public performance at the Fort High School in Bangalore
during the Ramanavami Festival and was awarded the Pratibakankshi prize.
Her passion for music is accompanied by a deep interest in mathematics which she is
pursuing at the Indian Institute of Technology, Madras. She has completed a master's
programme in mathematics, and is beginning a doctoral programme in the same. She is
the winner of several academic prizes and is also a recipient of the NBHM fellowship
award.
Shows & Major Performances
Since then she has performed over 250 concerts at Chennai, Bangalore, Mumbai and so
on at leading Sabhas such as The Music Academy, Madras, Sri Krishna Gana Sabha,
Mylapore Fine Arts Club, Narada Gana Sabha, Bangalore Gayana Samaj, Sringeri
Sharada Matt, Bangalore, Sri Shanmukhananda Sangeet Sabha, Mumbai and Karaikudi
Tamil Isai Sangam. She is a regular performer during the Music Season at Chennai and
her concerts have been reviewed by a number of leading newspapers in Chennai and
Bangalore. She has been a recipient of prizes awarded in competitions organized by The
Music Academy, Chennai, Indian Fine Arts Society, Chennai, Bangalore Gayana Samaj,
Mysore Nadhabrahma etc. She is a Bangalorean by domicile but has shifted to Chennai
because of the demands of music. This has allowed her go through an intensive
'Gurukula Vasam' with her Guru Deva Ganavarshini Smt. Soundaram Krishnan over the
last 10 years. Arundhathi is a graded artist of AIR Bangalore.
Awards & Recognitions
NBHM
NBHM fellowship award

About
Sabhash
- Everything about classical music, dance, drama and a platform for inclusive entertainment
Sabhash.com is the one-stop destination for the latest news and information on the performing arts of India - classical music and dance, theatre, bhajans, discourses, folk performances, and other lesser known art forms. Institutions that revolve around the performing arts have exploded in numbers, and thanks to the Internet which has made information easily accessible, the number of rasikas has grown too. Corporate patronage has played a big part in increasing the world-wide reach of the Indian arts. Sabhash wishes to be a platform for inclusive growth giving an equal opportunity and recognition to not only the main performer but also the artistes who accompany them on stage, and the people who work backstage and play the role of unsung heroes.