CARVA Rajasekar
Violinists, Tamil Nadu, India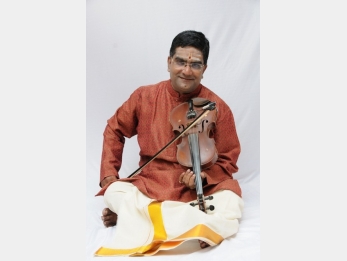 Biography
C.A.Rajasekar born to Chittoor Appanna Bagavathar and Madurambal, C.A. Rajasekar has a rich musical pedigree. His grandfather Vedachala Iyer was adept in playing both the violin and the flute. His father Appanna of Chittoor was a renowned violinist himself, and so were his brothers.
C.A.Rajasekar also known as the backbone of CARVA Trust. He proceeded to complete his M. A in Indian music and was awarded a Gold Medal by theUniversity ofMadras. Between his busy schedules, he also completed his M.Phil at University of Madras and secured University Rank. He holds the distinction of receiving all the 3 prizes instituted by the Dept.Of Music in M.Phil. Here, his final thesis explored different violin teaching methodologies, particularly his unique teaching methods. He is currently pursuing his Ph.d in University of Madras under the guidance of Dr. K R SeethaLakshmi, HoD, Dept. Of Music, Queen Mary's College.
Shows & Major Performances
Tutelage and Performances:
C.A. Rajasekar learnt his first vocal lessons at the age of four from his father. It was soon followed by violin lessons under the watchful eyes of his illustrious father. He played along with his father from an early age at the latter's performances.
To further hone his skills, he had been under the tutelage of the distinguished violinist Sangeetha Kalanidhi. M.Chandrasekaran and had also undergone lessons from V.S.Narasimhan for a broader understanding and appreciation of western classical genre.
C.A.Rajasekar has also been nurturing students of other countries through the internet. Through this, students at different parts of the world receive an opportunity to learn violin. This is a blessing to students around the world who share a passion for music and his online classes are well appreciated for the same reason.
Contact:
Website: www.carvatrust.org
Blog: Music and Music Only [www.carajasekar.blogspot.com]
Awards & Recognitions
Isaikalaimani
Isaikalaimani title from Adyar Music College
Aasthana Vidhwan
In 2007 he was honoured as Aasthana Vidhwan by Kanchi Kamakoti Peetam
BEST GURU
BEST GURU award by VDS Arts Academy in recognition of his accomplishment in tutoring violin to numerous students for 25 continuous years

About
Sabhash
- Everything about classical music, dance, drama and a platform for inclusive entertainment
Sabhash.com is the one-stop destination for the latest news and information on the performing arts of India - classical music and dance, theatre, bhajans, discourses, folk performances, and other lesser known art forms. Institutions that revolve around the performing arts have exploded in numbers, and thanks to the Internet which has made information easily accessible, the number of rasikas has grown too. Corporate patronage has played a big part in increasing the world-wide reach of the Indian arts. Sabhash wishes to be a platform for inclusive growth giving an equal opportunity and recognition to not only the main performer but also the artistes who accompany them on stage, and the people who work backstage and play the role of unsung heroes.