Anish King
Violinists, Tamil Nadu, India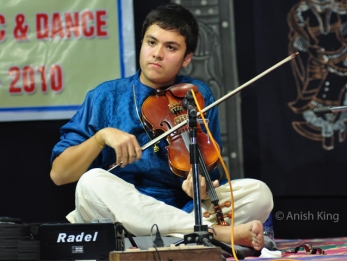 Biography
Anish King started playing Carnatic music on Violin in 2000 when he was 6 years old and Western violin since age 7. I trained with Karaikal Venkatasubramanian with whom he did his arangetram together with his older brother Sean King at the Vani Mahal Mini Hall in July 2005 under the guidance of Padmabushan Professor T N Krishnan and Parur Anantharaman and his son M. A. Krishnaswamy. He has since his arangetram given 20+ full public recitals in India, Thailand, Singapore; audio and video recordings are available. These recitals include both solo by Anish King and duet with Anish's older brother Sean. He has also participated at his school assemblies and Deepavalli functions for the South Indian Association of Thailand – SIAT for several years.
Shows & Major Performances
He spend his summer and winter vacations in Chennai, India training with his gurus M. Balakrishnan and Ragavendra Rao, both senior disciples of Professor T N Krishnan.
He has also had special tutelage from M.S. Anantharaman and his two sons M.A. Krishnaswamy and M.A. Sundareswaran, in addition to special tutelage from T.N. Krishnan. Anish have been invited to perform at Singapore Indian Fine Arts Society (SIFAS) on several different occasions. Last summer he gave a combined violin recital with western and Carnatic Music on violin at Vidya Sagar, school for children with cerebral palsy and autism following his internship with Vidya Sagar.

About
Sabhash
- Everything about classical music, dance, drama and a platform for inclusive entertainment
Sabhash.com is the one-stop destination for the latest news and information on the performing arts of India - classical music and dance, theatre, bhajans, discourses, folk performances, and other lesser known art forms. Institutions that revolve around the performing arts have exploded in numbers, and thanks to the Internet which has made information easily accessible, the number of rasikas has grown too. Corporate patronage has played a big part in increasing the world-wide reach of the Indian arts. Sabhash wishes to be a platform for inclusive growth giving an equal opportunity and recognition to not only the main performer but also the artistes who accompany them on stage, and the people who work backstage and play the role of unsung heroes.